So you know my movie thoughts, it's time for my thoughts on the 73rd Annual Golden Globes Television nominees. I probably watch way too much television than the average person but what's a girl to do right? I love me some tv! I love that the Golden Globes also present to my friends on television because have you noticed how many movie actors are coming into television shows now? I absolutely love it!! Let's get down to the nitty gritty shall well?!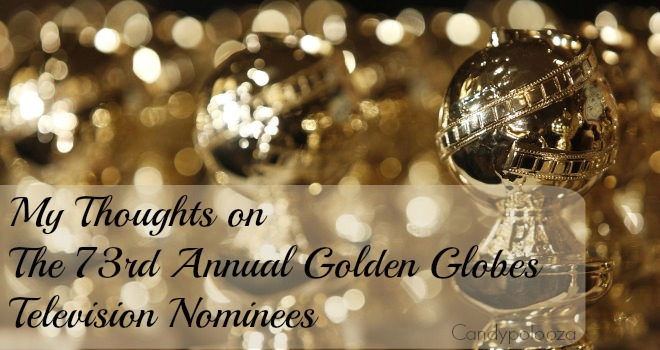 Drama
Empire
Game of Thrones
Mr. Robot
Narcos
Outlander
Whoa buddy!! I have seen three of the five nominees. All of the Dramas listed have gotten amazing acclaim and I'm honestly going to be biting my nails!! Who do I want to win? Gosh.. I can't even begin to guess.. Maybe Narcos? Maybe Empire.. Mr. Robot.. I love them all!! 
Comedy
Casual
Mozart In the Jungle
Orange Is the New Black
Silicon Valley
Transparent
Veep
I'm down for OITNB personally. I wasn't too happy with how the last season ended but we shall see. I've been wanting to see Transparent for some time now and haven't added it to the list. I'm going to have to check out all of these series. 
Actor, drama series
Jon Hamm, Mad Men
Rami Malek, Mr. Robot
Wagner Moura, Narcos
Bob Odenkirk, Better Call Saul
Liev Schreiber, Ray Donovan
Oh Jon Hamm, will you take this last one for the road? I think it's be incredible for Bob Odenkirk to take it for the spin off series Better Call Saul but Rami Malek and Wagner Moura are close on the heels. And Liev Schreiber is amazing in Ray Donovan. This is going to be too close to call too. 
Actress, drama series
Caitriona Balfe, Outlander
Viola Davis, How to Get Away With Murder
Eva Green, Penny Dreadful
Taraji P. Henson, Empire
Robin Wright, House of Cards
I love love love Robin Wright in House of Cards as well as Viola Davis and Tarji P. Henson.. another too close for me to call. 
Actor, comedy series
Aziz Ansari, Master of None
Gael García Bernal, Mozart In the Jungle
Rob Lowe, The Grinder
Patrick Stewart, Blunt Talk
Jeffrey Tambor, Transparent
I've seen none of these series so I can't really say.. I need to get my television game on point don't I? It's all about balance guys. I'm trying. But trust me I'll be binge watching a lot of these shows now. 
Actress, comedy series
Rachel Bloom, Crazy Ex-Girlfriend
Jamie Lee Curtis, Scream Queens
Julia Louis-Dreyfus, Veep
Gina Rodriguez, Jane the Virgin
Lily Tomlin, Grace and Frankie
I'd love to Gina Rodriguez to take this category but I also loved Lily Tomlin in Grace and Frankie and Jaime Lee Curtis in Scream Queens. But Julia Louis-Dreyfus is a force when it comes to awards!! She's amazing! Exciting! 
Miniseries or TV movie
American Crime
American Horror Story: Hotel
Fargo
Flesh & Bone
Wolf Hall
I absolutely loved American Crime. Keeping my fingers crossed for this one! 
Actor, miniseries or TV movie
Idris Elba, Luther
Oscar Isaac, Show Me A Hero
David Oyelowo, Nightingale
Mark Rylance, Wolf Hall
Patrick Wilson, Fargo
Actress, miniseries or TV movie
Kirsten Dunst, Fargo
Lady Gaga, American Horror Story: Hotel
Sara Hay, Flesh & Bone
Felicity Huffman, American Crime
Queen Latifah, Bessie
I was too scared to keep watching American Horror Story so I can imagine how amazing Lady Gaga had to have been. This would be an amazing win for her. But the angst, fear and commitment Felicity Huffman showed in her character of last season's American Crime was amazing. Hoping for a win for Felicity. 
Supporting actor, series, miniseries or TV movie
Alan Cumming, The Good Wife
Damian Lewis, Wolf Hall
Ben Mendelsohn, Bloodline
Tobias Menzies, Outlander
Christian Slater, Mr. Robot
I love love love Alan Cumming in The Good Wife! Christian Slater in Mr. Robot is amazing too!! I have got to start watching Outlander.
Supporting actress, series, miniseries or TV movie
Uzo Aduba, Orange Is the New Black
Joanne Froggatt, Downton Abbey
Regina King, American Crime
Judith Light, Transparent
Maura Tierney, The Affair
I loved Regina King in American Crime! Uzo Aduba is also amazing in OITNB. Downton Abbey has a great track record for wins. This is one to watch. 
This is a great list of amazing shows and actors. I'll definitely have to keep an eye out for the Prime Time Emmy's this year because a lot of my tv watching includes prime time television. But like I mentioned above I love the the Globes includes our friends on tv and not just movies. Will you be watching tonight?
Let's see how many of my hopefuls actually win tonight!
Cheers!
Candy