Disclosure: This post is not sponsored, just an account of my time away to attend the AccessPG event.
My Trip to #AccessPG Part 1
 As you might have noticed, I went out of town this past weekend. I was invited to the first ever P&G Access Day in Cincinnati to the Procter & Gamble headquarters. This is part one of my trip there. I want to give each session of the conference their own time so it's gonna be a break down of the trip. Make sure and check back!
Leaving on a jet (not really) plane.. 
My day began bright and early at 3:30 am on Thursday. The hubs had me at the airport by 4:30 am. He likes to get to places early its the Army in him.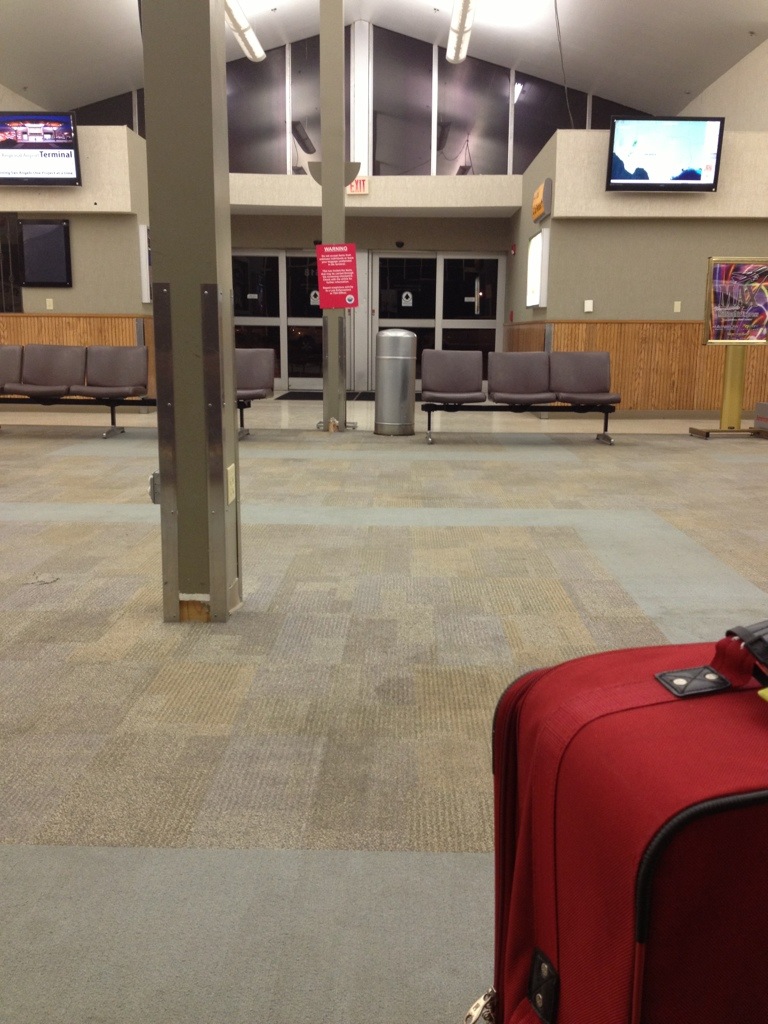 I even beat the staff in! But get this, I didn't get thru security first.. Should have known it would only get better from there. Lol
I barely got out of town ya'll.. 
Fast forward 12:30pm and we are ready to board the aircraft. Yes, you Read right I showed up to the airport at 4:30 in the morning my initial flight was to depart at 6:15. I would be landing at DFW airport around noonish- no no around eight in the morning and then land in Cincinnati at noon. After a few hours and a couple planes coming and going,  the mechanical issue was fixed and  we were on our way.
I had grand plans to attend a Cincinnati Reds game, they were playing at 12:30 and thought hey I will catch a game how exciting! (I'm not a Reds fan, but I was down to check out the Great American Ball park!)  Not so much. There would be no afternoon game for me! I actually got into Cincinnati at 7:30pm.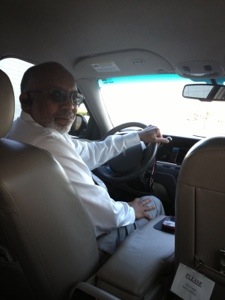 My awesome driver Norman. I'd never ridden in a cab before (I know I'm a total country mouse) so a car was arranged to pick me up. I felt so fancy! I almost took a pic of him with my sign.. that would have been so awkward yet a great memory! I asked him if anyone had ever done that and he said no- so I'm glad I wasn't the first.. He was great with conversation too. I asked him if he had ever picked up his favorite celebrity and he said yes! Guess who it was?! Janet Jackson! I would have been star struck. He said he just enjoys the memories from the conversation during the ride. How very cool right?! Classy guy, Norman.
Some awesome scenery from my car ride from the airport to the 21c Hotel Museum. (Check it out it's AMAZING!)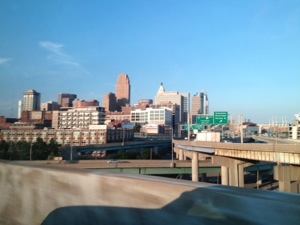 That's the Cincinnati Bengals stadium.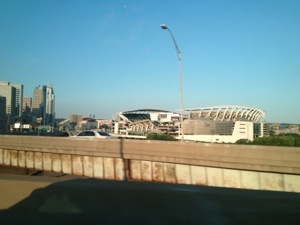 Cincinnati is truly a beautiful city. I was very impressed..
 I have to add that this was the first time I'd gotten on a plane without either of the boys.. It was a little hard to leave, but I'm so glad I had the time away.
Ok tomorrow's post will be of my hotel room!! You won't want to miss it!!