Disclosure: This is a sponsored post. I received product for review no other compensation was received, however all opinions are my own.
New Air Portable Ice Maker a Review
NewAir AI-100R Red Portable Ice Maker with 28-Pound Daily Capacity
It always happens, we run out of ice in the middle of a get together. If we don't purchase a bag of ice our fridge doesn't make it fast enough. I received a New Air Portable ice maker from NewAir.com for review and I'll never have that problem again!
It's a beauty isn't it?! 🙂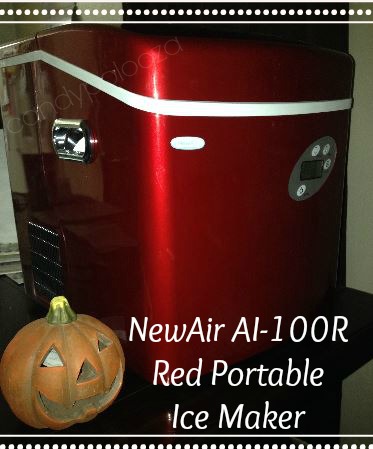 I have to say that it was love at first sight when I opened the box. My favorite color is red and it rocked my world that I was now the proud owner of a beautiful red portable ice maker! It's dimensions of L: 14.50″ x W: 11.75″ x H: 15.00 it is a little big to place on my counter, so it's sitting on the far corner of my dining table. It's OK there because no one eats on that side. We have decided to store it in our pantry when it's not in use. It's too large for under our cabinet, so in order to keep it in the house and have easy access to it the pantry space is a great choice.
On to the fun stuff! What is included in the package. The New Air AI-100R model is equipped with removable ice basket and ice scoop.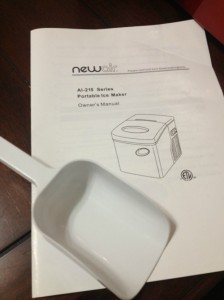 The cute little ice scoop for easy access to ice. The removable basket is handy in case you need to clean the basket. The instructional manual is also included in the box for use. You can also print out the PDF file if you need additional copies. That's always helpful in case you move around a lot like we do and you loose the booklet.
 The bullet shaped ice can actually come in three different sizes. Nothing like having ice that is too big. You can choose one of three sizes; whichever works best for your event or your cup of choice! You have a favorite right? I sure do!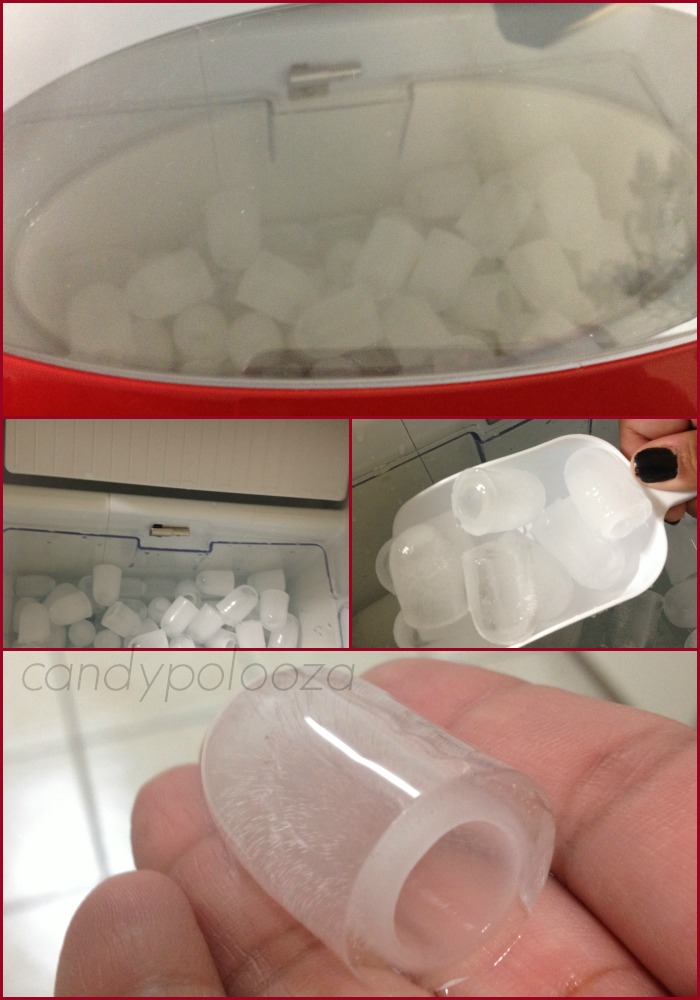 Loving this ice! 
When you first receive the product you must clean it before use. The clean up process takes about 10 and it's recommended you use vinegar.
Filling the reservoir is easy and it takes up to a gallon of water. Choose your ice size and set it to go!  You'll be enjoying an icy beverage in 13-15 minutes. The ice machine can produce up to 28lbs in one day if it's continuously working. And don't think it's going to over flow on you! It totally won't! It comes with overflow protection.  Another awesome feature is the drain on the side! The boys loved the window up top too. Nothing like seeing the ice in the bottom! So cool! and it's not loud either. You know it's working and you hear the ice pour into the bottom from the basket.

This is an awesome machine! I'm sold!
A great machine that has some great reviews too!
Interested in getting one for your family?  
Connect with NewAir thru their social media channels:
Question:
Have you ever used a portalable ice maker?