It's been a few months since our family vacation on Carnival Cruise Line back in May, gosh almost a year! Anyways, clearly it made an impression on me and I'm very happy to share it with you all today. Have you cruised Carnival before? If you have not, today I'm talking about the onboard salute to our military event by Carnival Cruise Line. We sailed the Sunshine back in May and ported out of Charleston. I will also note that this post is not sponsored, I'm just tipping my hat in appreciation to Carnival, for this awesome event on board. We paid for our cruise. 😉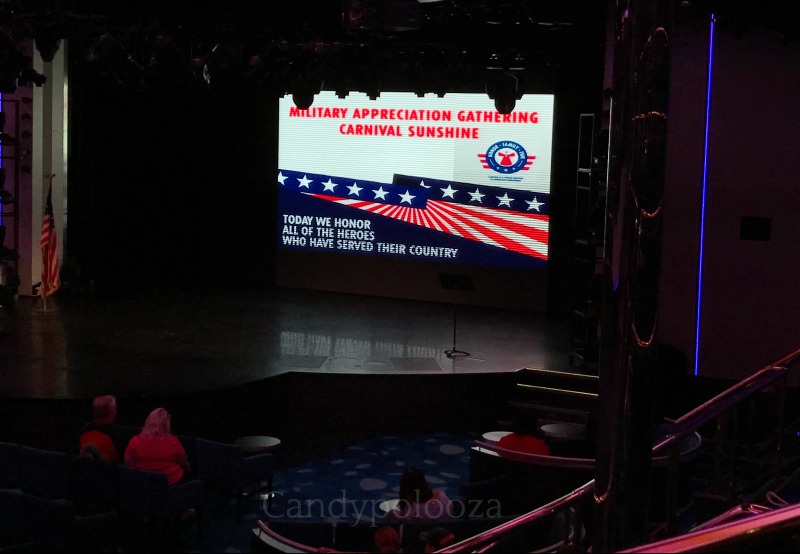 This was our first cruise as a whole family. I didn't share for obvious personal security reasons, that the hubs was deployed for nine months last year. It was a hard nine months and we wanted to celebrate being together by going on a cruise. What better way to get away from everything right?! On a boat, no social just the four of us being together. It was FABULOUS!
If you've ever cruised, you know there are a lot of activities to do while on the ship, we hit up a few of them and there was one in particular that I wanted to see. Carnival Salute to the Troops. The hubs is one of those guys that doesn't need or want to be thanked. He loves being in the Army and doing his job. It's honestly what he was born to do. So he naturally didn't want to go to the show, but thanks to my persuasive measures the four of us headed off to check out the salute. Of course we sat away from the stage on the second level of the theater room.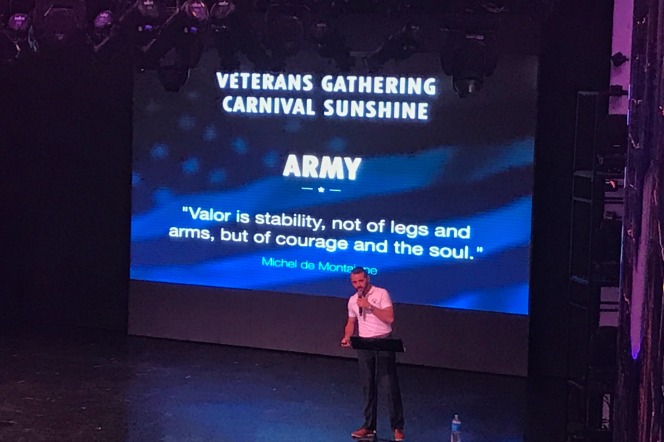 The event began with the cruise director telling us about the program and mentions of each branch and songs were played. If you've never been to any kind of military ceremony there's a lot of traditions like the showing of the colors (flags) and the branch songs and our national anthem. It makes this Army spouse and Army sibling (my younger sister is serves in the Army Reserves now) cry every single time and it makes me so super proud aswell.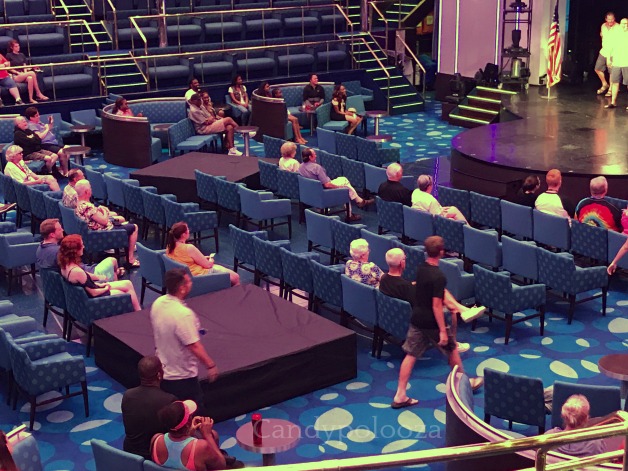 In 2013, the United States Department of Veterans Affairs released a study that covered suicides from 1999 to 2010, which showed that roughly 22 veterans were dying by suicide per day, or one every 65 minutes. -Google  This statistic has turned into a daily challenge to do 22 push ups to not forget those 22 lives lost each day.
Towards the end of the program, the host called to all of the service members that were able to, to come on stage and complete the 22 push ups in honor of the lost each day. While the hubs can be anti-social at times- he loves and I mean loves the military. He quickly left his seat to join his veteran brothers and sisters to do the 22 pushups. I don't even think he realized what a moment that was for me and our boys. It made me so proud and I was so glad the boys saw their dad go up on the stage, do the push ups and be a part of the group picture. I was an emotional wreck, but you knew this! LOL Next time we sail Carnival I'm taking my good camera and sitting closer to take better pictures. Sorry about the quality. 🙁  This was just too special not to share.
It was a special moment and I'm so glad we attended this event on board. If you are sailing Carnival, make sure to attend this event and honor the men and women who serve. Every day people that do/ have done extraordinary things for our country. I also loved that they mentioned the families. Oh here's a tidbit if you didn't know- April is Month of the Military Child so if you have a military brat, make sure to celebrate them everyday and give them a little something extra this month. Check your local ACS and MWR for events at your duty station.
Thank you Carnival Cruise Line for honoring our military! If you are sailing soon attend the event and take a pic! Share it with us when you get back home and please tag me @candypo or @candypolooza on Instagram.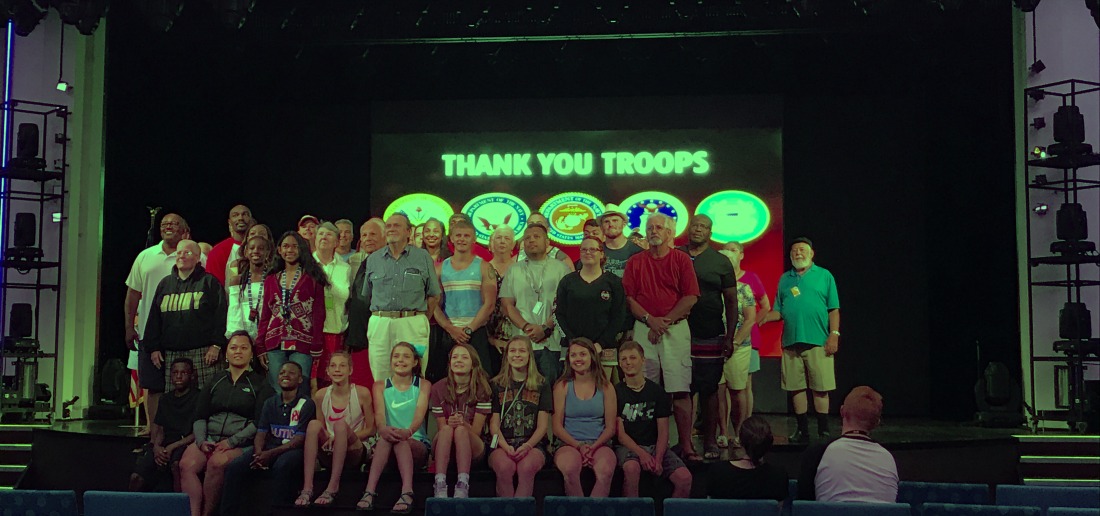 Question:
Do any other ships have a special event for our service members?
Let me know below in the comments!
Cheers!
Candy
SaveSave