The gang is all here! Paw Patrol: The Movie is on a roll to theaters and Paramount+ on August 20th and we can't wait for you to see it! Voice by an amazing crew of actors the Paw Patrol is going to take you on an unforgettable excursion to Adventure City, where they'll be reunited with a formidable foe and introduced to a new pup that is out trying to do the right thing for her city. Thanks to CT&Co for the opportunity to pre-screen and interview talent from the film, Marsai Martin and Iain Armitage.
The Adventure Begins
The pups are ready to save Adventure City. Ryder (Will Brisbin) the 10 year old boy that works with the pups, water rescuer Zuma (Shayle Simons), firefighter Marshall (Kingsley Marshall), pilot Skye (Lilly Bartlam), recycling pup Rocky (Callum Shoniker) and, bulldozing bulldog Rubble (Keegan Hedley) are all excited to help their friend police dog Chase (Iain Armitage) bring down the ridiculous Mayor Humdinger in Adventure City. Each of the pups gets the opportunity to shine and save the day in their own special way.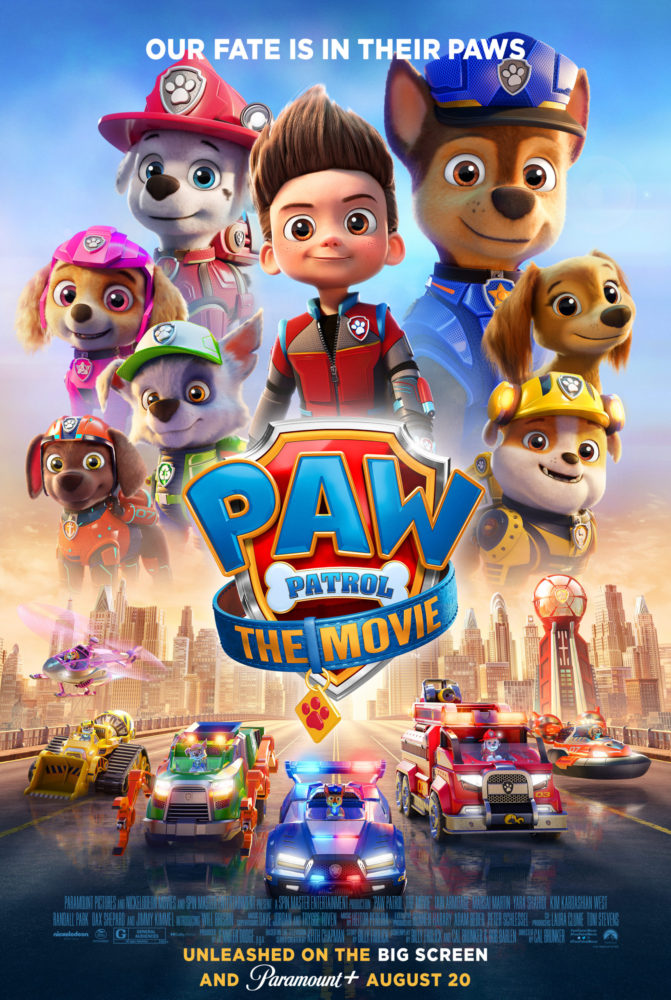 What I Loved
Thinking back on the time Ezra watched Paw Patrol and those super catchy phrases Ryder and the pups say came full circle as we watched Paw Patrol: The Movie together on Friday night. When I first mentioned the film, Ezra said he was too old for it and Aramis turned his nose up at it. As Ezra and I sat together in the living room, Aramis would come in and look over our shoulders and add commentary. In the end, he sat down with us and enjoy the rest of the film. The boys ages 14 and 9, loved it! First off that says a lot, because the series is aged for three years and up. So yes, parents you will also enjoy the film. That's great news in my book!
The plot of the film is what adds to the age range on the viewership. Aramis said it best, "the pups are coming to town to stage a coup against the evil mayor". While they didn't stage "a coup" per se, they were there to help when Adventure City needed it most. There's lot of great moments with cute funny sayings. The pups are characters on their own and each of them get a chance to show their cheeky side, which is really cute and why the pups are so endearing. Lots of beautiful scenes, amazing colors with fireworks, high speed chases and of course heartfelt moments that you have grown to expect from the television series.
The Newest Pup on Patrol 
Marsai Martin is a total force in Hollywood. She's had a slew of roles and she's adding a cute little dachshund name Liberty to her credits. This is is a bit of a spoiler, so don't tell the kids. Liberty is a positive pup with a great sense of direction and loyalty to her city. You're going to enjoy her character and she'll quickly become one of your favorite pups in the Paw Patrol.
Cast Interview
Thanks again to CT&Co for the opportunity to speak with both Marsai Martin and Iain Armitage. Fun fact, I've gotten pictures from everyone from Blackish except Marsai Martin. One day my fellow Texan.
Okay for Kids?
Absolutely. This film is based on the Paw Patrol series created by Canadian Keith Chapman. The story itself is a little older, the same caring spirit comes across from the series onto the film. But, be warned that there are moments where the film deals with mental health that some younger children might not understand and could have questions about later. We see a bit of Chase's origin and while there are super tender moments, if they kids are paying attention, they will have questions for you. So be ready parents. Chase has super moments where his past experiences haunt and scare him, he exhibits moments of PTSD. Ryder and the pups do a great job of diffusing the situations but it's clear that Chase needs help to get passed these sad moments.
About The Film 
The PAW Patrol is on a roll! When their biggest rival, Humdinger, becomes Mayor of nearby Adventure City and starts wreaking havoc, Ryder and everyone's favorite heroic pups kick into high gear to face the challenge head on. While one pup must face his past in Adventure City, the team finds help from a new ally, the savvy dachshund Liberty. Together, armed with exciting new gadgets and gear, the PAW Patrol fights to save the citizens of Adventure City! Joining the PAW Patrol in their thrilling first big screen adventure are members from the original series' cast along with Iain Armitage, Marsai Martin, Yara Shahidi, Kim Kardashian West, Randall Park, Dax Shepard, with Tyler Perry and Jimmy Kimmel and introducing Will Brisbin.