Last week my neighbor and I checked out the local Farmer's Market in Evans. I have always wanted to go check it out but had never done any kind of recon on the area etc. Little E is a free spirit and I like to make sure he's not going to be able to run off. He's getting better but still.. better safe than sorry. Anyways.. we took advantage of both hubs being home with the kids so off we went. It was a beautiful afternoon, nice and breezy. It wasn't very big last week but I was concerned with one booth and luckily they were there!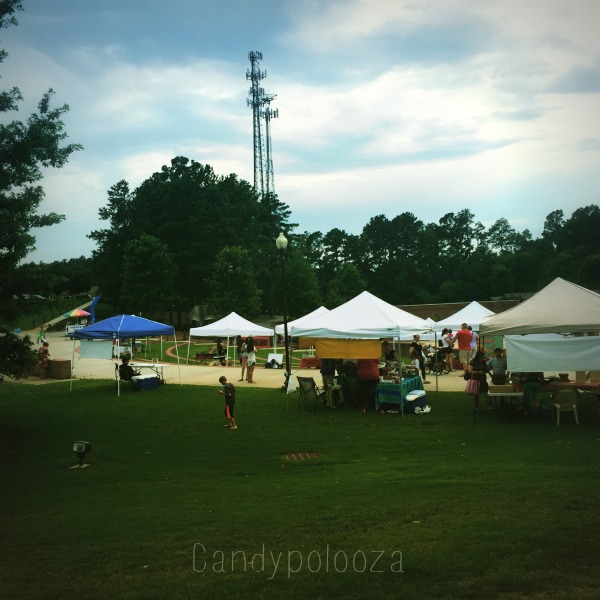 The recipe name totally gives away what I was headed for.. Goat cheese!! The hubs is a huge cheese lover so I wanted to get him a variety for Father's Day. I chose four flavors:
Pimento Cheese
Nut & Honey
Sicilian Coast
Italiano Bravano
I totally fell head over heels in love with the Pimento Cheese. All of the flavors are incredible, but the pimento won flavor of the week. They also have a Lavender flavor.. oh my word! I'll share more about the company next time. I knew I wanted to add the cheese to some dishes too. The young man recommended using it in a grilled cheese. You know that's happening very soon! I'll probably be making more recipes using the goat cheese flavors.
and now for the recipe:
The recipe for the Pimento Goat Cheese Macaroni is simple. So simple that I'm not even going to write it up.. Make your macaroni as usual per the box or your homemade recipe and when you are folding the noodles and cheese together add a quarter cup of the Goat cheese. I did a quarter cup to one box of macaroni. Happy to report that no one even asked what was in it, they just ate it! and LOVED IT!
Look awesome right?! Here's another shot!
Those pimentos are everything!!
Have you ever tried mixing in different cheeses to your macaroni?
Cheers, 
Candy