Oh my goodness, if there was ever a film that brought together a few of my favorites, it's Redshoes and The Seven Dwarfs! Snow White and the Seven Dwarfs is one of my favorite childhood animated films and story so the take on it in Red Shoes I thought was fantastic. Many thanks to Click Communications for the opportunity to review and giveaway this animated film. Answer the question at the end of the post for a chance to win the animated feature. Giveaway closes on Thursday, September 30th at 11:59pm.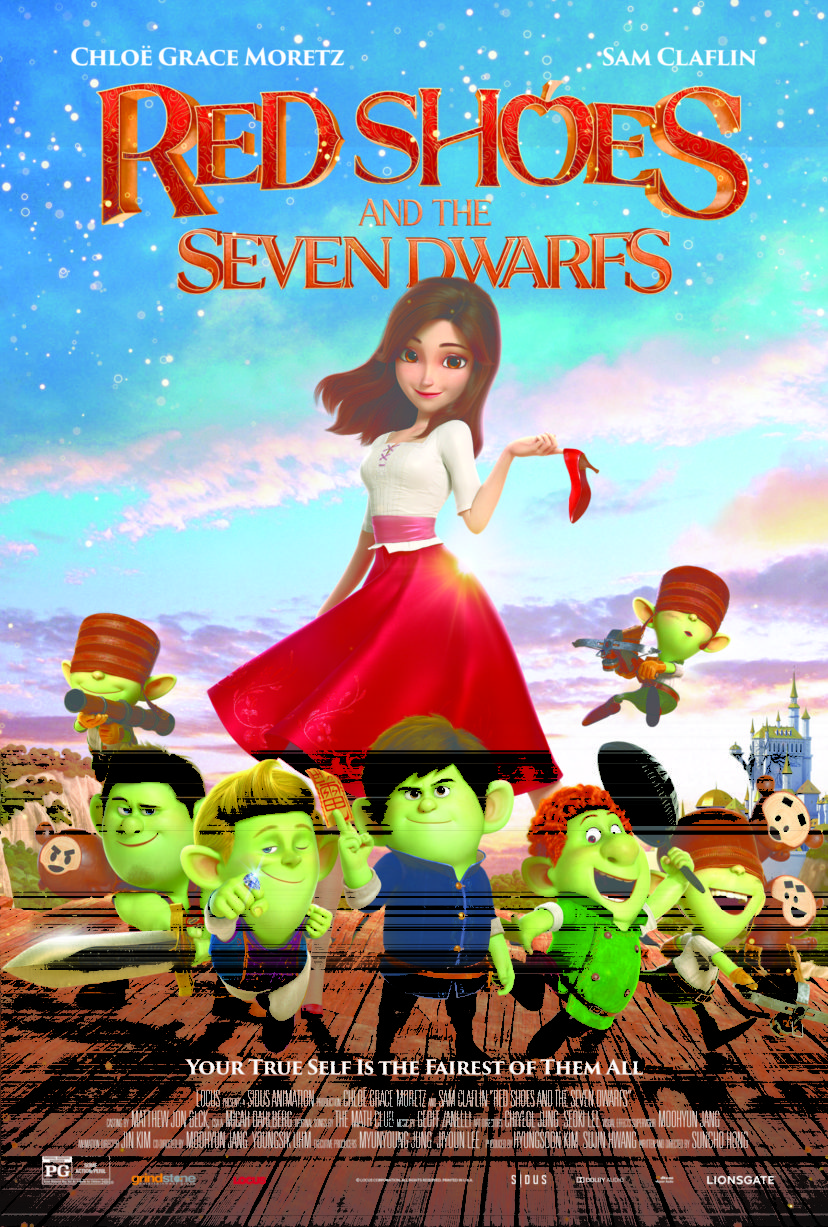 My Thoughts and Review
I loved Shrek so to see green guys, I know they are dwarves made me very excited. Would it be like Shrek? Would it be like Snow White? I wasnt' sure, but I was down. If you are hesistant, I say open your mind and give it a watch. You'll be pleasantly surprised with the film. Enjoy it with the kids or if your curiousity peeks give it a go alone. There's hilarious jokes and the lessons are most definitely poignant. At 92 minutes in length it is a good time.
One of the things you'll recognize is the power of the red shoes. As a woman and owner of a pair of red shoes, I can tell you that they truly are magic. There's a lesson in with the shoes too, so pay attention. As always there is an evil step mother in this twisted fairy tale and I have to tell you that I thought it was Rapunzel's mother at first. It's not, but the story is similar in how she's trying to keep Snow down, but she absolutely can't. Once she meets the dwarfs the story gets even more entertaining.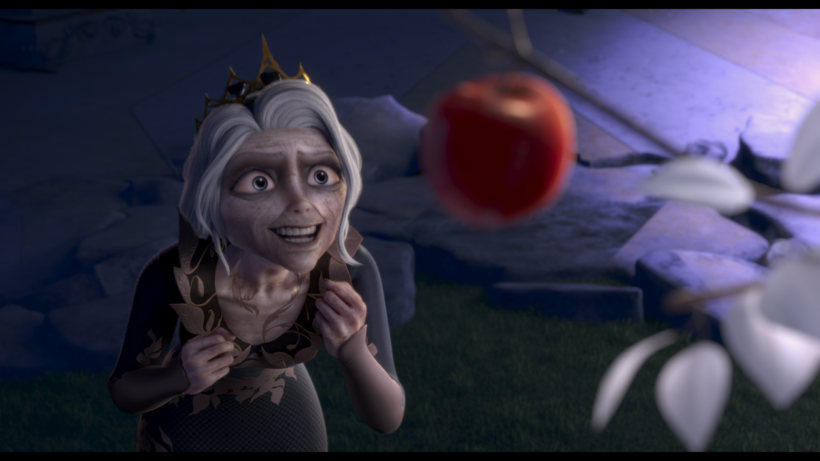 The PG rating is due to the adventure and action in the film. There shouldn't be any moments where your young children will be scared, but note that there are some dark scenes with Patrick Wharburton, as the mirror and scenes with the bears. But overall it's a great animated film with lots of great messages that can segway into really great conversations with your family about friendship, loyalty, self-esteem, loving oneself, and learning not to judge a book by it's cover.
About The Film
A classic fairy tale gets a modern twist in the action-packed animated adventure Red Shoes and the Seven Dwarfs, premiering on Digital and On Demand September 18 and available to own on Blu-ray™ and DVD September 22 from Lionsgate. Chloë Grace Moretz (Bolt, Inside Out), Sam Claflin (The Hunger Games series), Gina Gershon (TV's "Riverdale"), Patrick Warburton (TV's "Family Guy," The Emperor's New Groove), and Jim Rash (TV's "Community") lend their vocal talents to this humorous and heartwarming retelling of the Snow White fable, only this time it's the princess who must save the prince(s) – all seven of them! This family-friendly film has "a strong body-positive theme that emphasizes the beauty of characters of all shapes and sizes" (Common Sense Media), and received the Dove Seal of Approval for All Ages.

This outrageous fairy tale spoof starts as Snow White steals a pair of red shoes that transform her into a princess. Meanwhile, a witch's curse turns seven brave princes into dwarfs, forcing them to seek out the princess, hoping for a kiss to break their spell. Together, they must face Snow White's wicked stepmother – who will stop at nothing to get her precious shoes back – and, along the way, learn that true beauty lies within!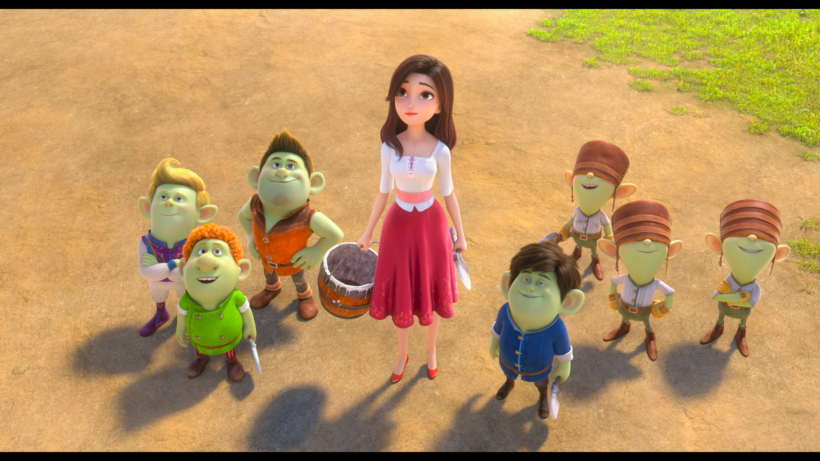 Red Shoes and the Seven Dwarfs was directed by Sung-ho Hong, and features character design and animation direction from Jin Kim, who worked on Disney's animated classics Fantasia 2000, Frozen II, and Tangled. Music is by Primetime Emmy® award-winning composer Geoff Zanelli (2006, Outstanding Music Composition for a Miniseries, "Into the West"; Emmy®nomination: 2010, Outstanding Music Composition for a Miniseries, "The Pacific"), whose theatrical work includes Maleficent: Mistress of Evil and Pirates of the Caribbean: Dead Men Tell No Tales. Voice direction is from Tony Bancroft, the director of Disney's Mulan. It was produced by Locus Animation Studio.

Go behind the scenes of this must-own animated adventure with enchanting Blu-ray and DVD bonus features, including two "making-of" featurettes and two music videos featuring the all-new original songs! The Red Shoes and the Seven Dwarfs Blu-ray and DVD will be available for the price of $21.99 and $19.98, respectively.

BLU-RAY / DVD / DIGITAL SPECIAL FEATURES
"The Making of Red Shoes and the Seven Dwarfs" Featurette
"From Storyboard to Animation: Creating Red Shoes and the Seven Dwarfs" Featurette
"Start of Something Right" Music Video
"Something So Beautiful" Music Video
Craft Idea
Click on the link for the fun craft by my friend Amy of AsTheBunnyHops.com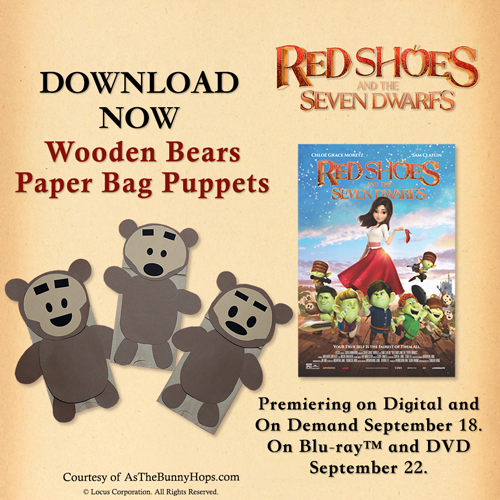 Coloring Sheets
Make sure to print these coloring sheets for the kids to enjoy after watching the film.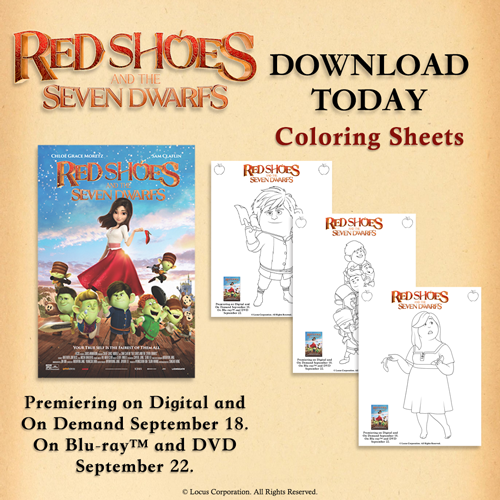 Question:
What's your favorite fairytale and why?
Cheers!
Candy
Giveaway closes on Thursday, September 30th at 11:59pm. Prize will be fulfilled by sponsor.