In the first four minutes you realize this show is going to be magic and then realize even tv relationships need help. Cecily Strong and Keegan-Michael Key are Melissa and Josh, successful doctors and their relationship is struggling. They go on a couples retreat and end up in a town called Schmigadoon. The music begins and so does their new adventure together. It's the summer for Schmigadoon on Apple TV, and you're not going to want to miss the newest series.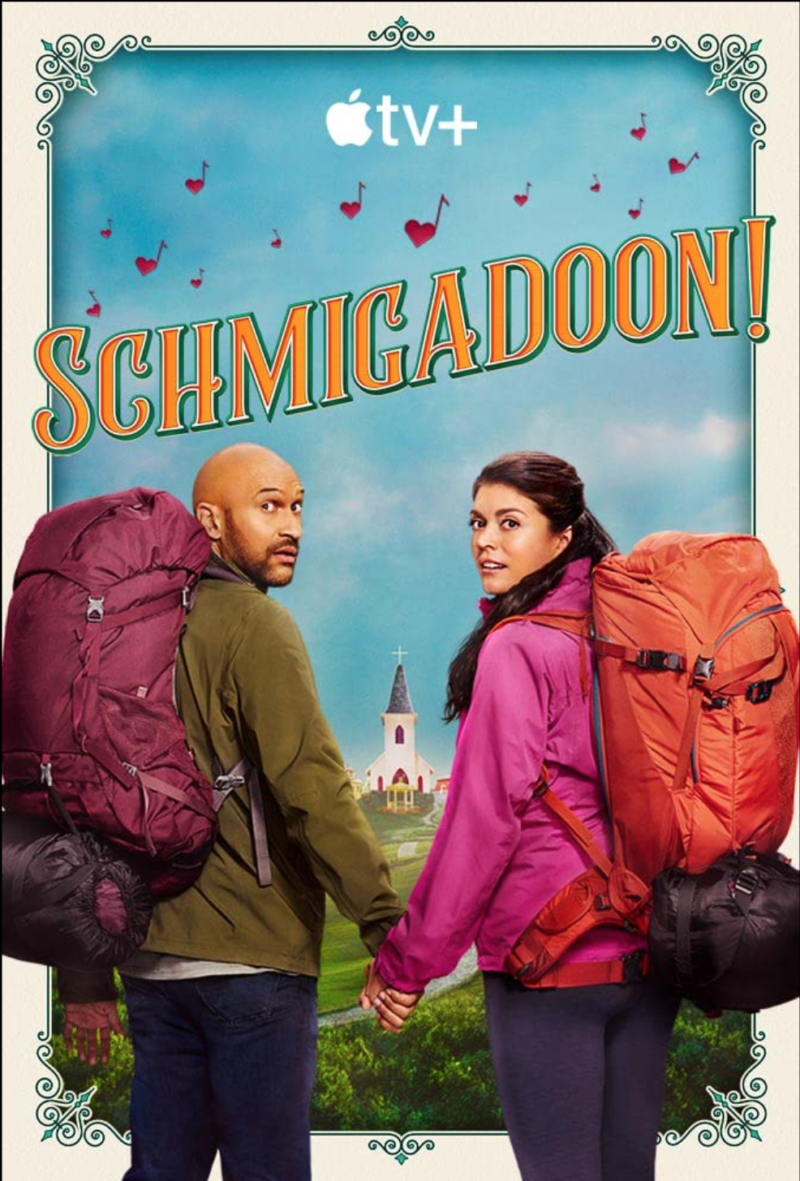 It's a Musical
If you've seen the trailer, you know that there is lots of singing in the series. Watch it now below! And keep reading for my thoughts on this fun new series. You can currently watch the first three episodes on Apple TV. Episodes are released on Friday. The episodes are 30 minutes long so it's a quick watch, that is fun and enjoyable. The show is noted to be okay for ages 12 +.
I'll be updating the post as episodes are released so you will have to come back and chat with me on the comments on your thoughts so far.
The Series
The funny thing about the show is that while the viewers see all of the singing and dancing, the town folk don't even realize they are singing or make a big deal about it. Truly an all-star cast of some of your favorite SNL (Saturday Night Live) alum and broadway stars, it's a series that you'll enjoy their amazing vocal talents. Cecily Strong, Keegan-Michael Key, Alan Cumming, Kristen Chenoweth, Fred Armisen, Jamie Camil, Dove Cameron, and the amazing (can you tell I'm a fan) Martin Short. Just so you know, Kristen Chenoweth is the town prude and I'm here for it and so will you.
Okay for Kids? 
As noted above the show is listed as rated 12+ and TV-14. There are some sexual references and if your kids aren't with the lingo, it will go right over their heads. If you have kids that are perceptive and ask questions, they might pick up on scenes. As I watched I felt that some of the more sexy scenes are adult feeling and there's even mention of contraception, so I'm not so sure I'll let my oldest child (14) watch this show. Call me a prude, but nah too sexy for me and as the episodes go on you'll see gay nuances.
Episode 1- Schmigadoon
Hello Josh and Melissa. They've just celebrated a milestone anniversary in their relationship and Melissa senses an issue between them. They go on a couples retreat to try to reconnect, walk into a fog and arrive in a town look to be set a few decades back called Schmigadoon. Before the episode ends they learn they are "bound until at last true love ye found," by the amazing Martin Short and realize they can't leave Schmigadoon.
Episode 2- Lovers' Spat 
Let's go back four years and two months in Josh and Melissa's relationship to see how it began. And then we go back to Schmigadoon to see if their relationship can move forward and get back to reality. The "Lovers Spat" number they realize that maybe they aren't truly in love. A tragic moment and when the series takes off. And yes, there will be more singing.
Episode 3- Cross That Bridge
We got back one year and three months before Schmigadoon. We start to see Melissa and Josh's relationship begins to crack and you get the weird awkward feeling. When we get back to Schmigadoon, the plot thickens and Melissa and Josh get into some sticky situations. The Mothers Against the Future are on to them and they have been banned from the town's hospitality.
Episode 4- Suddenly 
Episode 5 – Tribulation 
Episode 6 – How We Change 
The final episode
Leave me a comment if you've watched Schmigadoon yet! 
Cheers and Happy TV watching! 
Candy