That crime solving great dane is back on the case! That's right Scooby-Doo is back and the gang is heating things up in the kitchen! Thanks to Warner Bros Home Entertainment for providing DVD for review, all opinions are my very own. Get the family together for this epic adventure with Scooby and the Gang. In keeping with the culinary theme make sure to make a delicious snack to enjoy while you watch together! And yes, you read that right! Bobby Flay and Giada De Laurentiis are in the movie!!!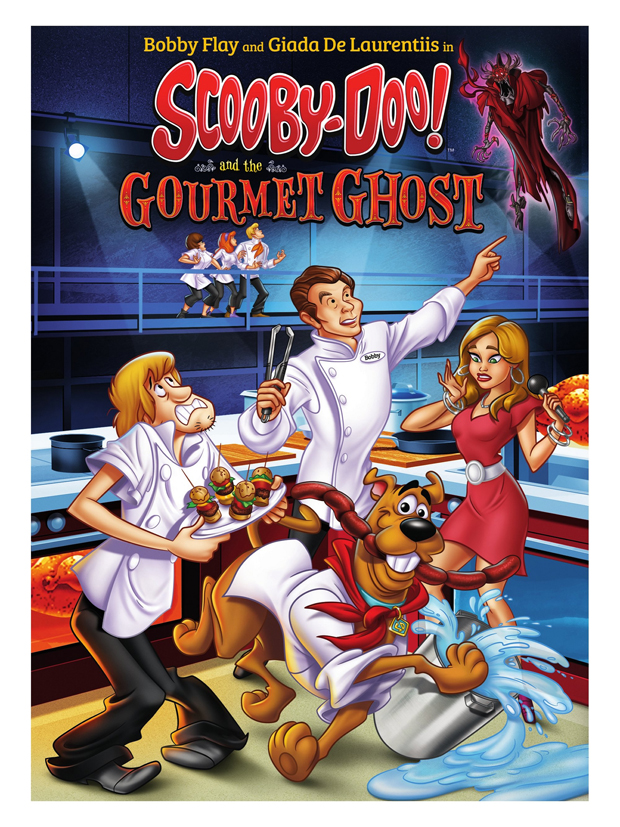 The boys and I LOVED this adventure and we know you will love it too! 
Everyone's favorite Great Dane is back for an all-new, action-packed, culinary mystery adventure with the release of Scooby-Doo! And the Gourmet Ghost, available in stores September 11, 2018 from Warner Bros. Home Entertainment. Featuring the voice talents of internationally acclaimed celebrity chefs, Bobby Flay (Beat Bobby Flay), Giada De Laurentiis (Giada in Italy) and Marcus Samuelsson (Chopped), Scooby-Doo! And the Gourmet Ghost takes our favorite teen sleuths on an unforgettable adventure to New England, where they investigate the haunting of a historic colonial inn that's been turned into a state-of-the-art, culinary resort.   Scooby-Doo! And the Gourmet Ghost will retail for $19.98 SRP. Scooby-Doo! And the Gourmet Ghost is also available to own on Digital via purchase from digital dealers.
On Scooby-Doo! And the Gourmet Ghost, the Mystery Inc. gang visits Rocky Harbor Culinary Resort, a new cooking retreat located in New Port Cove, Rhode Island. It's a food lover's destination, where visitors can learn to prepare meals like master chefs. As Scooby-Doo and his pals arrive to the resort, they are met by Fred's uncle Bobby, who happens to be the world-famous chef and restauranteur Bobby Flay.
Rocky Harbor Culinary Resort, which was originally known as Rocky Harbor Inn, has stood empty for over two centuries, ever since its original owner mysteriously disappeared from its premises. The property, which is now owned by Bobby, is rumored to be haunted by the infamous Red Ghost.  Bobby however, thinks the legend of the Red Ghost is just an old myth that's part of the local lore. He hesitates bringing up the subject for fear it might scare off potential visitors to this new resort, which he dreams will become a world-famous gourmet cooking destination.
To promote the grand opening of the resort, Bobby organizes a live, national telecast to broadcast from the retreat's high-tech kitchen. It's a star-studded evening with some of television's biggest celebrity chefs, including renowned chefs Giada De Laurentiis and Marcus Samuelsson.
The telecast kicks off with a bang! Bobby's kitchen buzzes with celebrity chefs whipping up their most scrumptious dishes. That's until the lights mysteriously flicker off and out of the shadows, Red Ghost appears frightening all the guests, who run out in a panic. Is the legend of Red Ghost real after all? Does this mean the end of Rocky Harbor Culinary Resort or will Scooby-Doo and his pals help save the day? It's a delicious mystery Scooby-Doo! fans won't want to miss!
Scooby-Doo! And the Gourmet Ghost  features the familiar voice talents of Frank Welker as Scooby-Doo/Fred Jones, Grey Griffin as Daphne Blake, Matthew Lillard as Shaggy Rogers and Kate Micucci as Velma Dinkley.  The film was executive produced by Sam Register, written by Tim Sheridan and directed by Doug Murphy.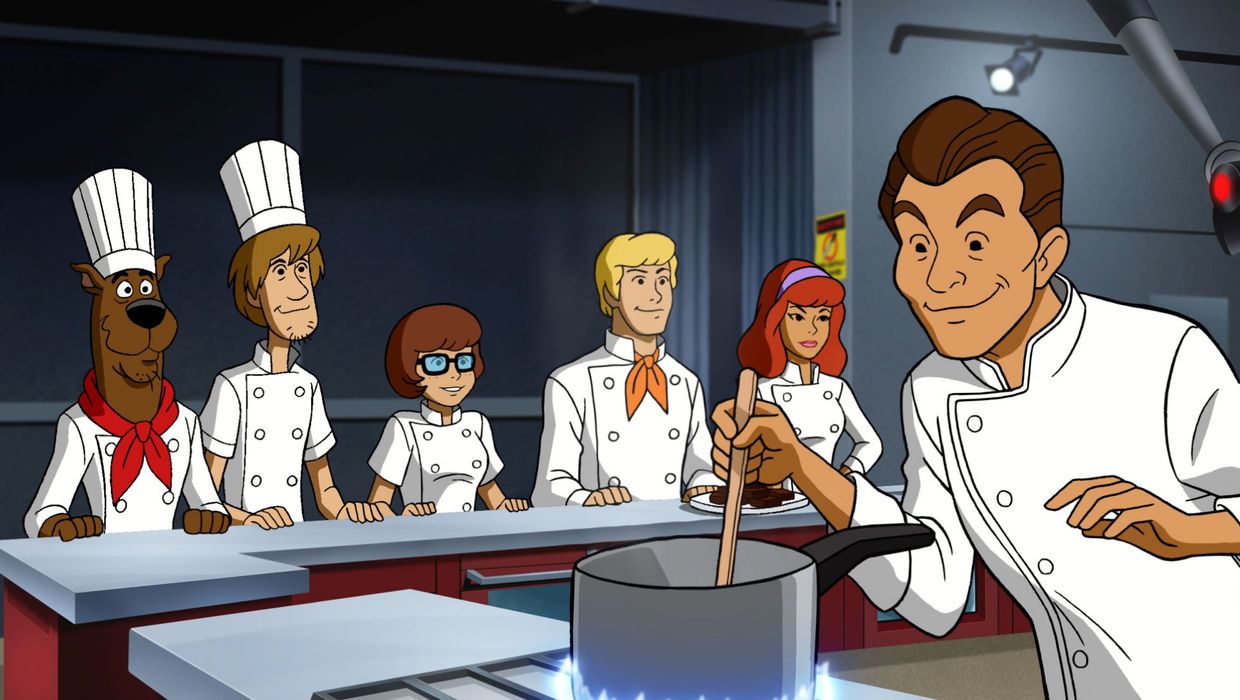 Bonus Episodes:
What's New, Scooby-Doo? "Recipe for Disaster" — Shaggy wins a tour of the Scooby Snacks factory, where a sludge monster is on the loose.
A Pup Named Scooby-Doo, "Wanted: Cheddar Alive" — A "cheese monster" frightens away all the workers at the Scooby Snack factory, so no more Scooby Snacks can be made. But without a Scooby Snack, Scooby won't pursue the monster. The kids convince Scooby to help unmask the bad guy and reopen the factory.
Scooby-Doo! Mystery Incorporated, "The Devouring" — Dr. Rick Spartan returns to Crystal Cove to stop a gluttonous monster who is devouring people whole.
Digital
Scooby-Doo! And the Gourmet Ghost will be available to own on Digital beginning August 28, 2018. Digital allows consumers to instantly stream and download all episodes to watch anywhere and anytime on their favorite devices.  Digital is available from various retailers including Amazon Prime Video, iTunes, PlayStation, Vudu, Xbox and others.
Now for your chance to win one (1) Scooby-Doo! And the Gourmet Ghost DVD!
Thanks to Warner Bros Home Entertainment for sponsoring this giveaway. 
Giveaway Information:
Giveaway starts: Sunday, September 9th 11:59 pm ET
Giveaway ends: Sunday, September 16th 11:59 pm ET
Giveaway open to: US residents 18+ void where prohibited. No purchase necessary.
How to enter:
Leave a comment below telling me about your favorite Scooby-Doo! episode. *One word comments will NOT be considered as a valid entry.
Go to another blog post and leave a comment then come back and leave a comment letting me know which post has your comment.
Retweet this tweet:
Scooby-Doo! and the Gourmet Ghost! Enter the Giveaway at https://t.co/WzIUcWqYdE! https://t.co/oqfYqhWXaW AD

— Candy Po (@Candypo) September 10, 2018
Good luck everyone!! 
Candy