Disclosure: I have received information and products from McNeil Consumer Healthcare Division of McNEIL-PPC, Inc., the makers of TYLENOL®. The opinions stated are my own. This is a sponsored post for SheSpeaks.
Seeing Smiles after Sickness
With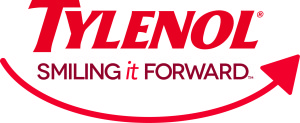 I'm SMILING IT FORWARD™ because seeing their smiles after sickness, is how I know they are feeling better after being ill. We've been up countless hours checking in and feeling their little tired bodies, hot and then hotter- fevers that won't break scare me so much. I grab the bottle of Children's Tylenol, give them their proper dose and slowly they regain their proper temperature and we begin to see smiles. Fever can come at any time the body is fighting  infection. With flu season pretty much in full effect I am stocking up on my Tylenol.
It never fails, I'm awake early expecting the boys to come be-bopping through my door and they don't. Obviously something is wrong. Sometimes I do think, maybe they are sleeping in because they tired or "growing."  My mom says when babies sleep-in, it's because they are growing.
Turns out they both have a fever. As a parent anytime our babies aren't well, it worries us. I worry even more because Ezra our youngest, only has one kidney. A high fever can mean complications with the kidney and that can lead to many other things. It's not functioning properly or not working at all; with only having one kidney we are careful to take good care of him so that his kidney stays healthy. Seeing the digits on the thermometer go down and him behaving like a kid again is heaven for me.  We always have stock of Tylenol. One good thing to know about Tylenol, it is not filtered through the kidneys like other medicines are.
Our Sick Boys 
I'm so proud to be a sharing the SMILING IT FORWARD™ campaign with you. By clicking here you can Share a Smile to donate $1 to Children's Health Fund. Tylenol will be donating up to $100,000! And we can be a part of it!  You have to agree that seeing our children smile after being sick is one of the best rewards as a parent. Here's to seeing more smiles than sickness for you and your family!
Allison Hannigan, a self-proclaimed TYLENOL® mom, actress, mother of Satyana, 4, and Keeva, 1, knows the importance of seeing her child's "feel better" smile – the wide-eyed grin that comes after a fever has been reduced or pain has gone away. She joined SMILING IT FORWARD™ to support TYLENOL® in helping to provide high-quality healthcare, like her daughters receive, to children in need.
"Being a mom has been one of the most rewarding experiences of my life," said Hannigan. "And being the first mom of many to participate in SMILING IT FORWARD™ warms my heart because it will help other children receive high-quality medical care like my daughters do." Allison Hannigan
Question: Do you have a picture you can share in the SMILING IT FORWARD™ campaign? Share it HERE!