Tom and Jerry: The Movie is NOW in theaters and streaming on HBO Max. You're going to want to check your local theater listings because this film will be optimal on the big screen. Thanks to our friends from Boutique Publicity for inviting us for this press event, providing the screener, and sending us some fun goodies! We had the opportunity to speak with Tom and Jerry: The Movie Director Tim Story and he shared some really great insight on the film! Here's some of those:
When it comes to films there's a lot happening. Tom and Jerry: The Movie had an added component of including animated characters in the film. I might be dating myself, but think a la Roger Rabbit. Yes! Story was able to tell us how intricate the set up of the film was and some really intense scenes that came to life with the animated characters interacting with the live actors. They wanted the film to attract adults and children to see how these iconic characters would do in real life.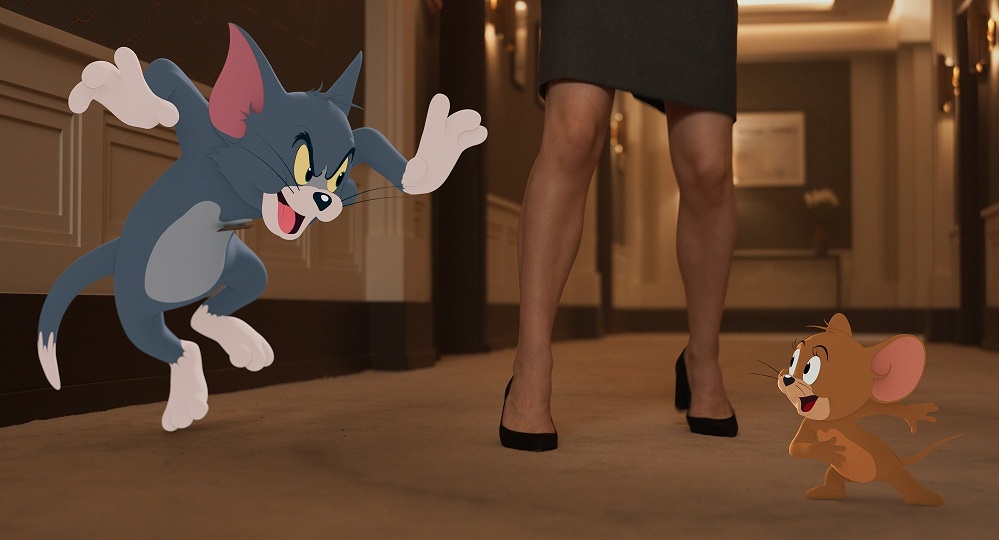 The entire film was shot in London. As you watch you'll notice images of New York, but in fact they were in London! How wild right? Now you're really going to be watching for it.
I asked Story about what I called the "animal tornado" that happens in the film. You can hear his response in the video and I don't want to spoil it for you. It's one of my favorite scenes in the film.
Puppets we used while shooting the movie to help the talent work the scenes with the cartoons.  Tom was a grayscale puppet of Tom. Tim was amazed at how talented puppeteers can be.
Story is all about Jerry.  He loves Jerry's swagger! He thinks Jerry is cooler than Tom. What do you think??
Tom and Jerry were CGI created characters and the actors would be act as if Tom and Jerry were in the scenes with them.
Don't miss the start of the film, you'll see the singing birds that is mentioned in the interview!
ABOUT TOM AND JERRY: THE MOVIE
One of the most beloved rivalries in history is reignited when Jerry moves into New York City's finest hotel on the eve of "the wedding of the century," forcing the event's desperate planner to hire Tom to get rid of him, in director Tim Story's "Tom & Jerry."
The ensuing cat and mouse battle threatens to destroy her career, the wedding and possibly the hotel itself. But soon, an even bigger problem arises: a diabolically ambitious staffer conspiring against all three of them.
Follow Tom and Jerry: The Movie on social: 
Instagram – @TomAndJerry
Twitter – @TomAndJerry
Facebook – @TomAndJerry
Giphy – @TomAndJerry
#TomAndJerryMovie
Here's my Top Picks on Amazon!
TOM & JERRY opens in-theaters and on HBO Max Friday, February 26th.