Oh Flora, a girl after my own heart, adventurous, independent, and full of spunk. Make plans to watch Flora & Ulysses with your family. Thanks to Disney Publicity for providing the screener and sending me book, (Yes! there's a book, grab it here written by Kate DiCamillo) here are my thoughts and review on Disney Flora and Ulysses film, now streaming on Disney+.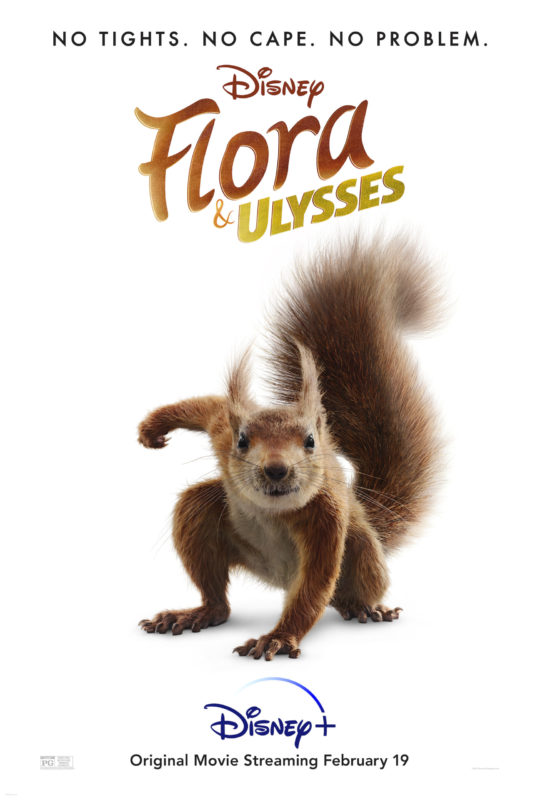 Flora played by Matilda Lawler is an only child that loves to read comic books. She lives with her mom (Alyson Hannigan) a romance novelist in a beautiful Victorian style home. You learn that her parents are separated, I thought they were already divorced but that's not the case. Her father George, played by Ben Schwartz (yes of Sonic!) is a struggling comic book artist that also moonlights in an office supply store. Together they are a really cute family that you know just belongs together.
Ulysses is the cutest! I can't wait for you to watch the film and get to know Ulysses. If you've read the book, the beginning happens just as it does in the book and your kids are going to die of shock, laughter, and awe! Ulysses is an extraordinary little squirrel that you're going to fall in love with. As I watched the film, I just kept thinking, "man if only!" I had a neighbor growing up that actually had a pet squirrel and it was so cute, had he been like Ulysses that would have been amazing! Pay attention and you'll see where she gets the name Ulysses for the squirrel too!
Comic books and super heroes have a part in the film. Not in the way that you're thinking. But if you love comics, you're really going to enjoy this film. There are some awesome cameos in the films from comic book heroes and they really tie Flora and her father's relationship. Her mom doesn't see comics as a good form of reading and wants Flora to read literature, but if you're like me I say, reading is reading.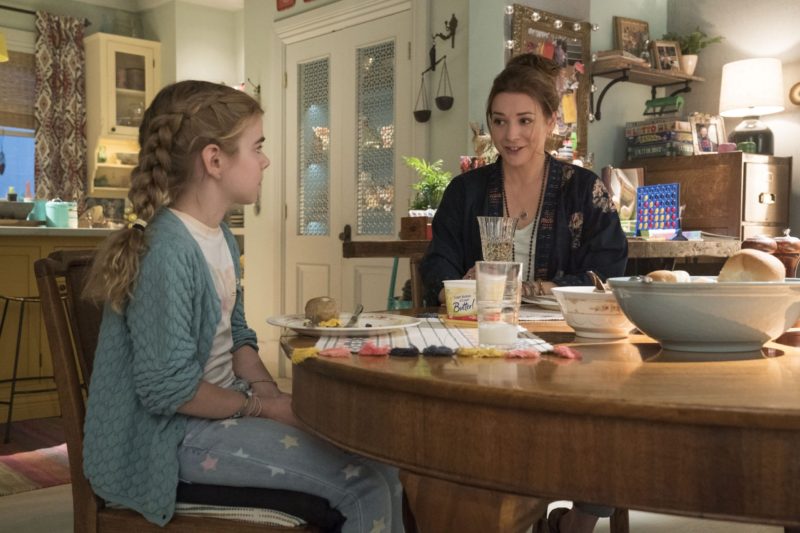 WHAT I LOVED
I loved Flora. She's independent, she's got a strong mind, and she fights for what she believes in. All the things we want in strong female leads. The subplot of the film with Flora's parents is also good. Family struggles are real and I like how they overcame their issues, both as a couple and individually. One of my favorite moments comes at the end of the film where her father tells her, "maybe it's ok to hope" Do not hope, observe- because when you do, you'll see how much wonder the world really has, and you won't be a cynic anymore.
WHAT I DIDN'T LOVE
I know, I know it's a movie. But what happened to teaching responsibility? There's a couple things that happen in the film that while they are hilarious, outrageous and would never happen in real life, what if they did? I think it's fine for characters to be different, it's part of the film and story. I get that, but when there's a blatant disregard for laws I find it annoying, there's children watching! When you watch it, come back and tell me your thoughts. I have a feeling you'll know what I mean, well actually my friend didn't even notice it. So maybe I'm just nutty.
OVERALL
Flora and Ulysses is a super cute film. Both Flora and Ulysses are very special characters that you want to cheer on and see more of. In the beginning of the film, Flora talks about being a cynic, but as you watch the film you realize that she's not as cynical as she really thinks she is. There's great fun and adventure in the film and of course you can't help but just love Ulysses. Once I got past my issues, it really is a great family film for all ages. I can't wait to hear what you think about it!
TRAILER
SYNOPSIS
"Flora & Ulysses" is a comedy-adventure based on the Newberry Award-winning book about 10-year-old Flora, an avid comic book fan and a self-avowed cynic, whose parents have recently separated. After rescuing a squirrel she names Ulysses, Flora is amazed to discover he possesses unique superhero powers which take them on an adventure of humorous complications that ultimately change Flora's life–and her outlook–forever.
Cheers!
Candy