One of the chores that has to get done once a week is the laundry. Ok, if I work it right, we can make it to two weeks. I guess you could say we have a lot of clothes. LOL I recently was very excited to be named a Biz detergent Ambassador! I've kept it to myself haven't I?! There's nothing more I love than sharing good things with you! So today I'm sharing this good news and if you've never used Biz, I'm sharing a fantastic product you can bring into your home! Join me as together we are taking care of the laundry with Biz!
When it comes to laundry detergents, not all are created equal in my eyes. You can't fool me with the pretty floral smells. The proof is in the washing! And I've been very impressed with Biz! Not only do my clothes look and smell clean – they totally are. These boys have no regard for how the clothes get clean, I'm sure if you have little children you agree. Because let's be real, it's not just boys! 
But let's get back to the business of laundry. How often do you wash laundry? How long does it normally take you to get it all washed, dryed, folded and put away? Some of you may be alarmed to hear this but I don't have a routine. I've been married for goign on 17 years, have had children for 10 of those 17 and I still don't have a routine. I trust in my appliances and in my detergent to do the job when I get the laundry going. In trusting in my detergent I pay close attention to a few things and you should too.
Types of Machines it's Made For
We don't have fancy appliances. We consider the fact that we move around so much and how things sometimes don't make it to your next location in one place we go with what we know will last. The good thing about Biz is that it can be used in HE machines and regular agitator in the middle machines. WIN!
Pre-Treat
I have to admit I'm not the best at pre-treating until the need arises. Those greasy stains just make my day go sour real quick. So I've become more proactive and reach for Biz before it sets. The bottle says to apply BIZ and rub gently then wait 5-10 minutes and wash as usual. The 5-10 minutes might have turned into a couple days.. *My experience was just fine with this process. Please note I can't recommend you do the same in case it doesn't work out for you.. *That was your disclosure friends!* But Biz also can serve as a pre-treater.
Boost It
Why yes, Biz can also be a booster for your loads! It's your detergent and it's a booster! Truly the best of both worlds!
More Cool Facts About Biz
When you grab your bottle of Biz you'll see so many awesome statistics from studies conducted that Biz is all kinds of bad ass.. Ok I said the last part but I have a strong feeling that you'll agree! And to boot it's safe for your septic tanks and recyclable. It's kind of a rock star of detergents in my opinion!!
And I'm so proud to be an ambassador for Biz this year! I'll be sharing more content about Biz in the coming months! Stay tuned!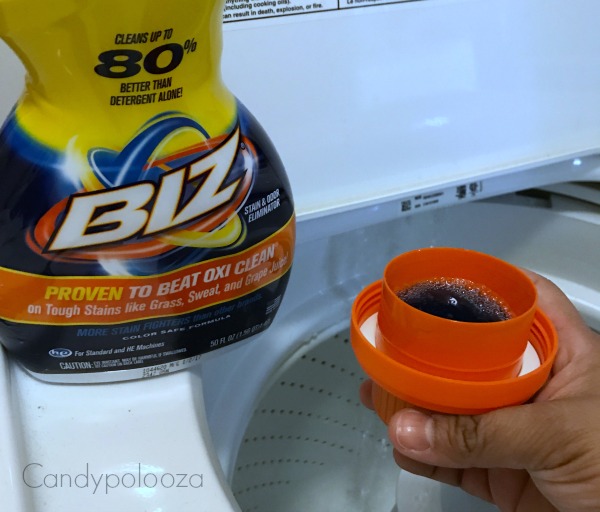 Question:
What's one thing you look for in a detergent?
Cheers! 
Candy