One of my favorite Disney movies is celebrating a mile-stone! Beauty and the Beast. I'm so excited to share with you that it's also joining the Walt Disney Signature collection! This is the "tale as old as time," but the movie will engage you as it did 25 years ago and you'll find yourself singing along. I simply cannot wait to see it on Blu Ray + Digital HD!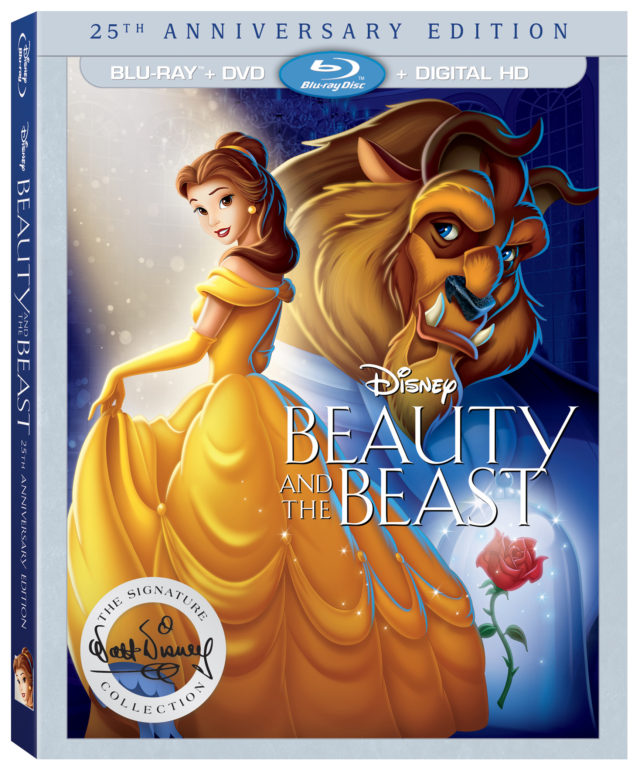 Even though I'm a boy mom I still enjoy these wonderful princess stories and I love sharing these movies with my boys.
Here's a little more from our sponsor:
Twenty-five years ago, Disney's "Beauty and the Beast" broke ground as the first animated feature film to receive an Academy Award® nomination for best picture, and now this tale as old as time joins the Walt Disney Signature Collection on Sept. 6 on Digital HD and Disney Movies Anywhere, and on Sept. 20 on Blu-ray™ and DVD.

The beloved animated classic has truly stood the test of time and now a whole new generation of viewers are invited to be our guest and fall in love with this enchanting tale, its captivating characters and unforgettable, award-winning music score and original song, "Beauty and the Beast."

The Walt Disney Signature Collection edition features four versions of "Beauty and the Beast."  The Blu-ray release will include the original theatrical film; an extended version with the "Human Again" song sequence and a never-before-released on home entertainment sing-along version.  The original work-in-progress version will be available digitally and on Disney Movies Anywhere.

There is also a host of all-new bonus extras including a rare opportunity to gather around the piano with some of Disney's greatest composers, including Alan Menken ("Beauty and the Beast," "Aladdin"), Stephen Schwartz ("The Hunchback of Notre Dame," "Pocahontas"), Kristen Anderson-Lopez ("Frozen," Disney's upcoming "Gigantic"), Robert Lopez ("Frozen," Disney's upcoming "Gigantic") and Lin-Manuel Miranda (Disney's upcoming "Moana") as they sing and share how they've personally been inspired by the film's award-winning music; a look at how Walt Disney himself sought to adapt this famous fairytale; a nostalgic look back with Paige O'Hara, the voice of Belle; behind-the-scenes access into the recording booth with the cast; and a sneak peek at Disney's upcoming live-action re-telling of "Beauty and the Beast," arriving in theaters in 2017.
By the way I joined SnapChat a few months ago to follow along during the filming of the live-action "Beauty and the Beast" LOL if that doesn't say love I don't know what does. 😉 I'm very excited about it coming to theaters in 2017!
The 25h Anniversary Edition of Beauty and The Beast arrives in September! Mark your calendars!
ABOUT THE WALT DISNEY SIGNATURE COLLECTION:
The Walt Disney Signature Collection includes groundbreaking films created or inspired by the imagination and legacy of Walt Disney, featuring timeless stories and characters that have touched generations. Each release will offer special features for every member of your family plus a unique digital experience.
Question:
What are your favorite Disney animated films? Is Beauty and the Beast one of them?
Cheers!
Candy