Disclosure: This is a sponsored post. I received this product for review, however all opinions expressed are my very own.
I know you are probably thinking.. "Candy we never heard the review for Teen Titans Go House Pets Season 1.. you can't just skip over to season two part two".. But yes, friends I'm going to have to. I didn't realize that Big A loved Teen Titans.. so I bypassed that video and have since learned so we wanted to share "our" more like his thoughts about this dvd!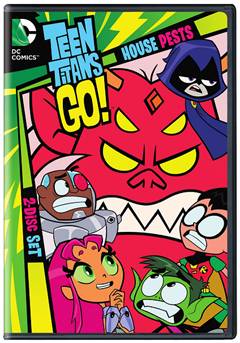 What did Big A think?
"It was very cool and there were some parts that were kinda scary but overall it was super funny and really cool." If your children normally watch Teen Titans the show follows the same theme. DC Comic characters Robin, Raven, Starfire, Beast Boy and Cyborg are up to their usual quest for justice. Each cartoon episode brings new adventures with Robin's Bizzaro World counterpart, Nibor. Raven is pushed to her limits while dealing with the vacation during the Crazy Day episode. This two disc collection is sure to keep your Teen Titans Go fans super entertained. I actually sat down and watched with the boys! Good times!
"The Teen Titans try to keep things as crime-free and boredom-free as possible as Warner Bros. Home Entertainment (WBHE) releases Teen Titans Go!: House Pests Season 2 Part 2 on DVD on August 18, 2015. Teen Titans Go! is consistently ranked as a top show on Cartoon Network: #1 show for Boys 6-11 and #2 show for Kids 6-11 on all of cable. Teen Titans Go!: House Pests Season 2 Part 2 will be available on DVD for $19.97 SRP and includes over 4 hours of content."
Teen Titans is available NOW! 
Question:
Do you have a Teen Titans at your house?
Candy 
About Warner Bros. Home Entertainment Inc.
Warner Bros. Home Entertainment (WBHE) brings together Warner Bros. Entertainment's home video, digital distribution and interactive entertainment businesses in order to maximize current and next-generation distribution scenarios. An industry leader since its inception, WBHE oversees the global distribution of content through packaged goods (Blu-ray Disc™ and DVD) and digital media in the form of electronic sell-through and video-on-demand via cable, satellite, online and mobile channels, and is a significant developer and publisher for console and online video game titles worldwide. WBHE distributes its product through third party retail partners and licensees.
About Warner Bros. Animation
Warner Bros. Animation (WBA) is one of the leading producers of animation in the entertainment industry, producing and developing both CG and traditionally animated projects for multiple platforms, both domestically and internationally. For TV, WBA produces series such as Teen Titans Go!, The Tom and Jerry Show and the upcoming Be Cool Scooby-Doo! and Wabbit – A Looney Tunes Production for Cartoon Network; original animated DC Nation shorts for Cartoon Network; and the forthcoming Mike Tyson Mysteries series for Cartoon Network's Adult Swim. As the home of the iconic animated characters from the DC Comics, Hanna-Barbera, MGM and Looney Tunes libraries, WBA also produces highly successful animated films — including the DC Universe Animated Original Movies — for DVD. One of the most-honored animation studios in history, WBA has won six Academy Awards®, 35 Emmy® Awards, the George Foster Peabody Award, an Environmental Media Award, a Parents' Choice Award, the HUMANITAS Prize, two Prism Awards and 20 Annie Awards (honoring excellence in animation).
About DC Entertainment
DC Entertainment, home to iconic brands DC Comics (Superman, Batman, Green Lantern, Wonder Woman, The Flash, etc.), Vertigo (Sandman, Fables, etc.) and MAD, is the creative division charged with strategically integrating across Warner Bros. and Time Warner.  DC Entertainment works in concert with many key Warner Bros. divisions to unleash its stories and characters across all media, including but not limited to film, television, consumer products, home entertainment, and interactive games.  Publishing thousands of comic books, graphic novels and magazines each year, DC Entertainment is the largest English-language publisher of comics in the world.