Disclosure: This shop has been compensated by Collective Bias, Inc. and its advertiser. All opinions are mine alone. #FuelForSchool #CollectiveBias
Our boys have been in the "thick" of Back to school for almost a month now. Crazy how time is flying but our school schedule/routine still isn't down pat. Big A will be participating in cub scouts and it doesn't pick up until September so we'll have another calendar event to add then. Pero, por ahora estamos listos (but for now we are ready) with our back to school essentials: breakfast, snacks and pencils! #FuelForSchool #CollectiveBias Thinking back to my days as a student my mom always made sure we had the essentials when it came to school. As my mom did I headed to our local Walmart to stock up.
  I was very excited to easily find our breakfast favorite the Jimmy Dean® Sausage, Egg & Cheese Croissant Sandwiches and our easy to grab and go or eat and study State Fair®  BEEF Corn Dogs! I might be eating one right now.. shush don't tell the boys!
Is it just me or do you get excited when you find the product on the end caps?! SALE BUDDY!! Walmart low prices!! Woo!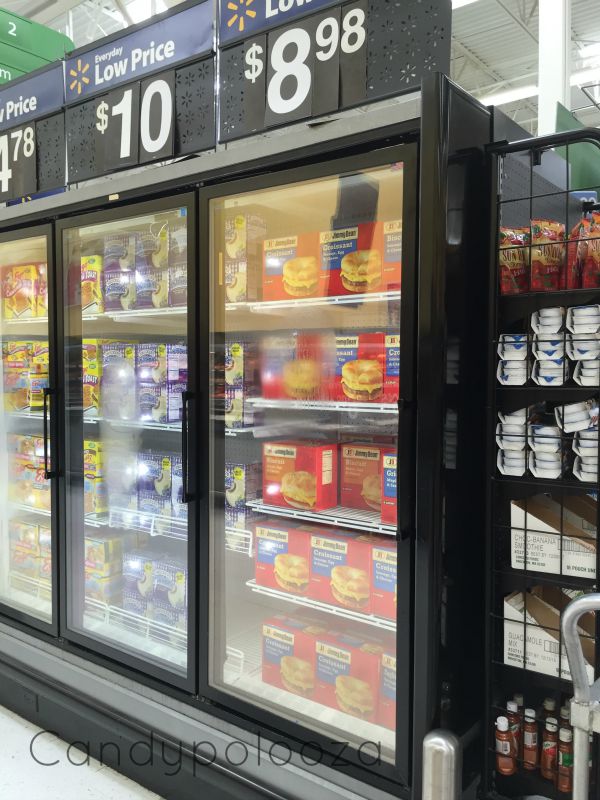 And since there is always a need for pencils I grabbed a box of those too! We all love doodling on paper so we go thru a lot of pencils between the four of us. Speaking of pencils I've got a great craft idea for you too!!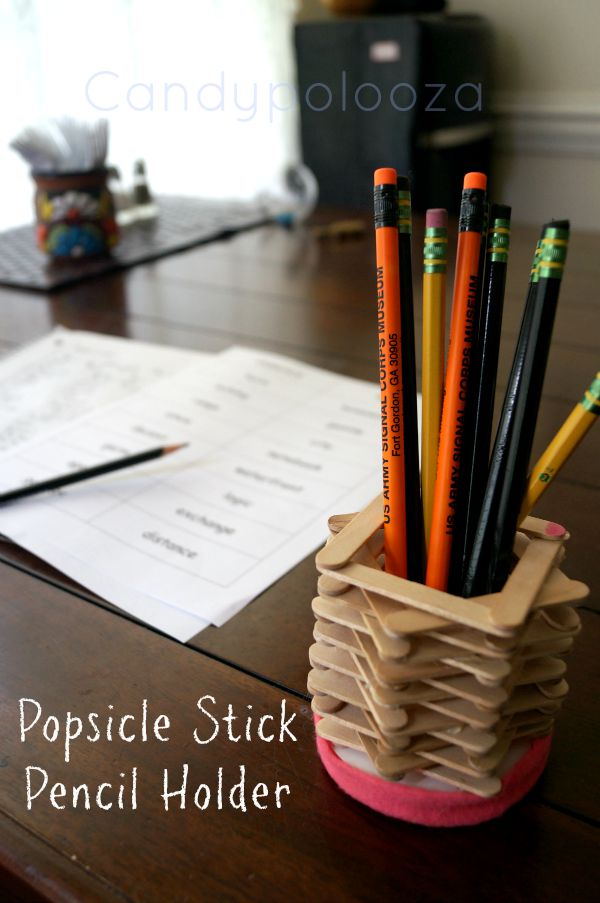 It's super easy and so much fun!
Here's what you need:
Clean popsicle sticks. *I used mini sized
Hot Glue gun/glue or school glue
A strip of felt fabric (I chose pink because I wanted it to look like a pencil??)
Empty ribbon roll
This craft is super easy but can be time consuming due to making squares with the sticks prior to gluing down on stack. You can make the stack as high as you like. So get your crew ready! As I mentioned above you can use a hot glue gun or if you've got small children helping out bring out the school glue. *It will take a little longer to dry if you use school glue. Just be aware.*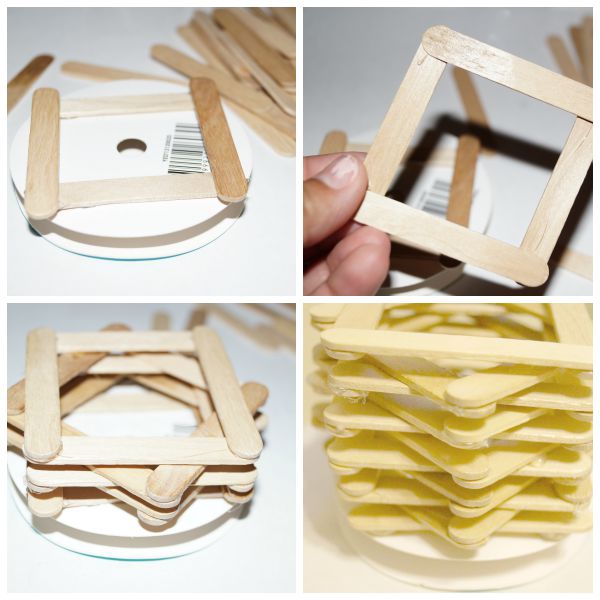 Start your base on the ribbon roll and build from there. As you can see I found it worked best to make the squared and then stacking. I changed the directions of the squares each time I glue it down. I felt it added dimension and "coolness" to the stack. We decided to leave it natural to give you the options of how you want to decorate it. I wanted the wood to resemble a pencil.. you can add your felt ribbon along the bottom to finish up the eraser bottom and to cover the empty ribbon roll base.
These days the holder is getting a lot of work!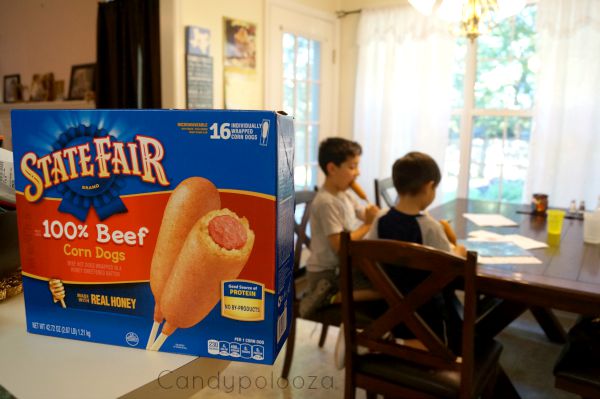 The boys enjoy a "merienda" or snack after school while Big A works on his homework. They are growing boys and need as many meals as possible. Their favorite afternoon snack are the State Fair® corn dogs! We love the signature honey-sweetened cornbread batter and knowing that it's an all beef frank is nice too! You can find State Fair® Corn Dogs in the freezer section at Walmart.
But you know we gotta get our day started right. I try to make our mornings as calm and stress-free as possible. I believe if you start the day frazzled it's not going to get any better, so cool, calm and collected. Big A loves to ride the bus so the days he does ride the bus he likes to eat his breakfast while he waits for the bus. Our go-to breakfast? The Jimmy Dean® breakfast sandwiches of course!  Not only are they delicious and satisfying, it's a high quality breakfast to get the day started right!
He's in third grade this year. No longer is he the baby that I held in my arms for hours upon hours when he wouldn't go to sleep. Big A is a vibrant child, full of energy and love. I wish him a great 2015-2016 school year as I extend my wishes for your children as well. And for you parents too! Let's make this year the best yet!!
Question:
What are some of your back to school essentials?
Candy