When I say epic, I mean EPIC and think the mightiest voice you can imagine. That's how epic the live action panel at D23Expo was on Saturday afternoon or was it morning?! I can't even remember all I can think about is all of those super heroes on that stage! Thanks to Disney for inviting me to this epic event D23Expo, I'm pumped to share all the news of Walt Disney Studios, Star Wars, and of course Marvel. The following films are all live action which means they are not animated and we can literally squeeze all of the people on the screen. Let's go thru the epic live action pan at D23Expo!
Let's start with the film that is coming next year!
A Wrinkle in Time
We just got the book and I'll be reading it but I can already see this being a huge hit. The amazing actors in the film are going to careen it into the millions. The diverse casting of the Mrs. is divine and Ava DuVernay and Jennifer Lee have done an amazing job bringing the story to life with new comer Storm Reid. Starting the Live Panel with A Wrinkle in Time was fantastic! I can't wait to see this film. I'll be sharing more info as I receive it, but for now here's the trailer and more info below.
Here's the info on the movie:
Directed by Ava DuVernay from a screenplay by Jennifer Lee based upon the beloved novel by Madeleine L'Engle, A WRINKLE IN TIME is produced by Jim Whitaker and Catherine Hand with Doug Merrifield serving as executive producer. The film also stars: Gugu Mbatha-Raw, Michael Peña, Levi Miller, Deric McCabe, André Holland and Rowan Blanchard, with Zach Galifianakis.

Meg Murry (Storm Reid) is a typical middle school student struggling with issues of self-worth who is desperate to fit in. As the daughter of two world-renowned physicists, she is intelligent and uniquely gifted, as is Meg's younger brother Charles Wallace (Deric McCabe), but she has yet to realize it for herself. Making matters even worse is the baffling disappearance of Mr. Murry (Chris Pine), which torments Meg and has left her mother (Gugu Mbatha-Raw) heartbroken. Charles Wallace introduces Meg and her fellow classmate Calvin (Levi Miller) to three celestial guides—Mrs. Which (Oprah Winfrey), Mrs. Whatsit (Reese Witherspoon) and Mrs. Who (Mindy Kaling)—who have journeyed to Earth to help search for their father, and together they set off on their formidable quest. Traveling via a wrinkling of time and space known as tessering, they are soon transported to worlds beyond their imagination where they must confront a powerful evil. To make it back home to Earth, Meg must look deep within herself and embrace her flaws to harness the strength necessary to defeat the darkness closing in on them.
A WRINKLE IN TIME opens in theatres everywhere on March 9th, 2018!
She's perfect in every way. Who are I talking about? Mary Poppins of course!
Mary Poppins Returns
Now what you might think is just a remake is not. Mary Poppins returns takes us back to 17 Cherry Lane, but 25 years later! Yes! The children are adults and have families of their own and the depression has hit London. Who is to return to restore order? Well Mary Poppins of course! Emily Blunt bring a new flair to Mary Poppins, because like she said on the D23Expo stage, "No one can out Julie, Julie Andrews." She's made the Mary Poppins character her own and I can't wait to see it. More info on the film:
To the delight of D23 fans, Emily Blunt, the star of Disney's sequel MARY POPPINS RETURNS, took to the stage with director/producer Rob Marshall to talk about the eagerly-anticipated return of the practically-perfect nanny. In this original musical sequel to the 1964 "Mary Poppins," Mary and her friend Jack, an optimistic street lamplighter played by Lin-Manuel Miranda, embark on entirely new adventures with the next generation of the Banks family to help them find the joy and wonder missing in their lives.
MARY POPPINS RETURNS opens in theaters everywhere on December 25th, 2018!
The Nutcracker and The Four Realms
Your thoughts of The Nutcracker or what you are expecting from The Nutcracker and the Four Realms is going to take you beyond your imagination. It looks amazing in every way and it's not going to be your typical ballet. Lil Buck dazzeled us with a brief view of some of the dancing artistry we'll see in the film and you are going to be taken! The Nutcracker like you've never seen it before.
Starring Keira Knightley as the Sugar Plum Fairy, newcomer Mackenzie Foy as Clara, Helen Mirren as Mother Ginger, Morgan Freeman as godfather Drosselmeyer, and featuring a special performance by Misty Copeland, the movie is inspired by E.T.A. Hoffmann's classic tale.
Sean Bailey shared with D23 Expo 2017 fans Disney's all-new take on a classic story in THE NUTCRACKER AND THE FOUR REALMS. Starring Keira Knightley as the Sugar Plum Fairy, newcomer Mackenzie Foy as Clara, Helen Mirren as Mother Ginger, Morgan Freeman as godfather Drosselmeyer, and featuring a special performance by Misty Copeland, the movie is inspired by E.T.A. Hoffmann's classic tale. THE NUTCRACKER AND THE FOUR REALMS is directed by Lasse Hallström and produced by Mark Gordon and Larry Franco.
THE NUTCRACKER AND THE FOUR REALMS open in theatres everywhere on November 2nd, 2018!
DUMBO
One of the classics that always makes me cry, but never ceases to amaze me. Dumbo the Flying Elephant. A treasure from childhood the great Tim Burton is bringing Dumbo to life like we have never seen before. I honestly cannot wait. We don't know the story or if it will follow the classic tale, but all I can say is that we'll be watching!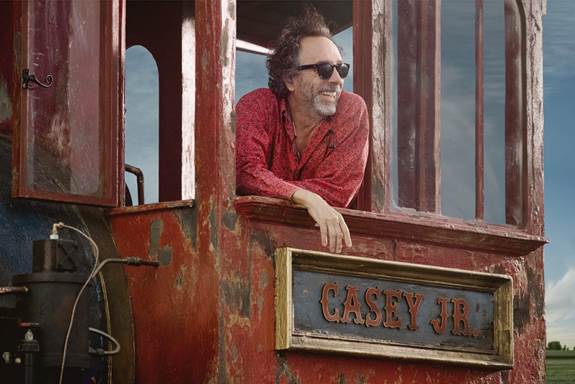 D23 Expo 2017 fans were greeted from across the pond by visionary filmmaker Tim Burton, who is busy directing his next project—a live-action reimagining of Disney's 1941 animated classic DUMBO.  "'Dumbo' was always one of my favorite Disney films," said Burton. "We're trying to give it the same heart, feeling and emotion that we all loved about the original."
The film stars Colin Farrell as Holt Farrier, a former circus star and war-veteran charged with the care of a newborn elephant whose oversized ears make him a laughingstock of an already struggling circus. Nico Parker and Finley Hobbins were cast as Holt's children, who discover that Dumbo can fly. Danny DeVito portrays circus owner Max Medici who tries to capitalize on the novelty. And Michael Keaton is persuasive entrepreneur V.A. Vandevere who swoops in with aerial artist Colette Marchant, portrayed by Eva Green, to make Dumbo a star. Katterli Frauenfelder, Derek Frey, Ehren Kruger and Justin Springer are producing from a screenplay by Kruger. Filmed entirely in England, DUMBO is utilizing state-of-the-art visual effects to portray the big-eared elephant and many of his animal counterparts.
DUMBO flies into theaters everywhere on March 29th, 2019!
THE LION KING (#TheLionKing)
First off let me start off by saying how much I love Jon Favreau. As an actor of course, but what he did as a director for The Jugle Book I mean he's a complete visionary for me now. I cannot wait to see what he does with The Lion King. We did get to see a short reel of the film and it made me cry. Of course it did, Candy! I didn't realize how much I loved the movie until D23Expo. I think it's just one I took for granted not knowing it was the film that almost didn't make it. More on that later.. But this live action will be phenomenal because my man Jon is going to make it so.  Here's more on the film and a pic of Jon, because you know.
Alan Horn joined Sean Bailey to surprise the D23 Expo crowd with a special look at director Jon Favreau's new live-action take on Disney's 1994 classic animated film THE LION KING. The technology team behind the movie are introducing all-new filmmaking techniques that promise striking visuals never before seen on the big screen—bringing celebrated characters to life in a whole new way.

Favreau, who was behind 2016's blockbuster live-action remake of THE JUNGLE BOOK, joined Bailey on stage. "This is a story that belongs to everyone who grew up with the original film," said Favreau. "I wanted to demonstrate that we could be respectful of the source material while bringing it to life using new techniques and technologies. We wanted to do something special for the D23 Expo audience and give them a first look at what we're up to."
Starring Donald Glover as Simba, and James Earl Jones as—naturally—Mufasa, Favreau's live-action version of THE LION KING is produced by Favreau, Jeffrey Silver and Karen Gilchrist.
THE LION KING roars into theaters everywhere on July 19th, 2019!
Now the time has come to talk Star Wars. YES!!
STAR WARS: THE LAST JEDI (#StarWars, #TheLastJedi)
The music alone gave me chills and the star power that came on stage was just the cherry on top. Of course missing was our favorite Princess of the Galaxy Carrie Fisher, but she'll play a great part in this film and like writer and director Rian Johnson said it would be amazing. We cannot wait to see this film. The cast has amazing chemistry together it was truly incredible to see them all.
Alan Horn welcomed Rian Johnson, the writer and director of the latest chapter in the Skywalker saga, STAR WARS: THE LAST JEDI. Johnson thrilled the audience by introducing talent from the film, including Mark Hamill, Daisy Ridley, John Boyega, Gwendoline Christie, Kelly Marie Tran, Laura Dern and Benicio Del Toro.
Yes!! Laura Dern is in the film!! I love Laura Dern and the addition of Kelly Marie Tran is fantstic! She shared that she learned all she could while they allowed on the set. I'm sure she is fully of all kinds of film and Star Wars knowledge now! Such a doll!
Here's the trailer for your viewing pleasure!

In Lucasfilm's STAR WARS: THE LAST JEDI, the Skywalker saga continues as the heroes of THE FORCE AWAKENS join the galactic legends in an epic adventure that unlocks age-old mysteries of the Force and shocking revelations of the past.

The movie stars Mark Hamill, Carrie Fisher, Adam Driver, Daisy Ridley, John Boyega, Oscar Isaac, Lupita Nyong'o, Andy Serkis, Domhnall Gleeson, Anthony Daniels, Gwendoline Christie, Kelly Marie Tran, Laura Dern and Benicio Del Toro.
STAR WARS: THE LAST JEDI opens in theaters everywhere on December 15th!
I've made you wait long enough. I gave you a peek at the stage from the Live Action Panel on my Facebook page. Are you ready for what's to come in the Marvel franchise?! It's going to blow your mind! Let's do this:
AVENGERS: INFINITY WAR (#Avengers, #InfinityWar)
For the finale, Horn brought Kevin Feige to the stage for Marvel Studios' AVENGERS: INFINITY WAR. To start the ball rolling, Feige unveiled the Marvel Studios' official 10th anniversary logo to the excited audience. Marvel Studios' 10th anniversary begins with the release of AVENGERS: INFINITY WAR and covers an impressive decade of Marvel Studios' blockbusters released from 2008 through the AVENGERS untitled film in 2019. In celebration of the anniversary, fans can expect exclusive consumer products and collectibles, along with in-theater events and much more in the coming months.
An unprecedented cinematic journey ten years in the making and spanning the entire Marvel Cinematic Universe, Marvel Studios' AVENGERS: INFINITY WAR brings to the screen the ultimate, deadliest showdown of all time. The Avengers and their Super Hero allies must be willing to sacrifice all in an attempt to defeat the powerful Thanos before his blitz of devastation and ruin puts an end to the universe.
Anthony and Joe Russo direct the film, which is produced by Kevin Feige. Louis D'Esposito, Victoria Alonso, Michael Grillo and Stan Lee are the executive producers. Christopher Markus & Stephen McFeely wrote the screenplay.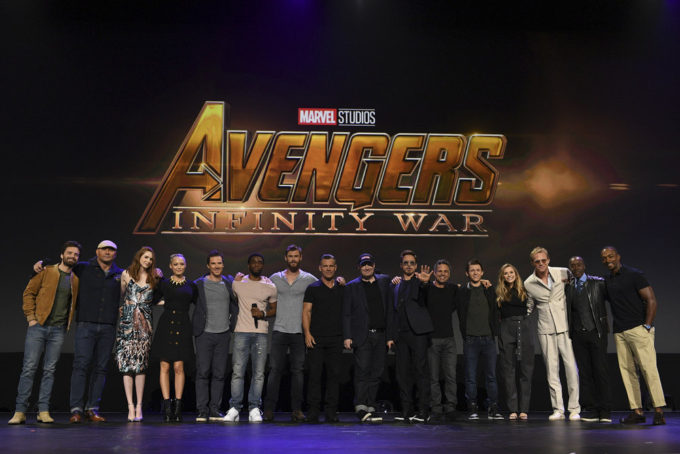 AVENGERS: INFINITY WAR opens in theaters everywhere on May 4th, 2018!
A few more annoucements were made that had everyone out of their seats!
Sean Bailey confirmed and revealed new films underway at the studio:
MULAN (#Mulan)
A live-action take on Disney's 1998 feature, which will be helmed by Niki Caro ("McFarland, USA," "Whale Rider").
JUNGLE CRUISE (#JungleCruise)
A live-action nod to the popular theme park ride.  The studio is working with Dwayne Johnson, recently heard as Maui in MOANA, on the project. 
ALADDIN (#Aladdin)
Directed by Guy Ritchie, with Mena Massoud as Aladdin, Naomi Scott as Jasmine and Will Smith as the Genie.
About D23 Expo 2017
D23 Expo—The Ultimate Disney Fan Event—brings together all the worlds of Disney under one roof for three packed days of presentations, pavilions, experiences, concerts, sneak peeks, shopping, and more. The event, which will take place July 14–16 at the Anaheim Convention Center, provides fans with unprecedented access to Disney films, television, games, theme parks, and celebrities. For the latest D23 Expo 2017 news, visit D23expo.com. Presentations, talent, and schedule subject to change. To join the D23 Expo conversation, be sure to follow DisneyD23 on Twitter, Facebook, Pinterest, Instagram, and YouTube, and use the hashtag #D23Expo.
About D23
The name "D23" pays homage to the exciting journey that began in 1923 when Walt Disney opened his first studio in Hollywood. D23 is the first official club for fans in Disney's 90-plus-year history. It gives its members a greater connection to the entire world of Disney by placing them in the middle of the magic through its quarterly publication, Disney twenty-three; a rich website at D23.com with members-only content; member-exclusive discounts; and special events for D23 Members throughout the year.
Fans can join D23 at Gold and General Membership levels at D23.com and at DisneyStore.com/D23. To keep up with all the latest D23 news and events, follow DisneyD23 on Facebook, Twitter, Instagram, Pinterest, and YouTube.
Wow what a post chock full of info right?! I've got more info for you tomorrow! What's coming to Disney Parks and Resorts!!
Leave me a comment telling me what film you are most excited about!
Cheers!
Candy
SaveSave
SaveSave
SaveSave
SaveSave
SaveSave