I love a good film with positive female role models. When I was asked to review the film, The Warrior Queen of Jhansi, I knew nothing about Rani of Jhansi, who she was or what she did- boy was I in for a treat. Sharing The Warrior Queen of Jhansi, my thoughts and review with you today.
Southeast Asian (Indian) culture has always interested me, I started watching Bollywood films in my early twenties. Most recently I started doing Facebook LIVE Bollywood movie reviews with my friend Amanda from GuideforMoms. Our love for this culture runs deep ya'll. Check out her group on Facebook too.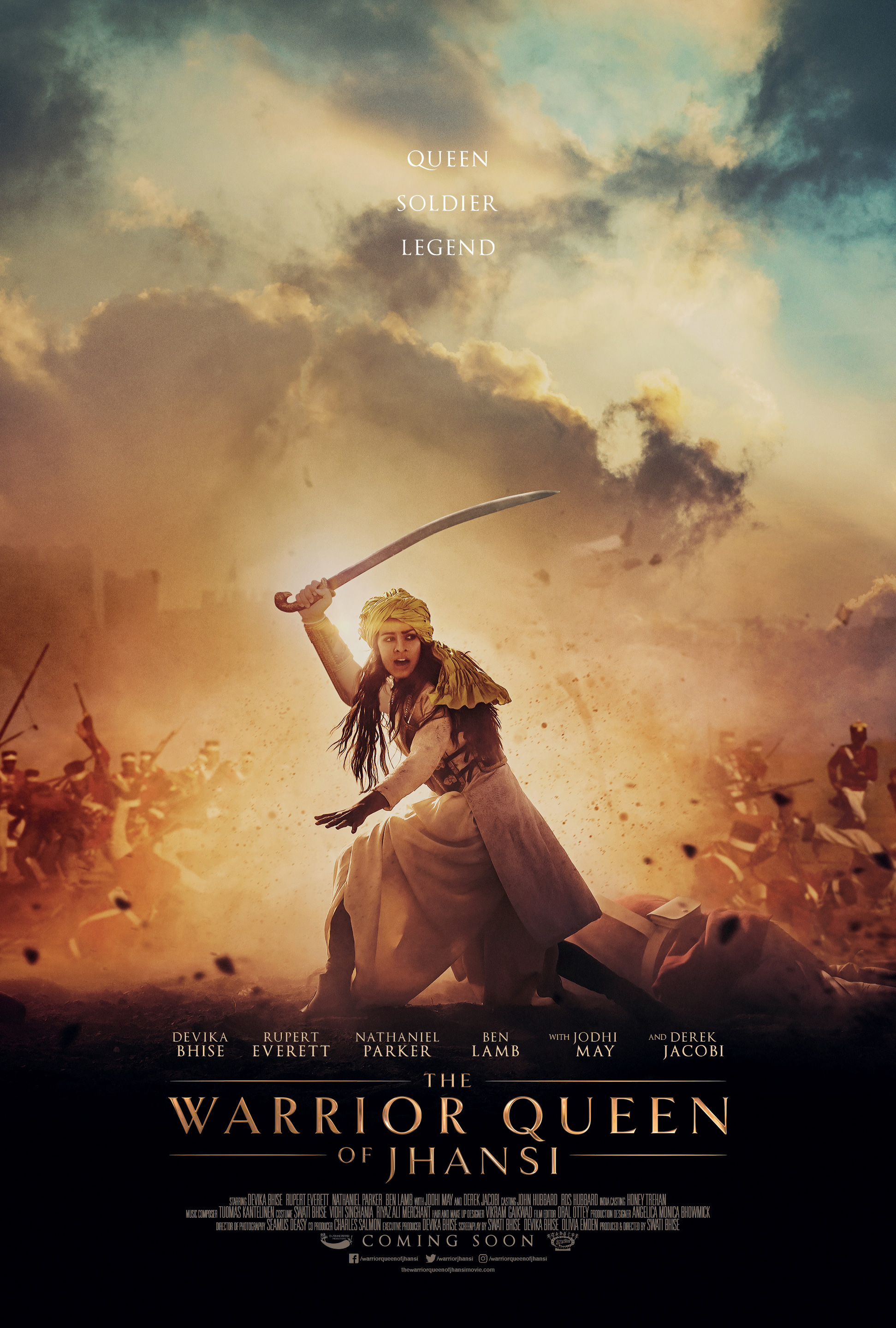 THE MAKING OF THE WARRIOR QUEEN OF JHANSI
One of the fantastic things about this film is that a woman brought this product to fruition. Swati Bhise wrote and directed the film, along with Devika Bhise and Olivia Emden. Three women-directed armies of people during so many amazing fighting scenes. The artistry of the film is beautiful and rich the costumes are fantastic. It's a beautiful film visually and so captivating. The story is so incredible you have to remind yourself that it is based on a true story. Rani of Jhansi was a real woman.
While learning more about the film, I learned that Swati Bhise used her extensive knowledge and studies to produce this film to be as accurate as possible. The ending (which I won't spoil) gives potential endings as it's not exactly know how Lakshmibai's story ends.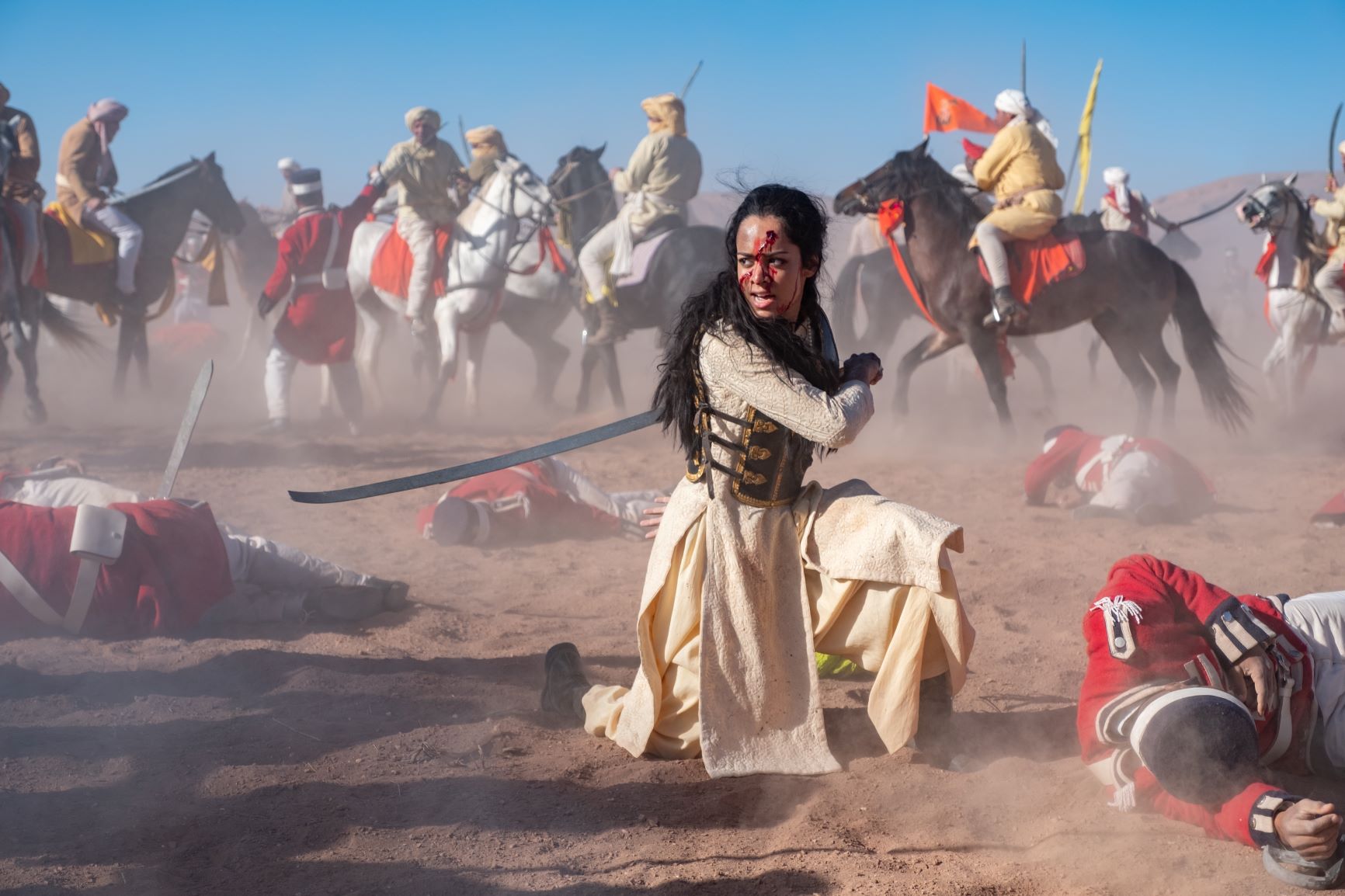 WHAT I LIKED
Honestly- EVERYTHING. I loved it. The film was brilliantly produced and developed. Devika Bhise is phenomenal as Rani of Jhansi. The power she put into the character was beyond words. As Queen, Bhise became Rani and I feel like there were some very powerful scenes during the film where I wonder how she was feeling to see it come alive before her eyes. It would have been incredible to be on set to see all of the scenes being filmed.
This is a film that you will learn things too. My knowledge of Indian history is very small and I wasn't familiar with the Queen of Jhansi and the British East India Company. Because the film is based on true events, I came out learning so much about this time period and wanting to learn even more.
The entire film was fantastic, but there was one scene that really "brought it home" for me. One of the British soldiers is watching Lakshmibai fight off soldiers and he says, "She's like Joan of Arc." Knowing the story of Joan of Arc and seeing the trials and tribulations Lakshmibai had to endure it makes her story so much more impactful.
I am so proud to help promote the film. Rani of Jhansi is a story that must be shared and more people should be aware of the amazing woman that she was. A true freedom fighter for her country and a role model for girls everywhere. I would say that you should take your daughters to see the film, but it does have an R-rating, maybe your adult daughters. Check out the books below for young readers. We must share the story of Rani of Jhansi! *These are my affiliate links!
About The Warrior Queen of Jhansi
The Warrior Queen of Jhansi tells the true story of the legendary Rani (translation: Queen) of Jhansi, a feminist icon in India and a fearless freedom fighter. In 1857 India, this 24-year old General led her people into battle against the British Empire earning the reputation as the Joan of Arc of the East. This real-life Wonder Woman's insurrection shifted the balance of power in the region and set in motion the demise of the notorious British East India Company and the beginning of the British Raj under Queen Victoria.
102 Minutes | Rated R
Directed by Swati Bhise
Written by Swati Bhise, Devika Bhise & Olivia Emden
Starring Devika Bhise, Rupert Everett, Nathaniel Parker, Ben Lamb with Jodhi May and Derek Jacobi
Official Site | Facebook | Twitter | Instagram Follow the hashtag: #TheWarriorQueenofJhansi
Question:
Do you know the story of the Warrior Queen of Jhansi?
Cheers,
Candy