We were stationed at Ft. Bragg, North Carolina with Jennifer and her family. I'm so happy to be able to share their story with you and how you can help give back to our warriors. This is Jennifer's account and personal story with her husband Tommy.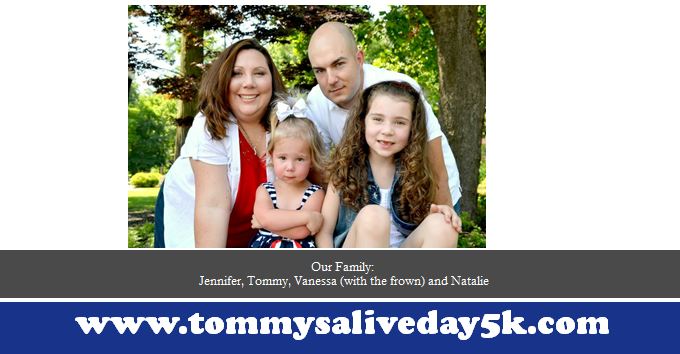 The journey for our non profit began 5 years ago after I got a phone call no one wants to get…
It was about 5:30am and I got a call from a very odd number, usually indicating it was a number from Afghanistan. I answered somewhat concerned, and my heart sank when it wasn't my husband on the line, but someone asking if I was Tommy's wife. At that point I was told that my husband had been injured. He had been a casualty in a suicide bombing attack, he was alive, but not well.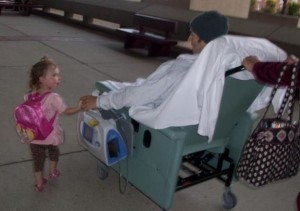 The next week was truly a blur. Trying to figure out what was wrong with my husband, sitting by a phone waiting for updates. Trying to remain calm and not let my 2 year old know what was going on. I got to Walter Reed hospital on October 31st. I finally saw my husband, he was tubed, both his lungs had collapsed, he had lost his kidney, his intestines had been wrecked, he had blood clots, he had some internal organ issues, he had over 50 shrapnel entrance wounds, fractured spine, fractured leg, a direct hit to his femoral artery in his leg, and a blown ear drum. As he came off the bus with a team of doctors and nurses I was rushed in to an elevator and whisked away to ICU before I could even take it all in.
It was 10 days before my husband could breathe again, there were 3 unsuccessful attempts to get him to breathe that really truly brought me to my knees and tore me apart. After 15 surgeries he was finally stable enough to go back to our home in Fort Bragg. I was his full time nurse. He had very hectic dressing changes twice a day, blood thinning shots, and medication every 4 hours to keep him healthy and comfortable. We had many therapy appointments, and constant medical needs. I cut his food, I bathed him, and helped him move from point a to point b. It was a tough two years home, but things finally returned to normal.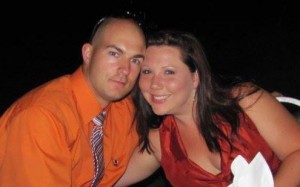 My husband retired May of 2012 after developing kidney disease in his remaining kidney. He is now a full time student at Methodist University and on the Dean's list. He plans on going to Physician Assistant School and has his first interview in September. (please say a prayer he gets in) We are in a good place, and now we want to give back to those organizations that were there for us when the bottom fell out!
We designed PROJECT ALIVE DAY to help soldiers through a rough time of year, give them an active outlet for their emotions, a way to honor the friends they lost, and a way to give back to organizations that were critical in their recovery. If you know a soldier who would be interested in setting up an event, please contact me at: Projectaliveday.org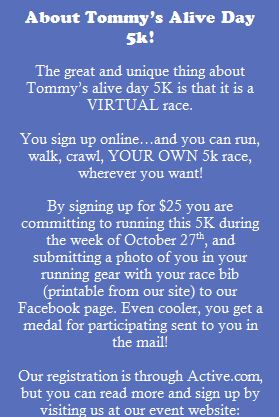 I will definitely be participating! I'll be posting again closer to the race. Maybe I can offer a little incentive for us all!