The sun is out and it's time to hit the pool ladies. Yes, I'm totally saying that because we're getting a pool, people. During the quarantine we have realized that the Army is probably not going to let us do much travel this summer so why not invest in summer fun of our own here at home. We're getting a pool so damnit I'm buying some swimsuits, so I figure why not find some and make recommendations for us curvy girls. Here are my top 5 bathing suits for curvy girls. I hope you like them! And just for total transparency, I have included my affiliate links in this post. If you choose to make a purchase, I will receive a bit of a kickback. Thanks! Click on the images to purchase.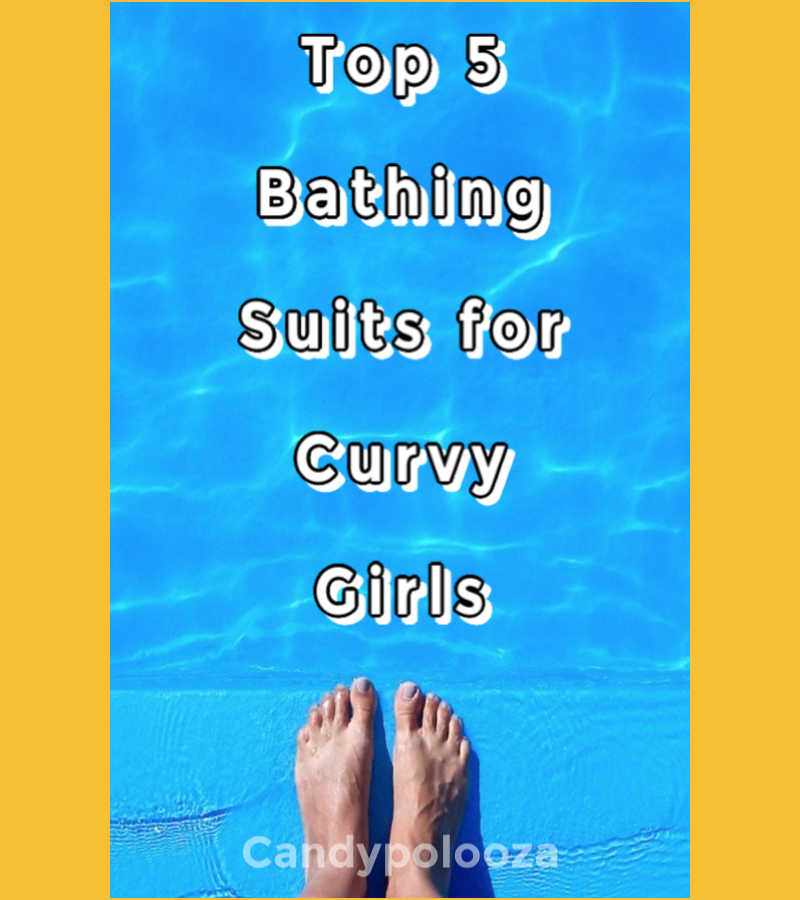 Now let's get started! I'm going to talk about some of my problem areas or actually, the areas I have grown to keep hidden because I am self-conscious. Thanks mom! I say that with love, but yeah it's true.
One-Piece Swimsuits
I saw this and knew I had to have it! My tummy err gut is not my favorite so to see this suit was very exciting! It's stylish with the plunging neckline and of course, it is a one-piece. This is a beautiful color too. There are three colors to choose from. Priced at $28.99 and it's available for Prime shipping!
I LOVE the retro look so this one with a skirt is everything! There are a great many choices to choose from in this style too. The halter top can add some extra volume in the chest area if you are smaller there like I am and it hides the thighs a bit too. This suit ranges from $28-31.99. This suit named Vintage Sailor pin up Skirtini is super cute.
Yes, another skirted option but how cute is the cut-out?! It looks like a two-piece but it's not and the top is different, not a halter. The back is also very cute with three bars across the back. The skirt length looks nice too so it'll give your bottom some additional coverage if you like. I love these skirted options because you can literally wear them as dresses if you are on a cruise (one day right?!) or doing a day at the beach or lake.
Two-Piece Swimsuits
I feel like I'm covering up more with each suit, but I promise these are in no particular order. But how cute is this option?! The flirty top has padding but no underwire. The shorts are a nice change too. Sporty and I think it's a great option for ladies that want to feel more covered up on the bottom portion of the suit. Priced at $28.99 with the Prime shipping.
This two-piece is beautiful and dramatic. I love the top style is the cold shoulder and a high waisted ruched bottom. There are really cute colors to choose from too. The suit is priced nicely between $16.99 – $28.99 range with Prime shipping option. Love that tangerine top color.
Here's another cute two-piece option that has different tops and bottoms from Jane!
Suits below $48.99 -Maui 2 Piece Swim Collection
Pretty cute options right? As a curvy girl, I can honestly say that I would totally wear all of these styles. I'm very excited to get a pool set up for the boys and enjoy some time in the sun with them. Because why not right? We won't be doing any vacation travel this summer so we plan on making our home a nice oasis to enjoy the summer in continued quarantine.
Question:
Tell me which bathing suit style you prefer in the comments below.
Cheers,
Candy