That pesky wabbit, err I mean rabbit is up to his antics again! Thanks to Warner Bros Home Entertainment I received product for review, however all opinions stated are my very own. Yes, he's at it again but it's for our enjoyment! Excited to share Wabbit: A Looney Tunes Production Season 1 Part 1 DVD Review

Bugs Bunny, one of the world's most popular cartoon characters, returns to entertain viewers in Wabbit, a new animated series set for release on DVD April 26, 2016 from Warner Bros. Home Entertainment (WBHE).  The hilarious, heroic and mischievous bunny cartoon lovers adore is back in a new, modern comedy series featuring cutting-edge animation, clever storylines and endearing new characters that will capture the hearts of Looney Tunes fans of all ages.
Titled Wabbit: A Looney Tunes Production Season 1 Part 1, this release will feature 26 episodes on a two-disc set and will retail for $19.97 SRP.
What's Up Doc? More delightfully zany adventures with that carrot-crunching rabbit, Bugs Bunny! From Warner Bros. Animation, Wabbit is classic Looney Tunes with an updated look and engaging new characters. Squeaks the squirrel and Bigfoot join Bugs Bunny on his new escapades. Wabbit also features several of Bugs Bunny's long-time, loyal Looney Tunes pals, including Wile E. Coyote, Yosemite Sam and the Tasmanian Devil, some of whom have new roles in Bugs' life. It's classic Bugs Bunny in present day situations. Now a whole new generation of viewers will be introduced to the lovable antics of that adorable, wisecracking bunny.
Wabbit's premiere on Cartoon Network ranked #1 in its time slot across all Kids' networks with Boys 6-11 and ranked #2 with kids 6-11. The series was the #1 original kids program on basic cable with Boys 6-11.*

"Bugs Bunny is an iconic character that transcends time and continues to evolve. We know viewers will be enthusiastic about this incarnation of Looney Tunes, with one of the most popular characters at its heart. While it stays true to the original, Wabbit features a fresh, contemporary look and feel that we know viewers will find appealing," said Mary Ellen Thomas, Vice President Family & Animation Marketing. She added, "Wabbit: A Looney Tunes Production Season 1 Part 1 is a must-have for cartoon lovers and Looney Tunesfans."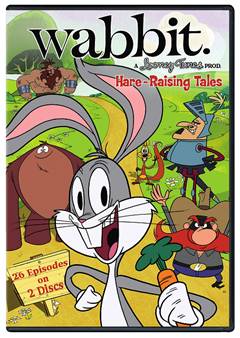 The hubs is a huge Warner Bros fan and of course while my heart belongs to another we had great laughs when we watched the movie together. And it's so cute to hear Bugs in the room and little Ezra belly laughing to his heart's content.
Wabbit is now available anywhere you can purchase videos! I can't wait to hear what you think about it!
Cheers!
Candy