Disclosure: We received product in exchange for honest review, all opinions expressed are our own.
Oh friends, if you are LEGO Ninjago fans this is the season you've got to watch! The boys are super pumped to receive the LEGO NINJAGO: Masters of Spinjitzu: Skybound! set of DVD to catch up with one of their favorite shows LEGO Ninjago! We LOVE this series for the action, the comedy and the building inspiration! As you know the boys LOVE LEGO bricks and Ninjago was actually one of the first sets that Aramis got, so this series is totally a favorite. If you are a fan, you have to watch the new season!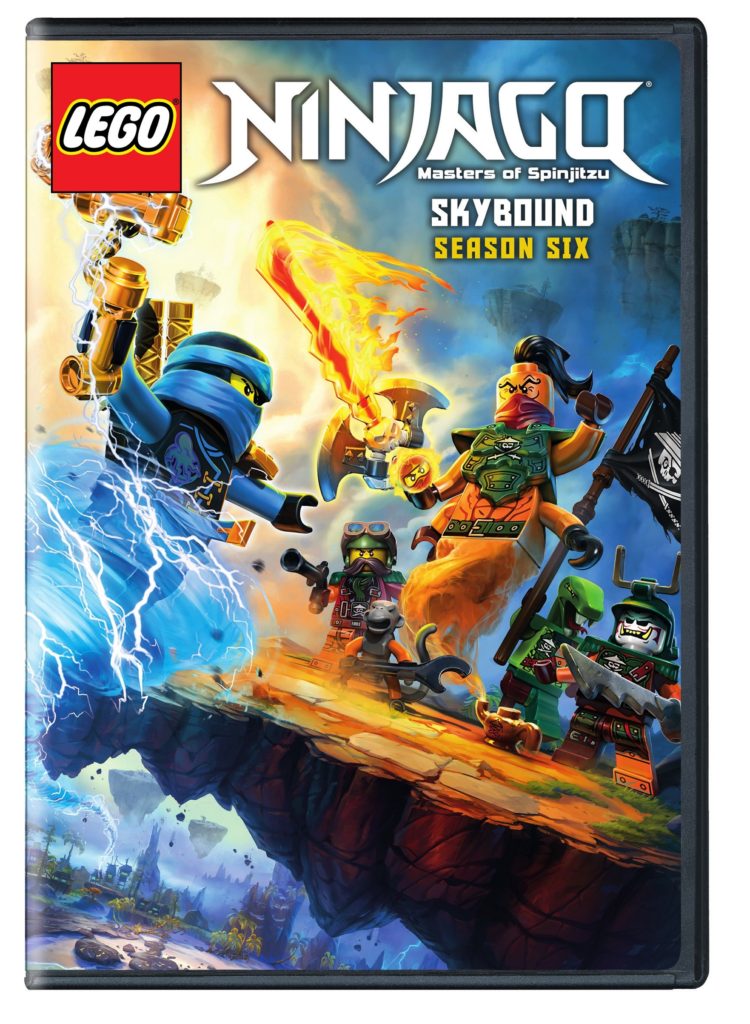 Synopsis:
After destroying the Cursed Realm and saving Ninjago, the Ninja return home to newfound fame. But with great power, comes great responsibility; it is not just crazy fans girls and autograph signings – the Ninja have made some enemies too.  A new villain named Nadakhan the Djinn has been released into the world and a new age of piracy begins as Warner Bros. Home Entertainment and The LEGO Group release LEGO NINJAGO: Masters of Spinjitzu: Skybound.  Available on NOW for $19.98 SRP, the film includes all 10 action-packed episodes as the Ninja fight Ninjago's greatest threat yet.
When the Ninja return from their mission to destroy the Cursed Realm and save Ninjago they are faced with a whole new challenge – handling life in the spotlight. With their newfound fame, it's all eyes on Kai, Jay, Nya, Cole, Lloyd and Zane when a villain from their past returns. But saving the world while avoiding the paparazzi and their adoring public proves harder than the Ninja expected. Especially when they discover that someone has been posing as them to commit crimes in Ninjago City. All the while, the evil genie Nadakhan the Djinn has been released from the confines of the Teapot of Tyrahn to seek revenge on Sensei Wu and the Ninja. With his band of misfit sky pirates by his side, Nadakhan will stop at nothing to take everything and everyone for himself. Will the Ninja be able to outrun the angry mobs and police that are after them? Will they clear their name and defeat their newest enemy? Journey to the ends of Ninjago and watch as the Ninja fight to reclaim the skies in Season 6 of LEGO NINJAGO: Masters of Spinjitzu: Skybound.
And we are super excited for the film releasing in September this year!! We cannot wait!
LEGO NINJAGO: Masters of Spinjitzu: Skybound is released with heightened awareness surround the LEGO Ninjago brand with anticipation building for The LEGO NINJAGO Movie set to be released in September 2017 by Warner Bros. Home Entertainment.
Question:
Are you ready for season six?!! We sure were! You're going to LOVE it!
Cheers!
Candy