Disclosure: This is a sponsored post as part of the Shaklee Corporation blogger program. I have received free products, online support, and incentives for participating. My opinions are my own.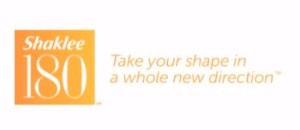 Hi Everyone! This post is scary and exciting all at the same time for me. Back in January I submitted for a blogger opportunity to be one of 90 bloggers to receive products and support from Shaklee 180 to help me get fit and loose weight. Well guess what?
I got accepted into the program!
For the next six months I will be getting down to the nitty gritty about weight loss, because it will be happening.  Actually it already has! I've been on the Shaklee 180 program now for a month and have lost 7lbs. I'll show you my weight scale so you can see what I started at and each month I'll post a side by side so you can see what's going on. I did take before pictures. I have to tell you that was the worst part for me. I realized I am over weight but seeing myself was eye-opening and really messed up my psyche.  I don't relate to the person in the pictures. I feel fit because, I work out often and eat pretty healthy. Needless to say it really depressed me.  But I am over it now and feel that I'll be super excited to show the after pictures, because this mama isn't going to be the same after the 6 months on Shaklee 180! I'll post my before pics at the end of the program so you can see the difference. Too soon people, too soon.. 😉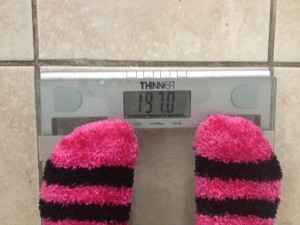 Eeek this is where 190 should be but I have to replace my batteries 🙁
Like my socks? LOL
Don't get it twisted people, it was not easy to post that number either..  But it's the way to hold me accountable. The number has already gone down 🙂 Yay! I'm hoping to really amp it up this next month too. As you saw in yesterday's post What a Month, you saw we were out and about a lot! and I wasn't able to hit the gym as often as I would have liked to. I hate to be the mom that brings in her sick children to the gym.
Have you ever heard of Shaklee 180 program? The meal bars are yummy and satisfying and the shakes are pretty darn good. I hope to start posting recipes of some of my favorite mixes so far. I'm still getting more adventurous with them. Stay tuned! LOL
People following the weight-loss portion of the Shaklee 180™ Program can expect to lose 1-2 pounds per week.