Disclosure: This is a sponsored post. Candypo.com received tickets to attend the Harlem Globetrotter show.
I am so excited I can't stand it! Being in Augusta, we knew we'd be in a larger city than San Angelo and we'd get to actually see some shows in town. We will be going to see The Original Harlem Globetrotters 2015 World Tour when they stop in Augusta on Friday, March 13th! And you know what? You have a chance to Win a Family 4-pack to see the Harlem Globetrotters on Friday in Augusta too! That's right this Friday, March 13th!!
*

Please note this giveaway is only open to entrants in the Augusta, Georgia area.

* 

We have never had the opportunity to see the Harlem Globetrotters in person. I've seen bits of acts on television and on YouTube and how can I forget- I've met a Harlem Globetrotter when I worked at an elementary school in Tampa! I was very pregnant! And of course I can't find the picture. Fail! He was so nice and super tall! But then again I'm only 5 feet flat.. everyone is tall. haha I can laugh at myself, you can too.
The boys are going to be so excited to attend the show on Friday! Getting to see the awesome tricks is going to be awesome! Sometimes I find myself whistling the theme song when I'm not even thinking about it. You know I'm stoked!
Ok here's how to enter to win a family 4 pack of tickets to see The Harlem Globetrotters in Augusta at the James Brown Arena on Friday!
Leave me a comment below telling me:
The name of the Harlem Globetrotters theme song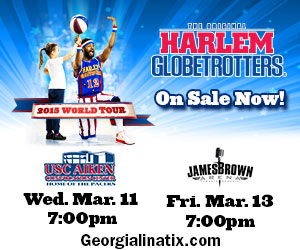 The Giveaway ends on Thursday, March 12th at noon ET.
Ticket pick up will be arranged with winner.
Want to forgo the giveaway and pick up your tickets already? Visit Georgialinatix.com and use the code MOM to receive $5 off your tickets!
*see the notes below*
Code valid online only, available on select price levels,
Not valid on previously purchased tickets
Limit 8 tickets per purchase
Offer expires 24 hours before game date.
If you are closer to Aiken, SC there's a show going there! The Harlem Globetrotters will be Playing USC Aiken Convocation Center on Wednesday, March 11th at 7 p.m. Make sure to purchase tickets on sale now through Georgialinatix.com.
Good luck to everyone entering! It's a quick giveaway so make sure to enter today! One entry per person ages 18+ and up only. Augusta, GA area entries only please! 
See you at the show! 
Candy
WINNER ANNOUNCEMENT:
 Random drew entry #1
Congratulations Shawna C! 
Please keep an eye out for more Augusta area giveaways

!
*

Please note this giveaway is only open to entrants in the Augusta, Georgia area.

*