There are many moments while watching Disney's A Wrinkle In Time, where you'll find yourself cheering. Maybe not outloud, but in your heart, that feeling will come back several times while you are watching. You'll also feel sadness and empowered- my friends you will feel all the feels as you "tesser" through this beautiful film. Thanks to Disney for inviting me to the WrinkleInTimeEvent press junket, all opinions and this review is my very own. A science fiction book written over 50 years ago, is brought to life by acclaimed and visionary – Director Ava DuVernay. The story, the cast, the costumes and the visuals will absolutely delight you. I feel the film is a call to action for courage, hope and love, among many more things. This is my film review of Disney A Wrinkle in Time.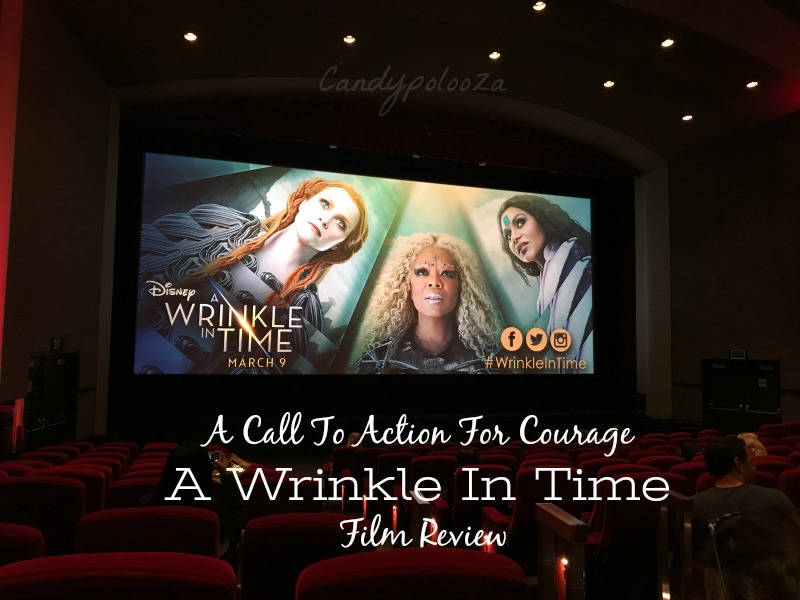 The trailer alone gives me goose bumps, so if you haven't seen it yet watch it below. If you haven't read the book, don't fret go watch the film. If you have read the book, leave what you know and loved behind as the film has some slight differences. While you might think, that you'd rather not spoil the book- you totally won't. After watching the film twice I actually want to re-read the book and envision the characters as the beautiful cast DuVernay chose for the film.

It's a powerful film with an extraordinary cast. If you haven't been here before, you can read our interview with Mrs. Whatsit, Mrs. Which and Mrs. Who HERE and with the film's young and brave heroine Storm Reid as Meg Murry HERE. One thing to note is as Ava shared with us during our interview, I'll add link HERE once it's live that when the film starts she wanted to make sure the audience got to know the characters. So you won't be tessering anywhere right from the start.
Appropriate Ages
Some of the chatter is asking about the appropriate ages for younger children. I have an 11 and a 6 year old. Ava shared that the film was children. She asked that we all reach in and see the film as the children that live inside of us. As I've mentioned before, it's a beautiful film and while some scenes can be dark- it's a reality that our children are all too familiar with. Ezra being six, I will most likely not take him to see the film. Not that it's too scary- but it won't hold his attention. He's fantastic with animated films, real life- not so much. If your child is 6 and up, mature and enjoys sitting thru films – take them. If they get the wiggles, then the content might not hold their attention long enough in the beginning. Once the tessering begins the adventure is on! The film will be visually stimulating as well as the storyline will keep your attention.
My Personal Take on A Wrinkle In Time 
As noted in the title, this film is truly a call to action for so much. There is a shift happening in Hollywood and A Wrinkle in Time is a huge part of the progression of what audiences can expect to see on-screen. Diversity and actors that look like you and me. Personal topics that affect us all in one way or another are addressed. The ripple effect of A Wrinkle in Time is coming and I can't wait to see how we all move forward. This will be a film that we purchase for our personal collection and I'll be showing it to all of my nieces and nephews because of the beautiful and imporant messages that are a part of the film.
The film is so much bigger than even it's biggest stars, Ms. Oprah Winfrey. It was amazing to see her onscreen (and in person) because a lot of my generation and above knows of the powerhouse that Oprah Winfrey is. It's a beautiful film and I can't wait to hear your reactions and comments. Please come back and let me know how you liked it!
Follow the shares, comments and news on social for Disney A WRINKLE IN TIME on Facebook,  Twitter, Instagram and visit the official website HERE 
Question:
Have you gotten your tickets for Friday March 9th's theaterical release?!
Cheers!
Candy