Disclosure: This is a sponsored post. I was provided access to a 2015 Chevy Suburban for a week.  All opinions mentioned are my own.
Welcome to Summer!
It's time to slow it down and just enjoy the time. No more running here and running there for appointments and practice etc., it's Summer! Or maybe not right?  We started our Summer vacation on May 30th and it's been non-stop since then. I mean really, did we think we would slow down? The thought was nice right? The way I see it is, as long as we are together!  Recently we had the opportunity to spend a week driving a 2015 Chevy Suburban and boy was it Out of the World! Not only was it an awesome vehicle but, we had some pretty amazing times in it too. I'm happy to share with you too! I wish I could say you were going to win a Chevy Suburban, in this post but you aren't. But here's something awesome! How about a special break from Chevy for me and you! Chevy wants to give two of my readers a special break"by awarding each a $150 Spa Finder Gift cards! You'll get to pamper yourself and get a break from everything! I'll tell you how to win below!
 I'm very happy to be a part of the Chevy #SuburbanMom initiative in sharing special moments we experience as moms. Here's a couple of my favorite experiences while having the Chevy Suburban as being a #SuburbanMom.
My Favorite Moments
As long as my kids are happy, I am happy. While we had the Chevy Suburban my son had one of his classmates ride home from school with us for a play date. He was so excited to share the Chevy Suburban with him and he was quick to show him all of the cool features like the two screen DVD players in the second and third row. I love that I just realize that instead of his friend wearing the wireless headphones -Aramis is.. What a stinker! Anyways, that moment really made this mom happy. Aramis had been asking for a playdate for some time now and we were able to make it happen before the end of the school year. It might not take much to make me smile or give my heart a tug, but seeing my little boy happy to have his friend over makes everything better. I wish we could have had more play dates!  It was a joy to see Ezra get so excited to get into the "new car" every time too. One of his favorite features was getting to watch the DVD player and wear the wireless headphones.  It was very cute how each time he would hang the head phones on his seat arm for the next time he got into his car seat. Can I just say how easy that made life too? Sometimes I struggle to get Ezra to settle into his car seat. I never struggled with him- that is as long as the DVD player was going. LOL He truly was in heaven in the Chevy Suburban, and he cried like I expected him to when he realized the vehicle was gone.
I also made sure to take advantage and have a special moment for me too. I took my friend Leanne, for a joy ride in the Chevy Suburban! It was fun to just drive around and chat about our day along with how awesome the Chevy Suburban was. I'm not very good at family selfies, but we tried! LOL I'm still working on the selfies! I'll be posting again to show you more of the vehicle this week. We had a great time exploring and learning the vehicle; we were very impressed by the details put in the 2015 Chevy Suburban.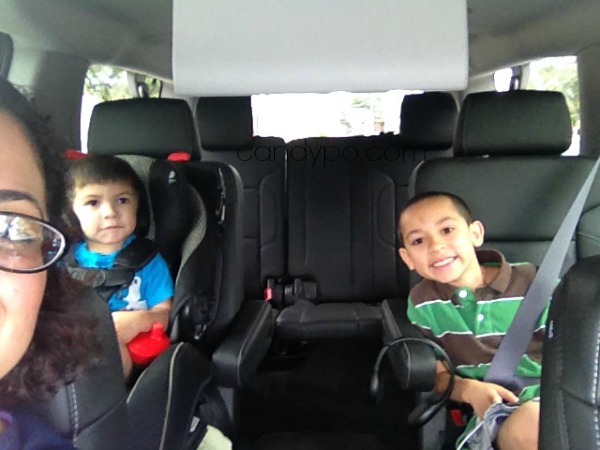 Before I tell you about how Chevy wants to give you a special break, let me show you how I got a break in the new 2015 Chevy Suburban!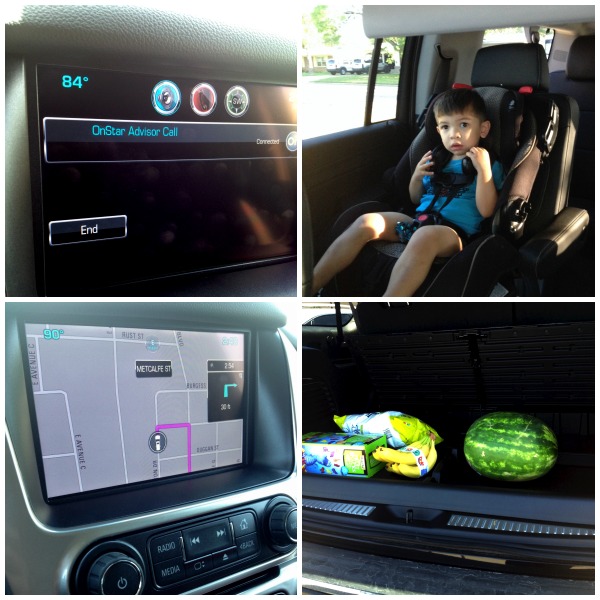 Pictures are worth a thousand words right?!  The On Star was AWESOME! Having help at the touch of a button was super helpful. For some reason I didn't save my son's school phone number on my phone so using On Star rocked! I loathe having to load local addresses on my phone GPS so using the touch screen Navigation system was fabulous. It gave me plenty of time to make turns too. In the "trunk" space there is a really cool set up that helps keep your groceries propped up and separated. I'm totally the person that has had a watermelon roll onto a loaf of bread. And what can I say about the DVD set up with wireless headphones. Ezra was in heaven and so was mommy because her baby was happy.
As mothers the special moments in our lives with our families are countless: births, firsts, any and all accomplishments our children make etc.  And sometimes the most memorable moments could have been the not so good ones too. Or one you'd never think you'd be able to laugh about later. LOL
Do you have one in specific that sticks out as one of those moments?
Here's how you can enter to win a special break from Chevy!
  Share that special moment below in the comments and use the #SuburbanMom hash tag for a chance to win one of two $150 Spa Finder gift cards.
You can enter via:
Leave a comment in the comments section below. 
OR Tweet your story to @Candypo using the #SuburbanMom hashtag in your tweet.
OR Instagram a picture of your most memorable day as a Mom and use the caption section to tell your story and include @candyolivares #SuburbanMom in your post!
All entries must be received by the
5pm of the day on June 27th

.
Winners will be announced June 30th-
 Two winners of the Spa Finder gift cards!
So please don't forget to tag me and use the #SuburbanMom Or else I won't see your entry!
And Yes, you can enter all three ways! I will
only

be selecting comments that answer the specific question being asked.
 Good Luck Everyone!!