Are You My Daddy?
My boys have been around the military since birth. The ACU digital camouflage uniform that daddy wears to work is all my children know; the same uniform every US soldier wears when they are on duty. It's pretty much just second nature, you see the camo- "It's Daddy!" or the cute "Are you my daddy?"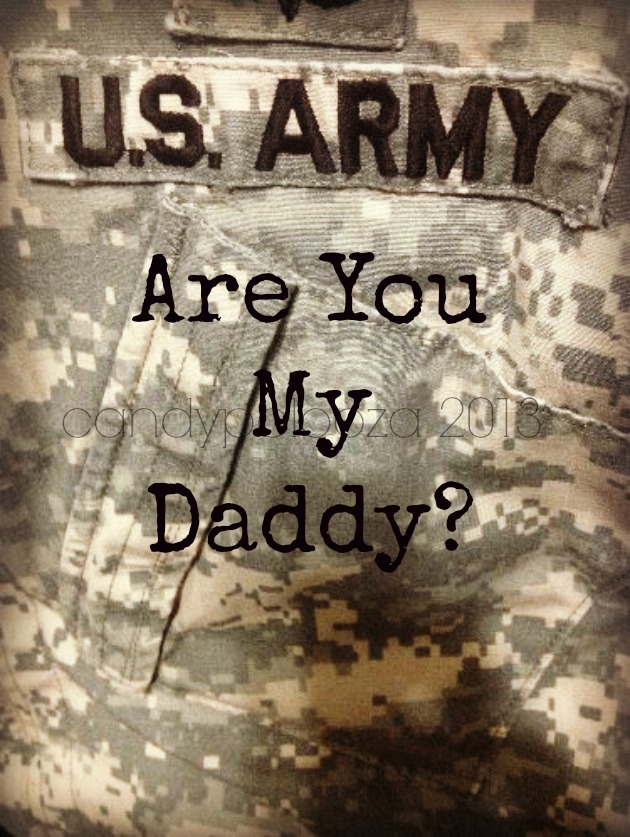 I had an appointment one time and my friend Sara was nice enough to keep Ezra for me. He had a wonderful time with her family and during lunch time her husband came home. We have hung out with Sara and the kids, but not really seen much of her husband. *It's my personal habit that if I'm visiting a friend I leave before their husband comes home. When daddy is home, it's family time. Thanks to deployments and TDY's our time is sometimes limited with our spouses so family time is very special, in my eyes. So that's how I roll.
Back to the story– Ezra doesn't really know Sara's husband. Any time he meets someone new he can be shy or just stay away. So funny thing, a man shows up in a uniform and he's loving all over him!  He started by hugging on his leg and next thing he is hopping on his lap!  LOL He became very lovable with her husband. Sarah said it was very cute watching him. I'm so glad she captured a picture for me.  As you can see he was really happy! Love that smile!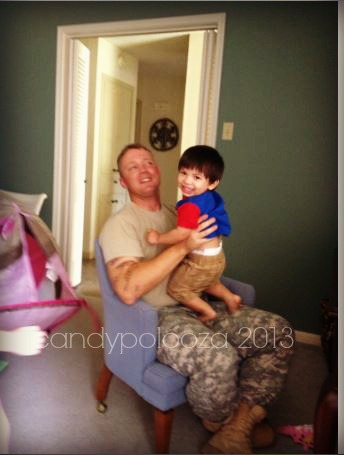 Another example of the uniform confusion happened that same afternoon.  My husband went by Sara's to pick up Ezra and  her son, totally saw my husband and was like, "Daddy!"  It's got to be the uniform!  It's so cute! and luckily our husbands are good sports.
My husband has carried many a child, when they thought he was their father because of the uniform. I want to say that it's also a comfort, even though they may notice that this person looks different than their daddy or mommy.  It's really a precious moment.
I know for myself when my husband is away for either training or deployment, when I see the uniform it definitely reminds me of him and makes me miss him.  As a matter of fact, during the 15 month deployment my husband was gone I had a full set of ACU's hanging on my closet door. I wanted it to be a constant reminder of daddy and what he does. I plan on doing that any time that daddy has to be gone for any extended amount of time.
Question:
How do you keep mommy or daddy on your kids minds while they are away?
Please share in the comments!
I am always looking for new ideas, because unfortunately it's never "if" it's always "when" they could deploy and be away from family. 
 Candy