Disclaimer: The book was provided for my review. This book does not contain run training information.  All statements and opinions are my own.
Are you ready to run some Magical Miles
If you have ever considered running a race at a Disney park you must read, "Magical Miles The Runner's Guide to Walk Disney World." Running a race is such a rush, you've been training, you've picked out your gear or your costume to run in and you are ready to go. Ok maybe it's not that easy, but most times it is if you are running a local race and all you have to do is wake up and drive to the start line.
Have you ever considered running a race at the most "magical place on earth?" Everything can be a little tricky. Where would you stay, how much is it going to cost, how will it all come together? You know all of the things you do when you are planning a trip for yourself and or your family. All the little details that you need to know ahead of time so that you have the best time possible.  This book written by Krista Albrecht and Megan Biller can help you plan and successfully execute running at Disney and having fun too!
When most people think of Disney World they think of the parks: Magic Kingdom, Disney MGM Studios, Epcot and Animal Kingdom. When runners think of Disney World they think of the Walt Disney World Marathon weekend, Disney Princess 5k and half marathon (ran inside the Magic Kingdom),  Tinker Bell Half Marathon and the Wine and Dine Half Marathon weekend just to name a few.. Disney hosts ten races that can vary from a 5k to a full on marathon throughout the year.
Have I got your blood pumping already? Mine is! I get excited at all of the races that I should have run while we lived in Florida! and now I'll have to make an excuse to go visit my sister and throw in a race while I'm there! Or I could just follow the tips from Magical Miles The Runner's Guide to Walk Disney World and I can plan a family vacation and my sister and her family can also come and stay with us at Disney World to make it a family reunion too!
The book details great aspects of planning the trip from the minute you purchase your race registration.  Check out the titles of the chapters in the book to give you an idea of what you can expect:
Chapter 1: Your Running in Disney Now What?

Chapter 2: runDisney Events – details each of the races hosted by Disney
Chapter 3: Registration and Preparation – helps you choose the best Disney race for you & more info
Chapter 4: Where to Stay? -Information on the host resorts
Chapter 5: Eating in the World – detailed list of places to eat in each park
Chapter 6: Race Essentials- What to Bring  -great info so you don't forget anything!
Chapter 7: Transportation- Nope you can't walk everywhere.. atleast you don't want to walk miles before a huge race..
Chapter 8: Pre-Race & Post Race Activities – because there are lots of ways to have fun before and after!
Chapter 9: The Race- It's Time  and here's a great list of things to know ahead of time!
Chapter 10: Spectator Information- You need info for your cheering squad!
Chapter 11: It's Not Just a Race, It's a Vacation Too – I never considered this before and it's genuis to turn it into a vacay!
Chapter 12: After the Big Event – What happens after you get your awesome medal.. because they are!!
An amazing book that guess what is updated yearly! The authors Krista and Megan have both run races hosted by Disney World. While preparing for their races they both scoured the internet and researched each race and how to make their experience running the race easier. They decided to put this book together to help other potential runDisney runners so that they too will have the best experience possible while completing their Disney races.
Krista Albrecht is a travel specialist with Glass Slipper Concierge, which means she focuses exclusively on Disney destinations! Her whole family has participated in Disney races and they have visited each of the Disney parks multiple times annually. Her favorite race is the Disney Wine and Dine, held each fall.
Megan Biller is also a travel specialist with Glass Slipper Concierge and has been visiting Disney since she was a toddler! She too has run several of the races at Disney, she just recently completed her first full marathon in January 2013 on the 20th Anniversary of the Walt Disney Marathon and is in training for the Dopey Challenge in January 2014. Way to go Megan!
Guess what? These awesome ladies have offered one book to a Candypolooza reader!
If you aren't a winner, you can purchase the book on Amazon and follow their blog RunnersGuideto WDW.com
Check out race pics from my runDisney experiences- Expedition Everest Challenge 5k
The medal is pretty awesome!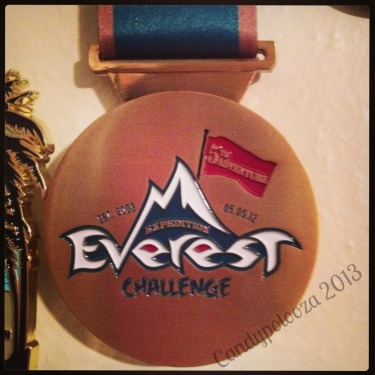 it actually opens up to be a compass!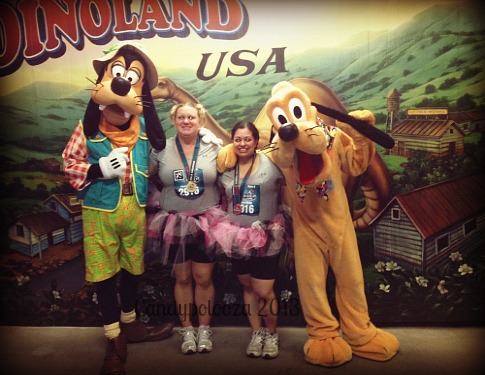 Had the best time with my friend Krista! We ran a good race and had a blast doing it! Wish we could have ran more races!
Disclaimer: The book was provided for my review. This book does not contain run training information.  All statements and opinions are my own.