Honestly.. I think it there is. But this is just my opinion too. These are a few of the things that we as spouses know should or shouldn't happen. There are so many of us that sometimes the memo doesn't get passed around as it should either. Ok, so it's more like unwritten code, but you know what I mean.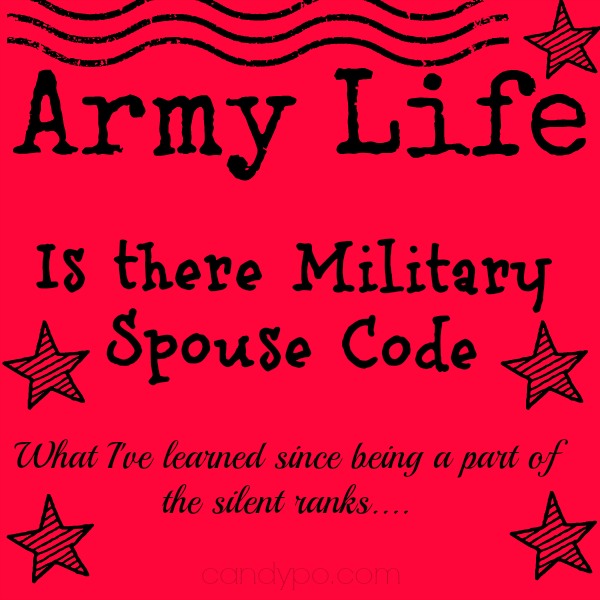 Here's a few I've learned.. Note that I've learned some of these the hard way and from other spouses. Call it what you want, but maybe it's just plain courtesy sometimes.. and I'm going to try to keep it from being a "Don't.." post.. yeah there are a couple…ok the first one is..
-Don't call after 5pm. If my spouse is deployed call me anytime you want, even in the later hours of the evening (if you know the spouse is a night owl). If not, the chatting stops when my honey comes home. -With certain exceptions of course. We have been thru so many deployments, as spouses the time with our service member gets home after the duty day is precious. There's nothing worse than getting a call just to chat during dinner.
-Not all spouses are female! We are in an age where men are also joining the ranks of Military Spouses and we need to welcome them into the circle. I've met quite a few male spouses that have felt shunned by female spouses. Like the male spouses don't belong, but in fact they do! They serve as we do in the silent ranks, as the primary care givers etc. Give them the respect they deserve.
-Don't tell another spouse about what's going on with their spouse at work. If your service member comes home telling you about another soldier, please don't call that spouse and tell them. Keep that to yourself. What gets said in the company should stay at the company..
-We are friends, I'm not your babysitter on retainer. Of course there is always an exception for this. We are all in the same boat too. If you come across a great organization that does Kids Night Out- Share that info with your besties! It helps everyone out!
-Female Soldiers. Yes, for the female spouses, they exist and they are not the enemy. I mean how do you think our male counterparts feel about their wives being around all the men as well. Let's make life easy on everyone and tame the jealousy tiger.
-Religion & Politics. We are all from different parts of the country and the world for that matter; those are two subjects I don't normally discuss with friends. Ultimately it's about having an open mind and being able to discuss.
-Oh what's your rank? Wait, I'm the Military Spouse that doesn't apply to me. Don't ask what my spouses's rank is. The only time it matters is if you are doing a couples event and that could get a little uncomfortable (Note if you are on a training installation- Spouses of Cadre and Spouses Students can hang but not with spouses.) There's still the separation of coffees with Officer's wives, but know that it's not like that at all duty stations. Be open, be gracious and mingle with the best of intentions.
-Along with Religions and Politics is familiar traditions. One of the things I have loved about being a MilTcup of tea" don't talk smack.
-Be Helpful. I love helping and am always so grateful when a fellow Spouse is able to give me information. That goes back to sharing about Kids Night Out and other kid activities.
To keep this post from being unbearably long, this it for now. I'm sure there are far more "You Should Knows," and if you have any leave me a comment please. I'm not an authority on being a Military Spouse, this is just what I have seen, heard and/or been thru as a spouse for the past nine years.