Our bedtime routine is pretty set in stone and there aren't any complaints or whines (well not too many whines) when that time of the day rolls around. But when it comes to getting these boys to sleep when we are traveling.. I cannot stress enough how much bedtime isn't fun when we are traveling. I guess in specific when we are staying with family.. in a hotel lights are out about 9pm.. and everybody goes down. Either way.. it's not easy! And to be clear the bedtime issues aren't' with the 7 year old it's with the 2 year old. Why can't those little ones get with the program right? Lol I kid, I kid. Love that little man.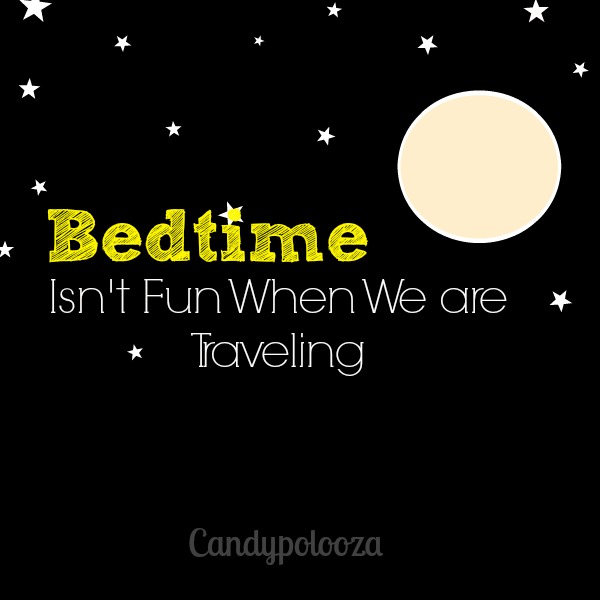 We have been on the road a lot this summer. Granted we have come back and forth to our hometown but we aren't home so that's traveling to me! LOL But literally the summer isn't over yet and we will be coming and going one more time before it ends. I like to keep everyone on their toes.. When will Candy and boys show up?? You'll know when until we get there! Oh my parents just love it! NOT! hahaha but back to the issue at hand.. bedtime!
We sleep in the same room (my old room) at my mom's house every time we come to visit. This time my sister was visiting and needed the extra room so we took her old room. No bigs right? Hardly. That just threw everything off. Oh let me explain the sleeping set up. Aramis slept with my sis and niece in my old room and Ezra and I slept in my sister's old room. We have a whole bed to ourselves. There was plenty of room, still here's the issues I'm dealing with:
He won't actually go to sleep.. 
He's tossing, he's turning and of course he's running his mouth. Laughing to himself and just making noise. He's had full days of running around and he's not going down as soon as his little head hits the pillow! I'd say most of the days we have been here he has not had a nap. He should be exhausted.. But he's not. It's after midnight when he's finally dozing off.
He's requesting milk.. 
We had pretty much broken him of drinking anything at night. I was starting to prep him for a serious dose of potty training in August/September. Aramis potty trained at 3 years and 1 week. Am I betting that Ezra will be potty trained around that same time frame? I'm actually hoping! It's not looking good at all. We made a trip to Target for Diapers and he make eye contact with some cute Thomas the Tank Engine training pants (like Pull-Ups) and he yelled for them. So I asked him, "Those are training pants. Are you ready to go pee pee in the potty? You can't pee on Thomas!" and the little stinkers says, "No! No pee pee in the potty." So I told Aramis to put the Thomas training pants back.. and would you know he didn't even argue or cry! That's how I know this one is going to give me a run for my money. And yes, I've totally been giving into his milk requests.. I can promise you he won't be having it at home when we go back.
He's also requesting me.. 
I know, make me feel guilty. But you know what I go and I lay with him for a little bit and he still doesn't go to sleep.. Sometimes I even fall asleep before he does and then he gets up out of bed! Hasta eso!! Walking around the house like he's the king. And when I don't go lay down with him, he's yelling at me from the room, "Mama!! Mama!! Come to bed!!" It's actually quite funny. LOL But I'm not laughing when it's happening.. trust me on that.
And I know what you are thinking.. "Candy if it's such a battle why don't you just stay you behind at home?!" I ask myself the same question.. Here's my answer and it truly makes all of this madness worth it.
We wont' always be this close (Almost seven hours is close ya'll! It's been further.) to home so we need to take advantage and visit while we can. The boys need to spend as much time with family (the grandparents and hang out with the cousins and friends) so they can develop a bond with them. We won't always be the Army family that has turned into the "Out of Towners," we will put down roots back in East Texas. I would love for the kids to have family and friends to be excited to come back to. We still have very good friends in our home town so it'll be nice to see them more often when we come home and I'd like the boys to feel the same way. So they won't totally be the "New kids in town" when we move back. It makes sense right? It's all for the greater good. This life is definitely a sacrifice but it's worth it.
Question:
How do you handle bedtime when you are traveling?
Candy