Disclosure: Compensation for this post was provided by Chevrolet via MSB New Media. All opinions expressed in this piece are my own.
May is Military Appreciation Month. One of the companies going the extra mile is Chevrolet!  I love it when companies acknowledge our Service Members! If you are in the market for a new vehicle, Chevy has an awesome discount program called ChevySalutes. Chevy Salutes our Military for Military Appreciation Month.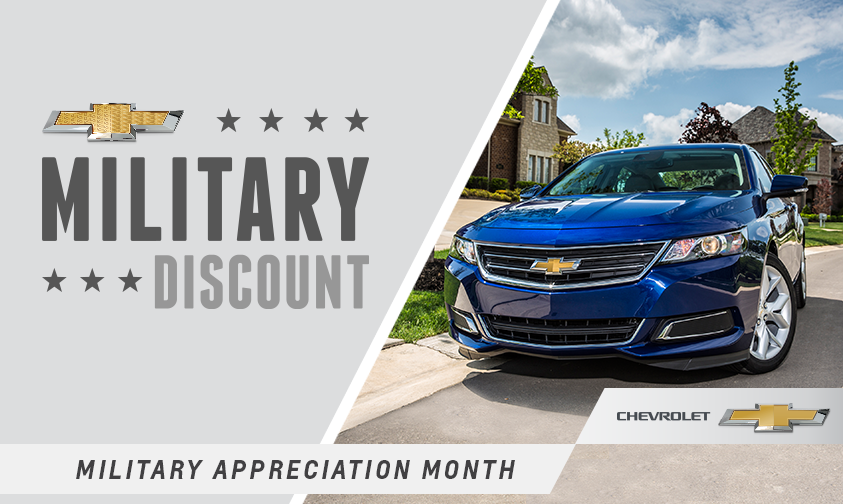 Did you know the month of May has been deemed Military Appreciation Month? May is a special month for the Military; May 17th is Armed Forces Day and the last Monday in May, is Memorial Day. Celebrating and honoring those who currently serve and those that have paid the ultimate price. What an awesome month right? I think it's awesome! But then again, I could be partial. 😉
One of the impressive things about the ChevySalutes program is that ALL Veterans (Yeah I had to bold it) along with Active Duty, Reserves and Retirees — including their spouses (this too is bold worthy) — are eligible for the Chevrolet Military Discount. While many will argue, I think the extension for the program is awesome. Another plus? The discount can be added to already fabulous Chevy vehicle discounts. Save, Save, Save with the ChevySalutes program! As taken from the ChevySalutes site says, "The best Military Purchase Program† in the industry." Can't beat that deal!  Make sure to click on the ChevySalutes link to visit the site and learn more about how Chevy is doing our Military right during the month of March and the rest of the year.
Have you heard about the Achilles Freedom Team of Wounded Veterans and Cell Phones for Soldiers programs? Chevy also backs these efforts for our Service Members, read on to learn more.
Here's some info taken from the  ChevySalutes sitet about the Achilles Freedom Team of Wounded Veterans:
"The Achilles Freedom Team of Wounded Veterans comprises true athletes who have overcome life-changing injuries by competing in various marathons across the country.  Talented Chevy engineers partnered with a group of ambitious mechanical engineering students from Michigan Technological University to develop a better, more efficient hand cycle for the Achilles Freedom Team of Wounded Veterans. The new hand cycle has been designed to be more comfortable, portable and durable. These improved features will help the athletes achieve new goals as their competitive spirit pushes them forward in upcoming races."
Here's some info  taken from the ChevySalutes site about Cell Phones for Soldiers:
"For a service member deployed far from home, the comfort of a loved one's voice is priceless. But these phone calls are expensive, sometimes up to $7 or $8 per minute. By donating a gently used cell phone, you can help soldiers stay connected while they're away on duty. The Cell Phones for Soldiers program, which was founded by two teenagers with just $21 of their own money, recycles donated cell phones and uses the money to purchase calling cards. These calling cards allow our troops to stay in contact with family and friends back home free of charge."
Truly impressed by what Chevy is doing for our Service Members. Make sure to check out the #ChevySalutes site and maybe you'll be driving a Chevy very soon! Thank You Chevy for Appreciating our Military.
  Share a picture or video of your Military hero on Instagram to win!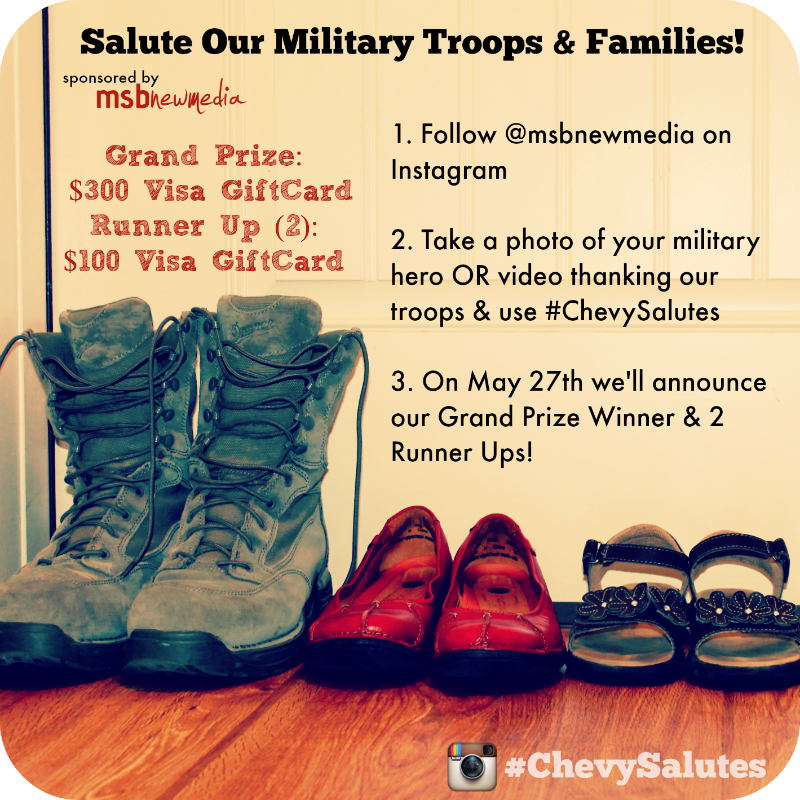 Also join us on Twitter on May 28th for a #ChevySalutes Twitter Party! Check back for more details!
Candy