Now that the holidays are over- are you taking a break from gifting?
No!! It's time to look towards "wowing" your love for:
Valentine's Day
I Love- Love! I love Valentine's Day! The chocolate, the red hot hearts and the special time with my boys and my husband. Since having our boys we like to include them into our celebration of love and get each other gifts. Valentine's Day falls on a weeknight this year, if you aren't able get out for the evening- it's time to get inventive with your gift!
 For the month of January I have a partnered with Datevitation.com to bring you a fabulous gift idea for Valentine's Day! 
Datevitation.com is the web's first online platform to create a custom love coupon book. I've seen the pre-packaged love coupon books- and always thought "I want to choose my own activities/date ideas!"  With Datevitation- We Can!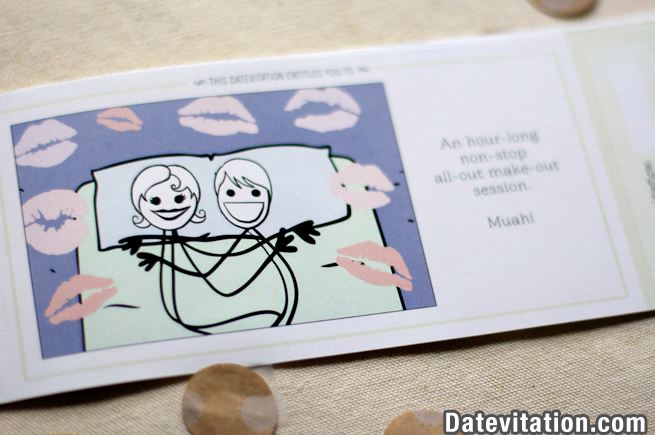 You choose from the dates ideas and  personalize your book.  After customizing your book, Datevitation will print it out and ship it to you in a ready-to-gift box.  A great gift for your love!
The Datevitation Library has over 200 date ideas ranging from skydiving to stargazing to steamy adult-only activities. There are over 60 book cover options to suit any occasion- so if you don't want to use for Valentine's Day you can save for a birthday or anniversary gift.  While most will create books for their significant others, our gender-neutral figures make it possible to make a book for anyone.
Check out this video that shows you how you can make your own customized book:
Books start at just $20 a very economical gift!
Datevitation has offered Candypolooza readers a $5 off code 'POLOOZA'  valid thru the end of January.
But first why not try to win one as well!  Enter the rafflecopter:
 Datevitation is a family business run by the husband-wife team of Alex and Olga Karpman.  You can get to know them on the Datevitation blog, where they offer video guides to date ideas and romantic gestures.   You can even watch Alex propose to Olga in a video they posted on Youtube as a Save The Date, and now has over 800,000 views (you can view the video here)!
  Contest Terms: Winner will be chosen at random using
random.org
.  Winner will receive a promo code for a free Datevitation gift book with 5 custom pages.  Additional pages are $1 each.  Winner to pay $3.50 for shipping and handling.  Tax will be applied to books shipped to California.  Books ship to U.S. only.