Do you have an inventor/ creator at home?  I do! Big A loves working with LEGO bricks and creating fun things. This is such an exciting opportunity to get those creative juices flowing!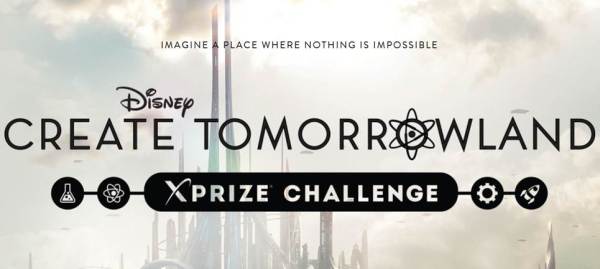 There's still time have your child enter the XPRIZE contest! XPRIZE has launched a video contest for 8-17 year-olds to imagine world-changing technology of the future inspired by the upcoming Disney movie TOMORROWLAND!!!
In June, the six winners will have a once–in-a-lifetime mentor-ship experience with a leader in their area of interest. In addition, each winner will receive a $3,000 check, a 3D Printer from 3D Systems, and registration for FIRST® LEGO® League for the competition season 2015-2016 in the U.S.
Click HERE for more information! 

About XPRIZE
Founded in 1995, XPRIZE is the leading organization solving the world's Grand Challenges by creating and managing large-scale, high-profile, incentivized prizes in five areas: Learning; Exploration; Energy & Environment; Global Development; and Life Sciences. Active prizes include the $30M Google Lunar XPRIZE, the $15M Global Learning XPRIZE, the $10M Qualcomm Tricorder XPRIZE and the $2M Wendy Schmidt Ocean Health XPRIZE. For more information, visit www.xprize.org.
"IMAGINE A PLACE WHERE NOTHING IS IMPOSSIBLE" 
"Tomorrowland" is produced by Damon Lindelof, Brad Bird and Jeffrey Chernov and directed by Brad Bird, with John Walker, Bernard Bellew, Jeff Jensen and Brigham Taylor serving as executive producers. "Tomorrowland"

opens in U.S. theaters on May 22, 2015!
Good Luck to all that enter! 
Candy