Disclosure: This is a sponsored post however all opinions expressed in this post are 100% honest.
I have my moments when I get to playing games online or on my phone, for awhile I wasn't playing games and then BestFiends happened. If are you aren't playing or have downloaded BestFiends yet. I'm telling you right now.. download the BestFiends app NOW! You'll get whatever you need to do, done faster so you can get your best fiends on! It's so much fun!
Journey along the Green Glades, Frozen Hills, Endless Dessert and Mount Bloom in Minutia while wiping out the slugs using your Best Fiends help. Who are we "attacking?" The Slugs! As you continue on in the game you'll see they change and are quite animated.
 They are kinda cute aren't they?
One of the cool things about this game is how each of your Best Fiends can "evolve." This is one of the fun fiends you'll get a chance to grow! Below you can see the evolution of Kwincy.
Keep playing and keep racking up points in the meteors and you'll be able to grow your Best Fiends! I absolutely love scoring a lot of points then growing a few of the Best Fiends at a time. With each evolution your Best Fiend will "pack a bigger punch," if you know what I mean. Make sure that in between levels you check your keys. I've chosen well a few times. Extra diamonds, extra life and extra Meteor Mites! Woo!! If you don't score too many points there are in app purchase options. So YES.. you could spend a little more or wait the allotted time. Your choice.
Did I mention the BestFiends app is FREE? Yes!! It's free!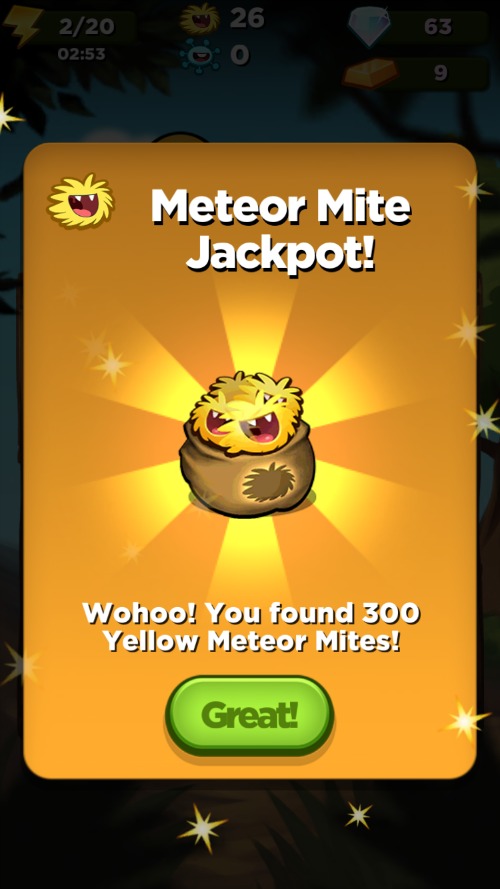 Scoring points, getting thru levels and WINNING!! Who doesn't like to see this at the end of every level? It's the best feeling when it takes a couple of times to beat the level. I know I get excited. I have to tell you also that Big A is also loving BestFiends. Do I mind? Absolutely not, we can get a little competitive with our levels and he loves learning more about how he can get more points etc. It's fun to chat about with him and Little E is getting to know the Best Fiends too. All in moderation of course. It's too much fun!
The game also offers in-app donations to help Malaria No More!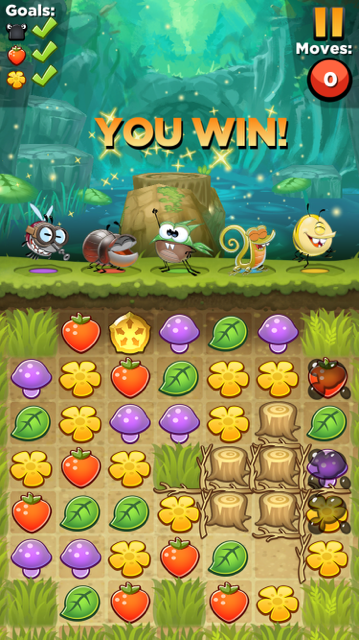 Explore BestFiends.com and learn more about the game and characters!
Download on the Apple App store, Android app on Google play and on Amazon apps! Make sure to follow Best Fiends on Twitter and Facebook!
I'm on level 43! What level are you on?
Candy