It's no secret, I enjoy eating. Having the chance to try different restaurants is exciting to me, so when I get a chance I take it! My friend Sarah called me and said, "Hey let's get together!" so I was like, "Let's go try out this restaurant I heard about!"  She was game and the rest is history!
I'm sharing my lunch with you from:
Dun Bar Restaurant in San Angelo
a Review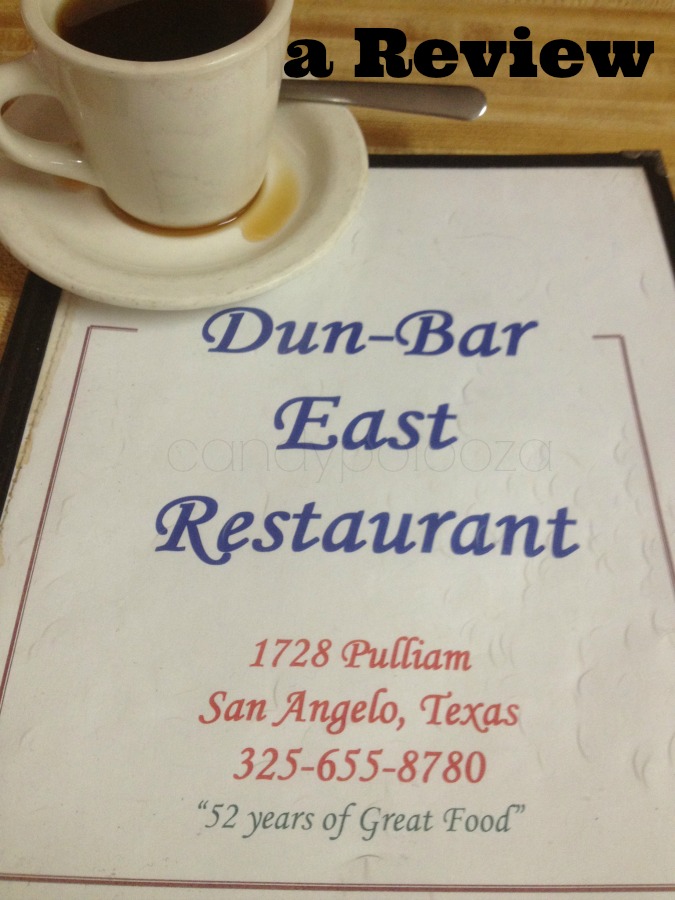 Can you say never ending coffee?! The waitress was super nice and on point with the java. The coffee mugs were probably not from this decade, they were heavy and thick. I wish I had coffee cups like those at home. We were there for lunch. Each day there is a Lunch Special, the price of the Lunch Special is $7.99. There are also different ways of having the Lunch or Dinner special. You can actaully go on this site and check out the special of the day. It includes sides and dessert!
We went off the regular menu for lunch.
We decided to share the onion rings. I was told these onion rings were the best in town! They were actually very good. Light and flakey, the onion was not over powering or too strong either. Possibly a sweet onion used.
The meals are all served with cornbread too. I prefer a sweeter cornbread (was raised on cornbread with a little sprinkle of sugar), but it was moist and good.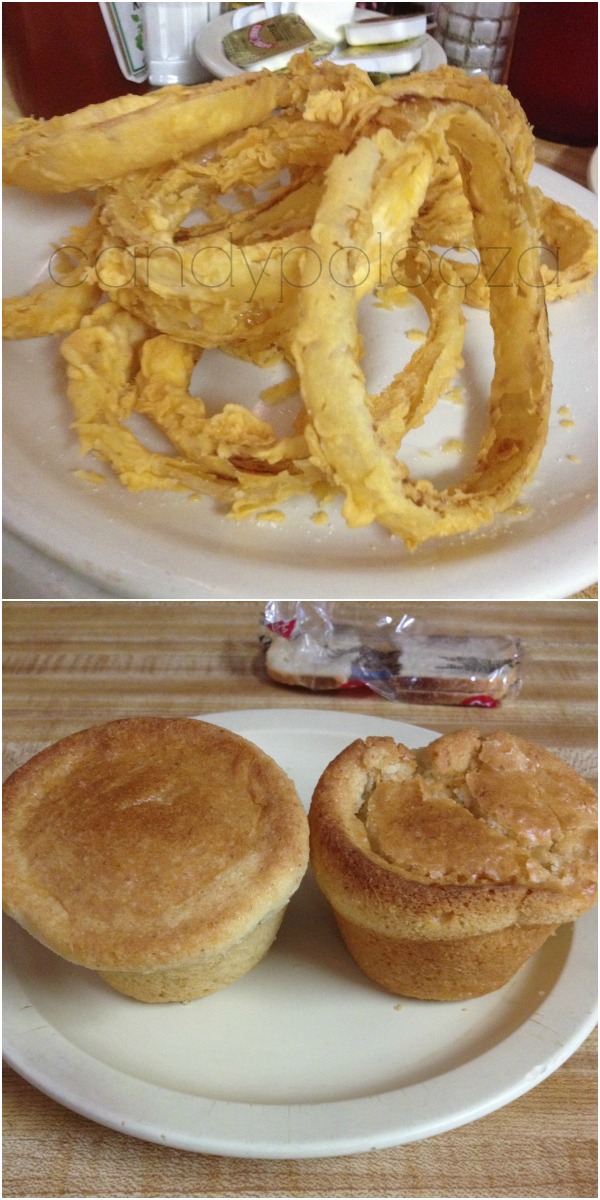 For the lunch entree I ordered a Club Sandwich. I'm not sure but, I've been craving one and was excited when my request for a club sandwich was accepted. You see, it's not on the menu!! How awesome right?!  It was as I had hoped -Delicious. What I remember a club sandwich should be, but this was a little different. The ham wasn't typical deli sliced ham, this was thick cut ham. The flavor of the ham was fabulous. And it really won me over when I tasted the pickles.. yeah you know it! I'm a Del-Dixie pickle lover and I could taste it! They use my favorite pickles!!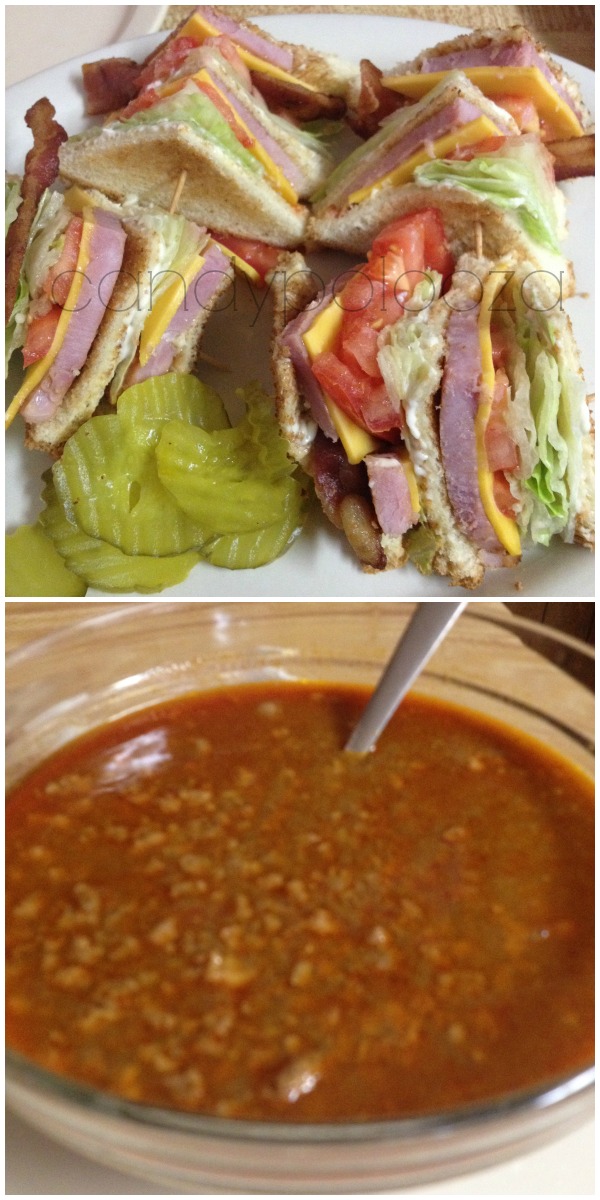 Sarah ordered the Chili with beans. She mentioned it was like no other chili she'd ever had before and that it wasn't as spicy as she'd hoped. Hey it's a review, that's what she mentioned. I tried a bite of it and I wasn't impressed either..
I'm sure the other dishes on the menu are what keep folks coming back. I actually plan on going back with the hubs. The experience was very diner like and I love places like those.  Every Sunday they have a Thanksgiving plate and I WANT to try it!! I would love Thanksgiving everyday, but let's be honest- that shouldn't be an option. So I'm excited to give it a try one Sunday soon. I hear breakfast is pretty good there too! The Dun Bar Restaurant is not off my list just yet! I'll definitely refer anyone there so they can give it a whirl as well. Would I go back and get another Club Sandwich? Absolutely!
Before you leave check out dessert!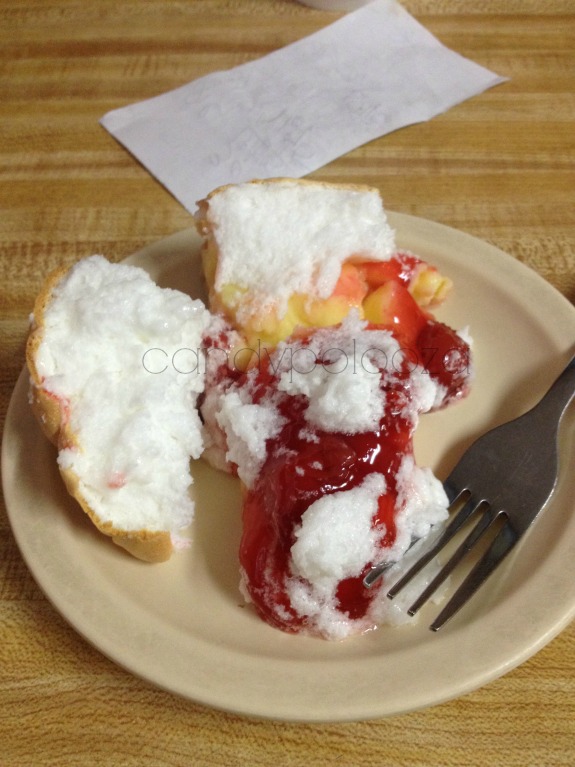 This Cherry Pie was like, any cherry pie I've ever had. It was actually a meringue top with an added custard type filling to the normal cherry pie filling.  The crust was good and the cherry and custard were good. The meringue I was not too sure about.  I'm not a meringue type of girl, so I wasn't excited when I saw it.  Again, I hear the pies are amazing there so I'm hoping I'll have a different slice next time. I'm hoping there's pecan pie so I can buy it there for Thanksgiving versus having to make it myself. Even though it's super easy to make pecan pie..
I'm not  a certified food critic, these are my personal opinions of this establishment.  Do I recommend it? Absolutely! If you are in the San Angelo, Texas area, go have a meal at the Dun Bar Restaurant!