I love to bake! If I had more time, that's what I'd spend my time doing. And I'd probably be as big as a house, so maybe it's a good thing! I wanted to share with you a super easy recipe for Easy Toaster Oven Mini Pies! I used Apple and Cherry pie filling in this recipe. Pretty much a two-ingredient recipe. How about that?! And they will look so pretty on your table for dessert or a great gift during the holidays!

I love using my toaster oven for just about anything! If I could find a miniature turkey- I'd cook that bad boy in my TO. Ha I just shortened the name.. toaster oven.. TO- get it? Using a toaster oven is cleaner, (when you rent a home like we do- cleaning an oven- not something I want to do ever) because it's yours and it's leaving with you. But they are super easy to clean anyways and use less energy than a conventional oven. I have been dreaming of a Breville toaster oven.  They are pretty fancy.
THE RECIPE
You can totally click on it to save and/or print the recipe. I can't wait to hear what you think! 

Easy Toaster Oven Mini Pies
Prep time:
Cook time:
Total time:
Easy Toaster Oven Mini Pies that only require 2 ingredients.
Ingredients
Pie Filling of your choice
2 Un-rolled Pie crust doughs
5 Ramekins
Instructions
Tun on Toaster Oven to bake at 450 degrees.
Spray the Ramekins with baking spray.
Unroll your pie crust.
Get a cup measuring cup and cut out circles of the pie crust.
Gently pull at the crust circles and drop it into the ramekin.
Gently stretch the dough so that it covers the inside of the ramekin.
Use a spoon and spoon in the filling into the pie crust.
Make sure you fill it pretty good.
Cut strips from the left over dough and lattice the top of the ramekins.
Place on the toaster oven tray and send them on their way to cook.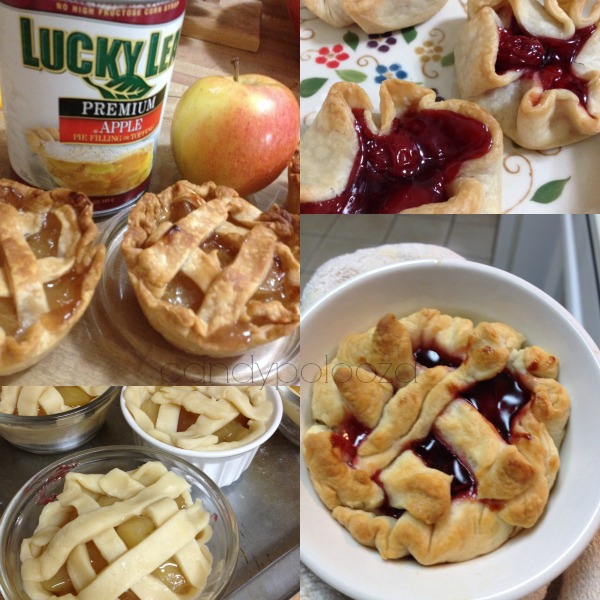 I hope you enjoy the recipe! I really enjoyed making them. The lattice really makes the little pies look Fancy!!
Question:
What's Your Favorite Pie? 
Cheers!
Candy