Disclosure: This is a sponsored post, however all opinions are my own. Giveaway prizes will be award by Warner Bros.
LIVE. DIE. REPEAT
Three words that you'll hear when you watch the movie Edge of Tomorrow. You can expect lots of action and awesome visuals! From the makers of Bourne Identity and Mr. & Mrs. Smith comes the movie I'm calling (Oh yeah- the Candypolooza endorsement) the Thriller of the Summer!
EDGE OF TOMORROW staring Tom Cruise & Emily Blunt.
In 3D and 2D in select theaters and IMAX on June 6
Warner Bros. Pictures and Village Roadshow Pictures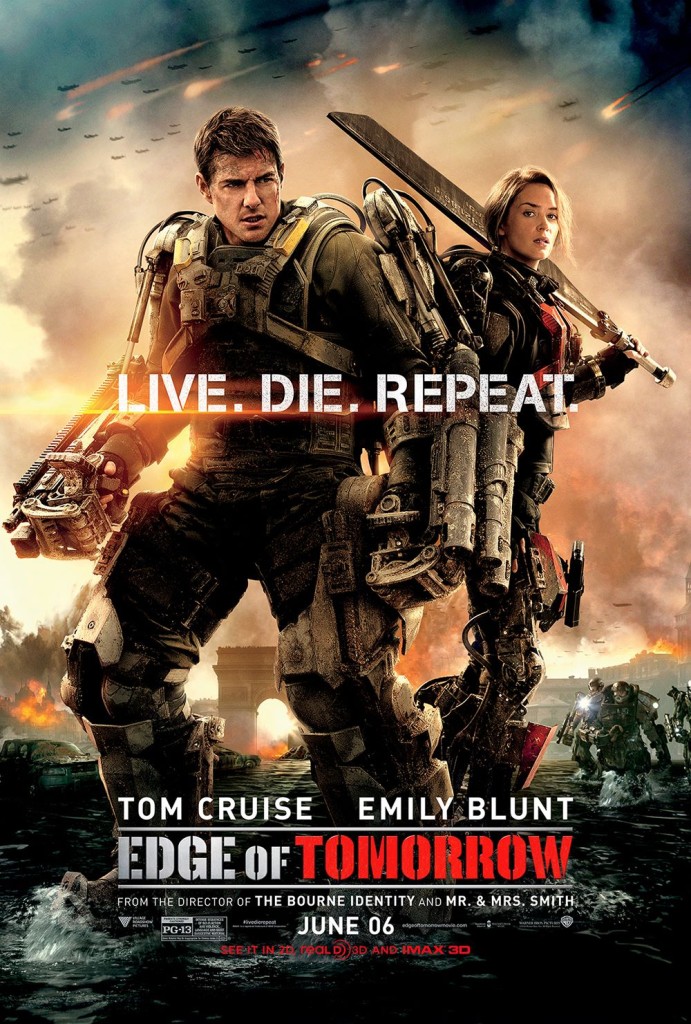 Catch the trailer here! I'm so excited for Edge of Tomorrow to come to theaters!

Info on Edge of Tomorrow
Director: Doug Liman
Screenplay By: Christopher McQuarrie and Jez Butterworth & John-Henry Butterworth
Producers: Erwin Stoff, Tom Lassally, Jeffrey Silver, Gregory Jacobs, Jason Hoffs
Executive Producers: Doug Liman, David Bartis, Joby Harold, Hidemi Fukuhara, Bruce Berman
Cast: Tom Cruise, Emily Blunt, Bill Paxton, Brendan Gleeson, Noah Taylor, Kick Gurry, Dragomir Mrsic, Charlotte Riley, Jonas Armstrong, Franz Drameh, Masayoshi Haneda, Tony Way.
Sci-Fi Thriller.   The epic action of "Edge of Tomorrow" unfolds in a near future in which an alien race has hit the Earth in an unrelenting assault, unbeatable by any military unit in the world.  Major William  Cage  (Tom  Cruise)  is  an  officer  who  has  never  seen  a  day  of  combat  when  he  is unceremoniously dropped into what amounts to a suicide mission.  Killed within minutes, Cage now finds himself inexplicably thrown into a time loop—forcing him to live out the same brutal combat over and over, fighting and dying again…and again.  But with each battle, Cage becomes able to engage the adversaries with increasing skill, alongside Special Forces warrior Rita Vrataski (Emily Blunt).  And, as Cage and Rita take the fight to the aliens, each repeated encounter gets them one step closer to defeating the enemy.
Now for the Giveaway!  I'm excited to have One Grand Prize winner and Two Runner Ups!
Here's what the Grand Prize winner will receive: – Oh yeah awesome EDGE OF TOMORROW movie swag!!!
1 – EDGE OF TOMORROW Book
1 – EDGE OF TOMORROW One Sheet
1 – EDGE OF TOMORROW Live Die Repeat T-shirt
1 – EDGE OF TOMORROW Hat
1 – EDGE OF TOMORROW Water Bottle
1 – EDGE OF TOMORROW iWallet
1 (Admit Two) – EDGE OF TOMORROW Hollywood Movie Money
*Hollywood Movie Money (free admission voucher to see EDGE OF TOMORROW) redeemable nationwide starting 06/06/14 and valid for a limited time for use in any theater excluding AMC Theaters. Very cool right?! Cool swag to wear to the movie and you get in for free along with a guest!
My Two Runner Up Winners will win: Hollywood Movie Money to see EDGE OF TOMORROW – admit two,  redeemable nationwide starting 06/06/14 and valid for a limited time for use in any theater excluding AMC Theaters.
Answer the following question for a chance to win:
In Edge of Tomorrow, this actor, who was nominated for Oscars® for his performances in Born On the Fourth of July, Jerry McGuire and Magnolia, plays Major William Cage. He is also known for his starring role in the Mission Impossible films. Name this actor.
Please leave your comment below! Remember there's Three Winners!! I'll be choosing the Winners on Friday, June 6th at 4pm EST! 
Good Luck! 
Candy