I am a member of the Collective Bias®  Social Fabric® Community.  This shop has been compensated as part of a social shopper amplification for Collective Bias and its advertiser.
Teaching a Tween to Stop Sorting Laundry with Purex No Sort #LaundrySimplified #cbias
 How soon is it too soon to start teaching a child about laundry? Aramis is seven years old and by all means a tween- at least he acts like one! We've been talking about increasing his chores around the house and I'd love for him to start helping out with laundry. Lucky for him, we'll be using Purex® No Sort™ for Colors laundry detergent. Can you say no sorting and you don't have to worry about color bleeding accidents?! Oh yeah! Our Summer is going to be a busy one and the hubs will be away some so to make my life a little easier, I'm enlisting my oldest help with the laundry. Aver como nos va right? We'll see how it goes!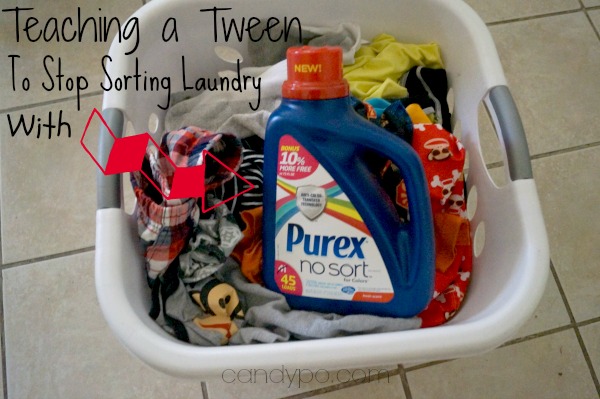 Este verano, le voy ha ensenar a mijo como lavar su ropa usando Purex No Sort. This Summer he's learning about laundry! He has always seen the hubs and I sorting through laundry. Separating the colors, white and different fabrics. Was he ever excited to hear he wouldn't be learning that torture! So no fuimos para Walmart a comprar una botella de Purex No Sort jabón. He had mixed feelings about if he was ready to learn to wash clothes.. I think he came around though during our visit to Walmart.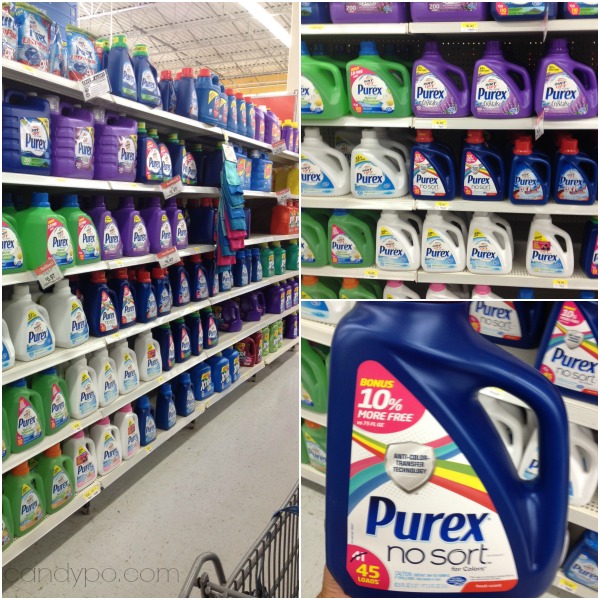 I love how easy it is to find what we want at Walmart. Don't you?! Great choice and even better prices! The first thing he read on the bottle was "No Sort." He tells me, "I don't have to separate the clothes?!" He got all kinds of excited about that.. Silly boy.
So here's some information on the new Purex No Sort detergent: 
"Laundry users believe sorting is an essential part of their laundry routine so our challenge is to convince them that that has changed.  In order to reassure our consumers we have focused on educating them on our breakthrough Anti-Color-Transfer Technology which traps loose dyes in the wash and does not let them settle onto other fabrics.  As a result they are able to simplify their laundry routine by doing less sorting and less loads.
And
The back label reads "Purex No Sort detergent is packed with innovation, but it can't perform miracles, so please follow these words of advice: wash strongly colored fabrics or new pieces of clothing, especially jeans, separately at least 5 times before doing a mixed color load with Purex No Sort detergent."
While it's very user friendly, they advise caution when it comes to new pieces. Hopefully you aren't a rebel like Aramis.. He's been warned. But hey, "The Rules Have Changed," when it comes to laundry thanks to Purex! Tweet to them @Purex.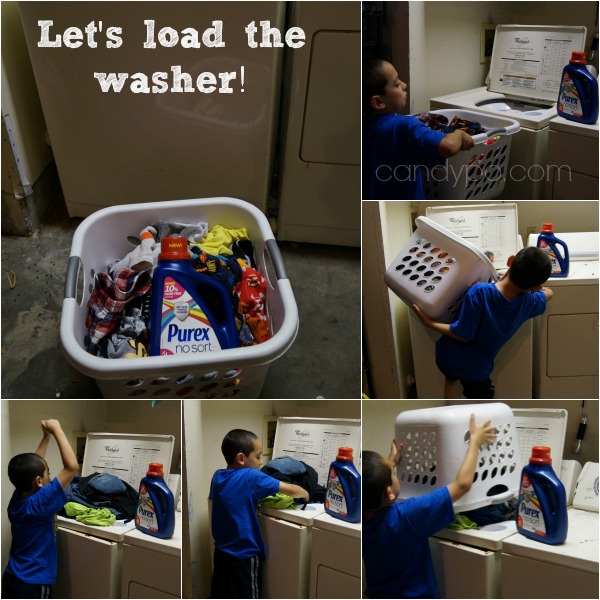 When we began I told him to gather all of his laundry from the hamper (and yes, I totally threw in a few things of mine!) that we'd be starting our lesson on laundry today.
How about those laundry loading skills?!! My mother would probably have yanked him away from the washer! LOL She always told me, "Acomodas la ropa, no nomas la avientas en la lavadora, para que se lave bien" -"Arrange the clothes carefully so that it's washed properly." Yeah it was totally a huge ball of laundry in there. But he's learning right, I can't be too critical.. that comes the next few times. He got it in there no less and I talked to him about the amount of Purex No Sort detergent to add. Explaining the knobs, sizes and water temperature was pretty self explanatory- or that's what he told me! Little Stinker!  But we got it done and he was super proud.  I would definitely say this was:
A parenting victory thanks to Purex No Sort detergent! #LaundrySimplified #CollectiveBias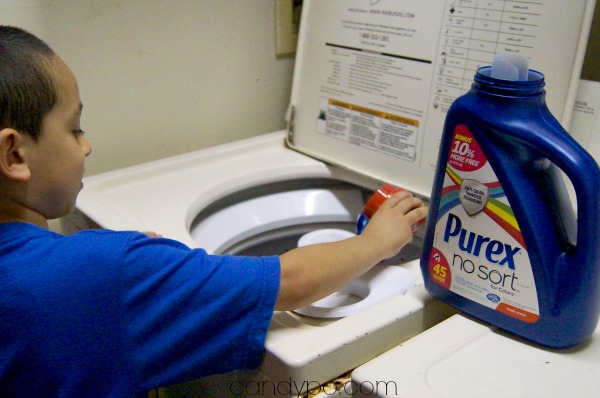 Question:
Are you teaching your kids any special chores this Summer?!
Candy