Emily Blunt is magnificient as Mary Poppins in Mary Poppins Returns. You will truly enjoy this beautiful, continuation of the film we all saw as children. Emily does an amazing job of making Mary her own and her interpretation of the nanny we all love is spot on. Thanks to Disney for inviting me on this once in a lifetime opportunity to get to screen Mary Poppins Returns, attend the red carpet and interview the amazing cast, all opinions are my very own.
Emily Blunt is Mary Poppins Ya'll!!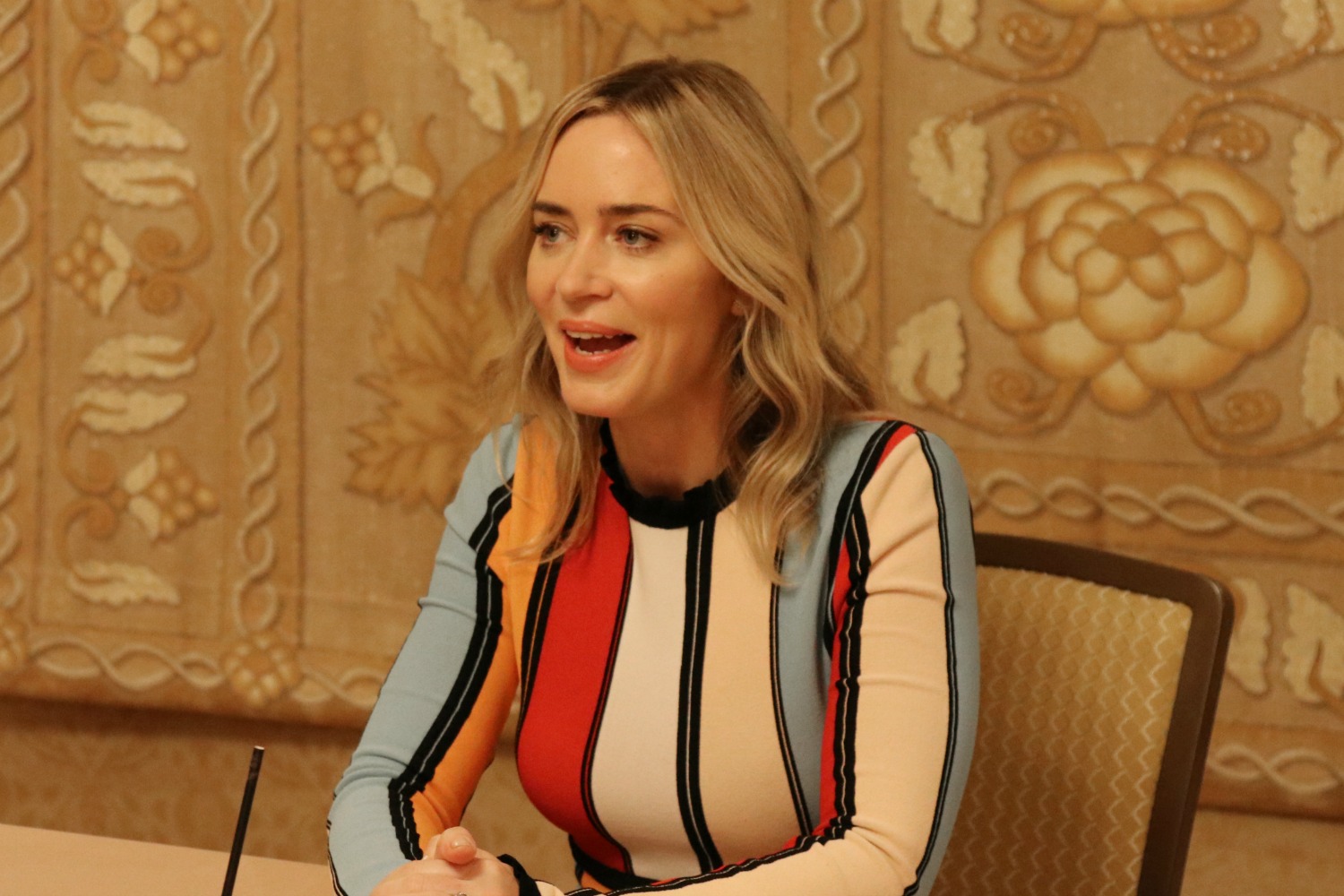 I always love asking questions and I had the opportunity to ask Emily about the moment when she realized she was Mary Poppins. Here's what she said:
"The arrival scene where I am dangling 60 feet from a crane and Rob Marshall played the amazing orchestral music from the speakers, like blared it from the speakers so that it was very transporting and really exciting… I was like "Oh My God!"  But I think that was the moment, because I had the coat, the hat, the umbrella, the feet, the kite. It was one of the only moments I allowed myself [that] because I had to block out the fear of how iconic she was in taking this on for most of the shoot. But that was the moment where I allowed myself, I was hit between the eyeballs with it."
The picture above is super emotional for me. One of the first images we got to see of Emily Blunt as Mary Poppins. I was very excited to receive the same exact Funko Pop #467 doll. And you can get one too! Click on the image to purchase your very own!
While I noted above that Mary Poppins Returns was not a sequel, but a continuation of the story, Emily didn't take on the role to rival the great Julie Andrews. She took on the role and decided to make it her own, and that she did! She notes taking on the character from the actual P.L. Travers book.
"I think she's much closer to how she is in the book. In the book, she's incredibly rude and vain and funny and enigmatic and weird.  She's sort of bizarre and layered. So for me, it was how do I find those cracks of humanity in a super human and where are they?  I said to Rob Marshall I really want all the sternness and this sort of imperious quality to her to drop when she goes into these fantasias.  She should be like an adrenaline junkie, that sort of duality of the character, that when she goes into these adventures, you've got to see her childlike wonder and her thrill and enjoyment of it.  And then when it's over, she pretends none of it happened and she had nothing to do with it."
The Great Dick Van Dyke
One of the most anticipated scenes in the film for myself was when would we see the great Dick Van Dyke!? Of course we had to ask Emily how it felt to work with Mr. Van Dyke and share a special scene with him.
"It was so overwhelming, I have to say, because he's so sprightly and cool, just what a gorgeous human. And he walked on set and he just said I feel the same spirit here that was there on the first movie, and of course, we all wanted to cry.  And we'd sit around him and just want him to tell us stories about the original and he sang "Jolly Holiday" to me.  I was just like, "That's it, I could die now, that's it.  I could die and be happy."
The Music
I have listend to the soundtrack and score everyday since I heard it was available on Amazon Music. I'm sure Alexa is tired of it, but I don't care! LOL I'll be sharing an interview with the songwriters next week so keep an eye out for it. As you know, Mary Poppins sings so yes Emily Blunt got to show off her pipes as well! Here's what she shared about the music she got to sing: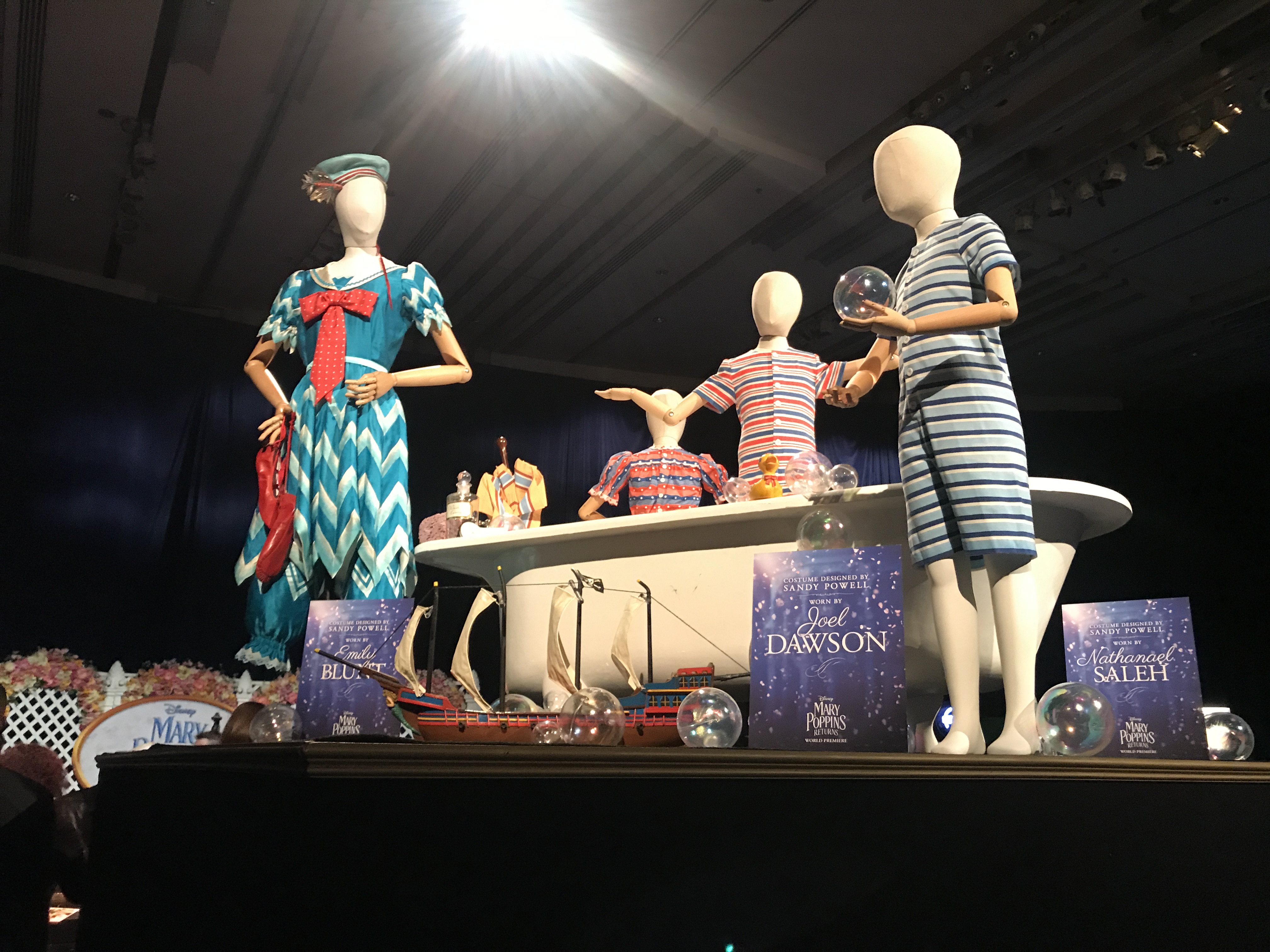 "I love the poignancy of the ballad that I sing to the kids because it's sort of her revealing her most tender side… That scene with the kids was really moving." My favorite song is the first song she sings with the children, Can you Imagine That?" The image above is from the after party where they showcased some of the costumes. I can't wait for you to see this scene! It will put a huge smile on your face. Can you imagine that? 😉
The Countdown is on ya'll! Mary Poppins Returns flies into theaters on December 19th! Get your tickets on Fandango NOW!