Inspired by true events Bridge of Spies will take you into the throws of the Cold War. The hubs and I are HUGE fans of movies inspired by true events centered around war history. He's the history major, I'm just a movie fanatic.  Check out this exclusive first look at Bridge of Spies starring Tom Hanks. I've never gotten into my love of Tom Hanks.. post idea!! Anyways.. enjoy the trailer and keep an eye out for more information about Bridge of Spies as it gets closer to it's premiere October 16th!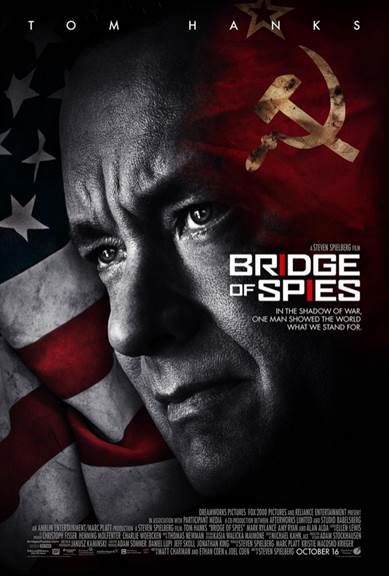 Cast:                                        Tom Hanks, Mark Rylance, Scott Shepherd, Amy Ryan, Sebastian Koch, Alan Alda
Director:                                 Steven Spielberg
Producers:                               Steven Spielberg, Marc Platt, Kristie Macosko Krieger                         
Executive Producers:             Adam Somner, Daniel Lupi, Jeff Skoll, Jonathan King
Written by:                             Matt Charman and Ethan Coen & Joel Coen

Here's the official release about Bridge of Spies:
"A dramatic thriller set against the backdrop of a series of historic events, DreamWorks Pictures/Fox 2000 Pictures' "Bridge of Spies" tells the story of James Donovan, a Brooklyn lawyer who finds himself thrust into the center of the Cold War when the CIA sends him on the near-impossible task to negotiate the release of a captured American U-2 pilot. Screenwriters Matt Charman and Ethan Coen & Joel Coen have woven this remarkable experience in Donovan's life into a story inspired by true events that captures the essence of a man who risked everything and vividly brings his personal journey to life.
Directed by three-time Academy Award®-winning director Steven Spielberg, "Bridge of Spies" stars: two-time Academy Award winner Tom Hanks as James Donovan; three-time Tony Award® winner Mark Rylance as Rudolf Abel, a KGB agent defended by Donovan; Scott Shepherd as CIA operative Hoffman; Academy Award nominee Amy Ryan as James' wife, Mary; Sebastian Koch as East German lawyer Vogel; and Academy Award nominee Alan Alda as Thomas Watters, a partner at Donovan's law firm. The film is produced by Spielberg, Marc Platt and Kristie Macosko Krieger with Adam Somner, Daniel Lupi, Jeff Skoll and Jonathan King serving as executive producers. The screenplay is by Matt Charman and three-time Academy Award winners Ethan Coen & Joel Coen. "Bridge of Spies" will be released in theaters on October 16, 2015."

DreamWorks Pictures' BRIDGE OF SPIES opens in theaters everywhere on October 16th!
Like BRIDGE OF SPIES on Facebook
Follow BRIDGE OF SPIES on Twitter: @Bridge of Spies
Visit the official BRIDGE OF SPIES website
Cheers! 
Candy