Fast & Furious: Spy Racers series is back for season 4 and it's now available on Netflix. If you've been a fan of the series, you're going to love season 4. It's got all of the awesome speed and action like previous seasons and this season it's heading to Mexico. Thanks to Dreamworks Animation and Click Communications for providing screener for review. You're not going to want to miss this series, it's truly fantastic to watch and experience.
If you are as excited as I am for the live action film this summer, you'll have to watch Fast & Furious while you wait to head to theaters. The first episode jumps right into the action with the addition of special guest star Danny Trejo as Cisco's uncle Tuco. Tony Toretto and crew are in for an adventure they never expected as they will be attempting to clear their names.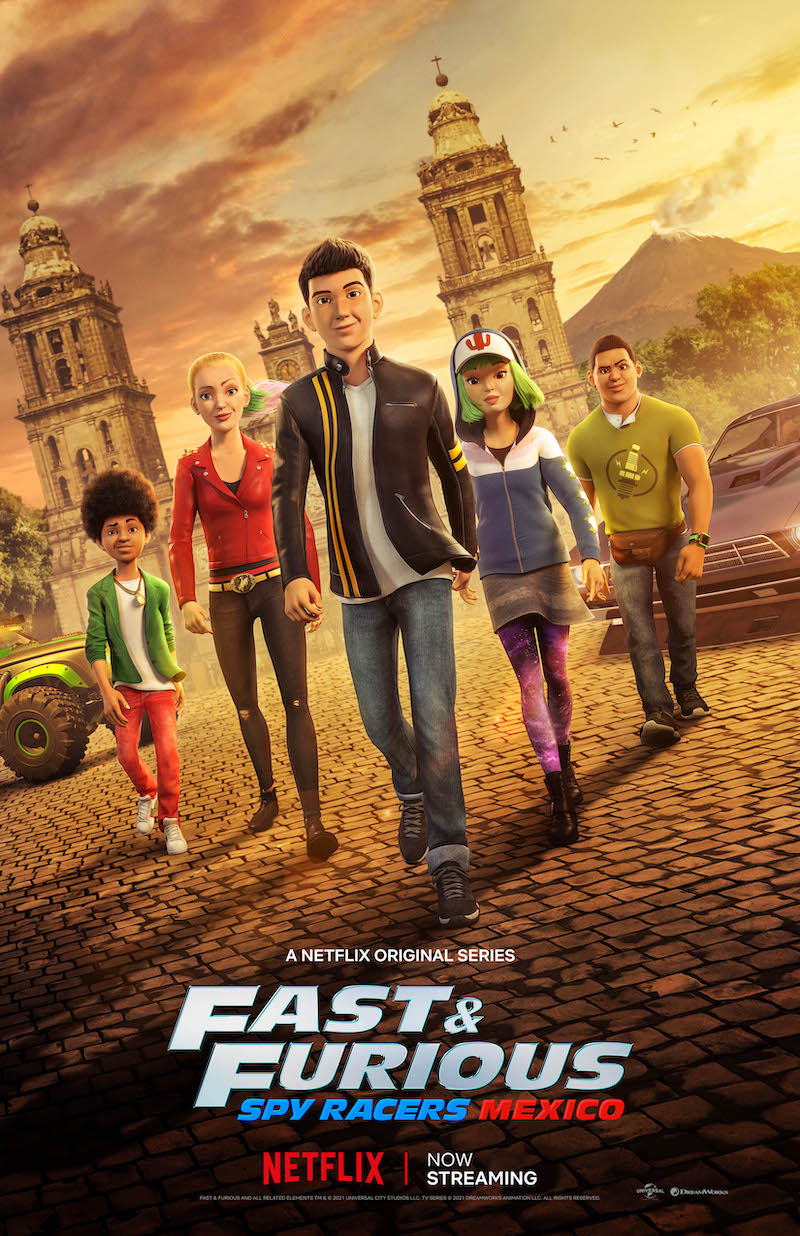 I for one was excited to see Ms. Nowhere, voiced by Renée Elise Goldsberry have a bigger role this season. She'll be in the thick of it with the team so watching how she adapts is pretty awesome. Remember, she's used to being the boss and all!  You will enjoy watching her character further develop this season. One of my favorite things about this franchise of live action and animated series is how important family is. We'll get to see more of the extended family this season. Personally I think that helps further grow the possibilities with more stories to come. Let me know if you'll be watching in the comments!
About The Series
Inspired by Universal's blockbuster Fast & Furious franchise, teenager Tony Toretto follows in the footsteps of his cousin Dom when he and his friends are recruited by a secret government agency to take down nefarious crime organizations across the globe. Tim Hedrick and Bret Haaland serve as executive producers and showrunners. The series is also executive produced by Vin Diesel, Chris Morgan and Neal H. Moritz who also serve as producers on the live-action Fast & Furious franchise. From Universal and DreamWorks Animation, season 4 of the hit Netflix original series Fast & Furious: Spy Racers speeds to Netflix today. This season follows the crew to Mexico with special guest stars including Danny Trejo and Paul "Big Show" Wight. Check out 2 heart-pounding clips from this season below!
This season, framed for a crime they didn't commit, the Spy Racers and Ms. Nowhere embark on a perilous mission to Mexico City to prove their innocence and bring the real culprit to justice. As the team works to uncover the identity of the real villain, they find themselves hunted by the agency's most unstoppable super-agent who's hot on their trail.
Watch the Trailer NOW
Voice Actors:
●  Tyler Posey – Tony Toretto
●  Charlet Chung – Echo
●  Luke Youngblood – Frostee Benson
●  Jorge Diaz – Cisco Renaldo
●  Camille Ramsey – Layla Gray
●  Renée Elise Goldsberry – Ms. Nowhere
Guest Cast:
●  Danny Trejo – Tuco
●  Paul "Big Show" Wight – Palindrome
●  Jason Rodriguez Hightower – Moray
●  Similce Diesel – Sissy
●  Avrielle Corti – Rafaela Moreno
Executive Producers and Showrunners: Tim Hedrick and Bret Haaland
Executive Producers: Vin Diesel, Chris Morgan and Neal H. Moritz
ABOUT THE FAST & FURIOUS FRANCHISE:
Over the course of nine films that have stoked passion in an ever-expanding audience and have earned nearly $6 billion at the worldwide box office, Universal Pictures' record-smashing, homegrown Fast & Furious Saga has become the studio's most-profitable and longest-running franchise. Across social media platforms, the fan following for the movies and cast has grown into the biggest of any active franchise. On the heels of The Fate of the Furious, which debuted in theaters as the biggest global opening of all time, the blockbuster franchise has expanded to a multitude of offerings – from toys and video games to an all-new animated series and successfully launched spin-off franchise. F9, the ninth chapter in the Fast & Furious saga, hits U.S. theaters June 2021.
ABOUT DREAMWORKS ANIMATION:
DreamWorks Animation is one of the world's leading producers of high-quality, animated family programming, reaching consumers in more than 190 countries. Creating a diverse array of original content in a variety of formats and delivering deep, fully immersive worlds served up with compelling characters, the prolific studio has garnered 25 Emmy® Awards since inception in 2013 and is home to such beloved series as Spirit Riding Free, She-Ra and the Princesses of Power, Archibald's Next Big Thing, Kipo & the Age of Wonderbeasts, The Boss Baby: Back in Business, Kung Fu Panda: The Paws of Destiny, The Epic Tales of Captain Underpants, Dragons: Race to the Edge, All Hail King Julien, and the recently released Gabby's Dollhouse and Go, Dog. Go!  DreamWorks is a division of the Universal Filmed Entertainment Group within NBCUniversal, a subsidiary of Comcast Corporation.