Little Ezra has graduated from a crib to a very cute Elmo toddler bed! I was browsing Facebook on Saturday while on break from my organization frenzy and happened to see a toddler bed in the Swap page for San Angelo. I was the first to comment and then got a text from the seller. I got dressed and with cash in hand went to pick up the bed.
The bed is absolutely perfect. It's only 4 months old and looks brand spanking new. It was a great score! I bring the little bed into the house and Ezra gets so excited! We quickly set it up with his crib memory foam mattress and some cute Thomas the Tank sheets from Aramis' toddler bed days.. (they grow so fast!! insert sad face!)  Back to little man.. The bed was ready. As Ezra inspected it he quickly jumped in and gave his seal of approval. It was still too early for a nap, so we waited a couple more hours and let him play in it.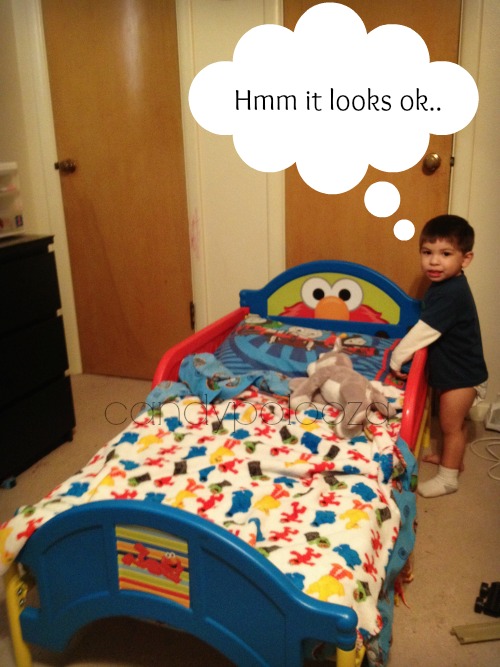 We decided to give him a cuppy with milk for more incentive to lay down. We normally just give him water to lay down with. He's not the type of child that keeps the spout in his mouth for long periods of time so I'm not worried about the potential dental issues that comes from sippy cups.
Here comes the tricky part.. Getting the toddler in the toddler bed and him stay there. With Aramis I can remember him quietly climbing out and coming down the hall thinking he can just get up and it be ok. Little stinker.. I totally expected that from Ezra because he is my risk taker and likes to push the bar. I can honestly say I expected him to not stay in the bed at all. While on vacation he actually slept in the bed with me, so that's what I was afraid of that he figured we were still on vacation. He's a smart little whip, that boy. For nap time the hubs laid him down and we closed the door. I heard him rooting around in the room so I yelled to him to go to bed. A few minutes later.. silence. Success!
After  a refreshing nap the little guy was happy. He really enjoyed napping in his bed. As a matter of fact, he kept going back and getting in it and checking it out. I know in some cases people wouldn't want the kids to be playing in the bed, but I think it's better for him to get familiar with his new digs and get comfortable. We still had bedtime to get through.
Bedtime came we made up a bed time jingle to get Ezra excited about sleeping through the night in his bed.  Disclaimer time.. this is my song ya'll.. I might be calling Laurie Berkner so she can sing it and I can win a Grammy as the writer.. LOL I'm just kidding.. ok maybe not. So here's the little song.. it's just the chorus..
Sleeping in my big boy bed…
Sleeping in my big boy bed..
I'm sleeping in my big boy bed tonight cuz I'm a big boy now..
I'll develop the rest of the song later but this little jingle was short enough for little man to be singing it with us. He was hype and ready for bedtime in his big boy bed. We did the same routine but this time we made it a little sweeter with milk in his cup.. I know milk at night is bad.. work with me people, he's a tough cookie so we had to bring in the big guns.. but it worked!!! HAHAHA Holy lordy it worked. I decided against going into the room and snapping a pic of my little prince with the flash on and risk waking him up. We are on day three and he is so comfortable in his bed and really loves it.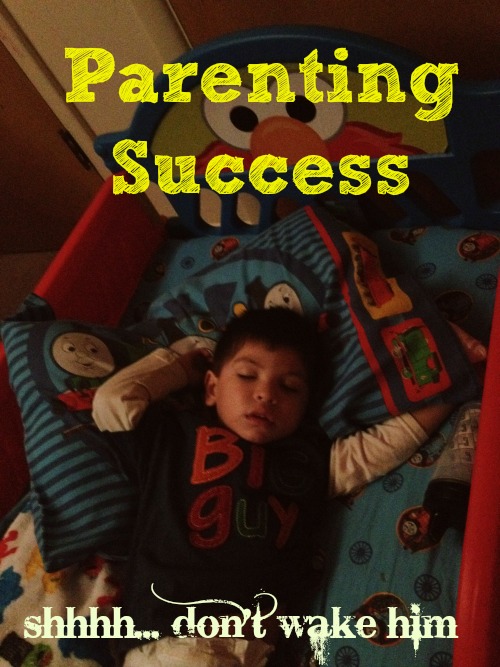 I don't know if it was the milk or if he was just ready for a little bed of his own, but I really think we are completely out of sleeping in cribs and pack n play. Little man is the big boy bed for good now. Here's to another milestone met by little man. We love him so. Our little crabby boy.
Question:
Was it hard to transition your child from a crib to a toddler or regular size bed?