I LOVE Make-up. Not just love.. I LOVE it! For as long as I can remember I have enjoyed playing up my face with different types of make-up products. These products definitely gave me more than I expected. Read on to learn how!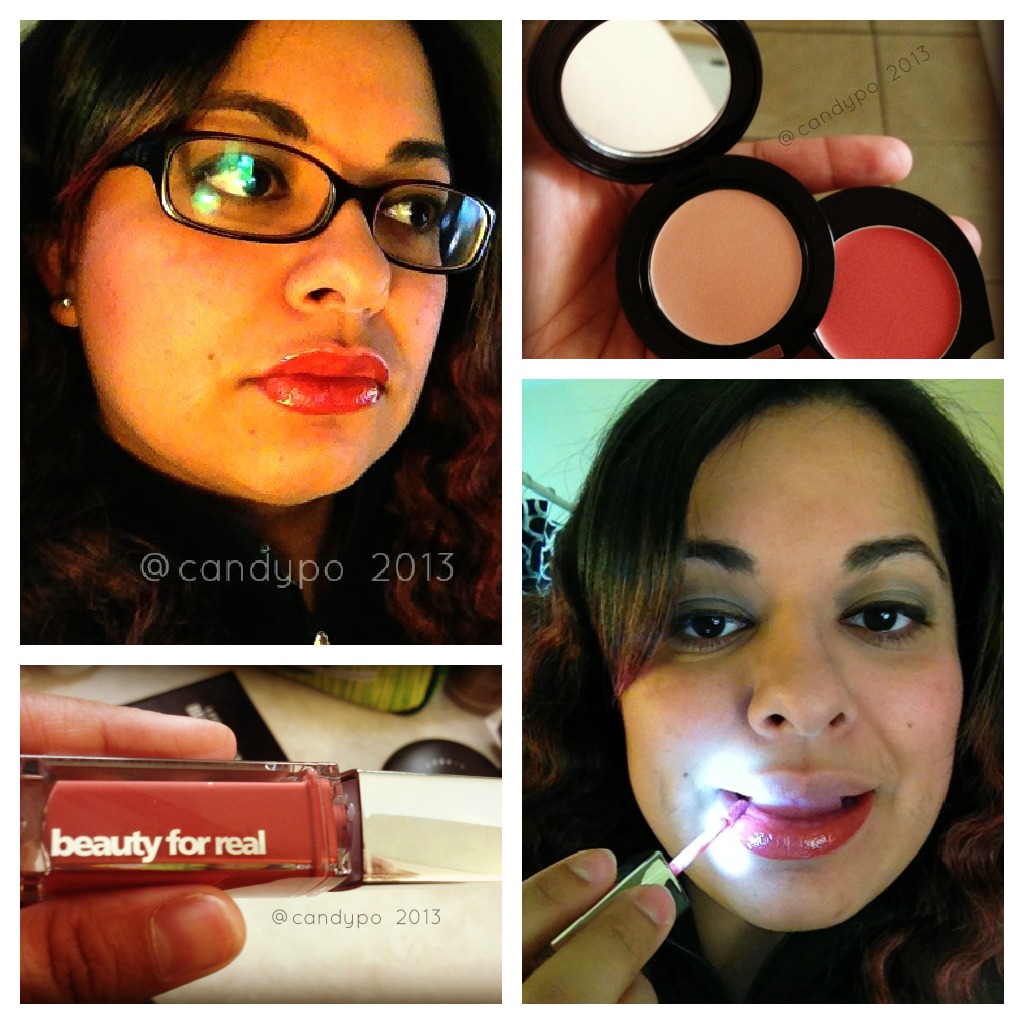 Beauty for Real:
Get Glowing Cheek Tint
Shade received: Get Lit/In The Pink
Why I LOVE this product:
It's a highlighter duo. I had never used this type of product; was a new experience for me. Very positive I might add. I was could have sworn it was a powder but when I placed my blush brush in it was a creme! That really made me nervous about using it. I decided to apply with my fingers, I have to say it was amazing. I mean it was like I was rubbing the powder into my cheeks. Very effortless and wears amazingly all day long.
This cheek tint gets two thumbs up from me!
Shades Available:
Get Lit /In the Pink  &  Goldrush/Afterglow
Benefits: It's GREAT for our skin! Check out below to learn about the added benefits of the cheek tint and Luminizer.
From the site: 
"CHEEK TINT AND LUMINIZER is a unique blend of color cosmetics and skin treatment.  Introducing a revolutionary, new patented ingredient, LUMINERA, which features a DIAMOND CORE COMPLEX designed to capture invisible UV light particles to emit a NATURAL LOOKING GLOW to the skin.
Vitamin E and grape seed extracts strike a perfect balance of ANTIOXIDANT PROTECTION, hydration and oil absorbing qualities while pomegranate extract and organic minerals provide a rich, LONG LASTING pigment.  We love this new technology and texture.
This product can be used as a cheek tint, bronzer or luminizer it  features a SILKY SMOOTH application that glides onto  the skin easily, leaving a DEWY RADIANCE with a refined, FLAWLESS TEXTURE."
Retails for $29
Light Up Lip Gloss
Shade received: Just Lust

Why I LOVE this product:
This Lip Gloss is amazing! First of all one side of the gloss is a mirror! How many times have you needed a mirror when applying lip gloss? They solved your problem. Amazing fact number two: The wand has a light inside of it. Press the top of the cap and the light stays on until you click it off. No worrying if you are in a dark club and want to re-apply your lip gloss.
Ok now to the actual color, lip stain and wear.  A+ Overall! I love the Just Lust shade. I have an olive complexion and it looked so good. It's not sticky like typical glosses and my lips felt moisturized and never felt dry or cracked. I did re-apply the lip gloss twice during the day and I was very impressed that when I drank from a cup I didn't have to pull my lips off of the side.
Shades Available: Deeply In Love, Just Lust, Don't Stop Red, Go Nude, Kiss Me, Light Hearted, Night Out, D Lite, Starlust, Spark, All Fired Up, Sunlight, Turned On, Light My Fire, You're in My Light
From the site:
"It's loaded with PLANT DERIVED antioxidants like green tea and grape seed extracts to deliver outstanding regenerative properties and ANTI-AGING capabilities, as well as aloe vera and avocado oil which are full of essential vitamins, are antibacterial and highly emollient.  Our light up lip gloss has a super moist, silky feel on the lips, it's LIGHTWEIGHT, comfortable, not sticky or tacky, yet is long wearing."They contain a groundbreaking lip plumper which feels COOL and REFRESHING when applied.  Marine collagen infuses lips with plumping benefits, leaving lips FULL and LUSCIOUS.
We have created a super high tech package with a convenient mirror on the bottle and an LED light in the lid that illuminates lips when applying, for an easy, PERFECT APPLICATION on the go!  LED lights are easily turned on and off with the button on the lid and can also be used as a mini flashlight in your handbag, at a dim lit restaurant or in your car!"
Retails for $22
Connect with Beauty For Real on

FACEBOOK

,

TWITTER

 and on

PINTEREST

 nothing like beautiful make up to inspire your daily look! And they have giveaways and information on the other products Beauty for Real carries. 
Question:
What's the one make-up product you can't go a day without?
Thanks to Beauty for Real for working with Candypolooza!
Disclaimer
I received products from mentioned company for review. All statements and opinions given are my own.