There's all kinds of hashtags, #MotivationMonday, #TransformationTuesday, #WineWednesday, #ThrowbackThursday, #FollowMeFriday, you get the picture! Let's make #FriedChickenFriday one!! I know what you are thinking.. "girl fried chicken isn't exactly a healthy food.." I know but everything is good in moderation right? Let's do this ya'll!  I will try to do this each week (I honestly don't eat that much fried chicken, but I've got about three weeks worth lined up already.) or if you want to send me your images of fried chicken you can totally do that too!! Send it to me each week by Wednesday to my email candypolooza@gmail.com or info@candypo.com  I will feature a recipe or a fried chicken dish from a restaurant. Just send me all the info please. Location, price, a good picture too. 😉 Woo hoo I'm excited!!
This week's #FriedChickenFriday comes from The Pirate's House in Savannah, Georgia. The Pirate's House was a restaurant my friend Deanna recommended to us. Even though Little E threw a dang fit practically the whole time we were there the food totally made up for it.
This is the Pirate's House Award Winning Honey Pecan Fried Chicken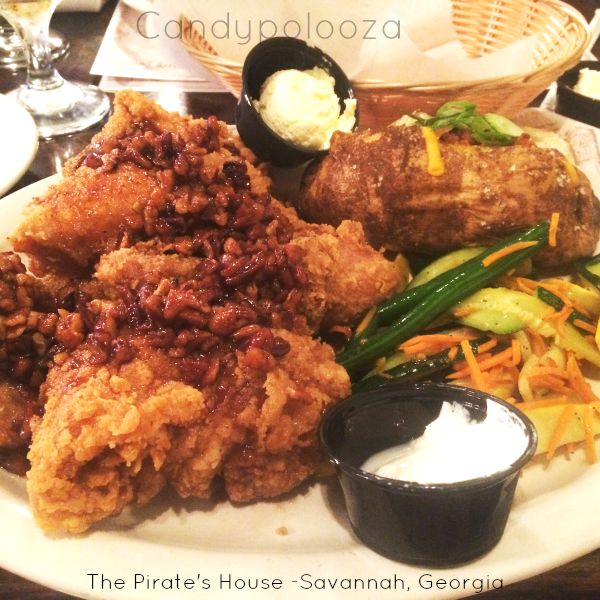 You get half of a chicken in this entree priced at $19.95 (worth every penny too!). The plate included a side of fresh veggies and a baked potato. It was incredible! I am a huge fan of pecans too! If you are staying local you can totally take your left overs home with you. We had a 2 hour drive home so the left overs stayed behind (tear). We hope to go back soon and I think I'll see if I can get away with sharing this meal with Big A. He loved the chicken! Hell we all did!!
If you find yourself in Savannah, Georgia go have a the fried chicken at the Pirate's House!! if you collect the pressed pennies, bring some quarters and pennies with you! They have a pressed penny machine! 
Happy #FriedChickenFriday!! 
Candy