Disclosure: This is a sponsored post. Prize fulfillment will be completed by Warner Bros., however all opinions expressed are my own.
I love going to the movies! When I first saw the movie trailer for Hot Pursuit I knew it would be a movie that I wanted to share with you all and I'm so excited to be doing that! Reese Witherspoon and Colombian beauty Sofia Vergara are two of my favorite actors. I will be going to the theater to see Hot Pursuit and I'm happy to send four of you to the movies as well, thanks to Warner Bros!  That's right I'll be giving away four Hot Pursuit movie prize packs in the Hot Pursuit Giveaway on Candypolooza! Keep reading to learn what you can win and enter!
Have you seen the trailer yet? I can't wait to watch Hot Pursuit!
An uptight and by-the-book cop (Reese Witherspoon) tries to protect the sexy and outgoing widow (Sofia Vergara) of a drug boss as they race through Texas pursued by crooked cops and murderous gunmen.
Director: Anne Fletcher
Writers: Written by David Feeney & John Quaintance and Dana Fox & Katherine Silberman
Producers: Bruna Papandrea, Reese Witherspoon, Dana Fox
Executive Producers: Jeff Waxman, Sofia Vergara, Luis Balaguer
Cast: Reese Witherspoon, Sofia Vergara, John Carroll Lynch, Rob Kazinsky
It looks awesome right?!! Yes!!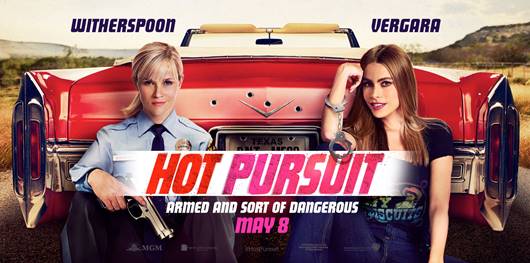 Now for the awesome giveaway!!
Four winners will win:
1 – Women's Crew T-Shirt ($8)
1 – Hollywood Movie Money vouchers, redeemable toward 2 Tickets in total to see HOT PURSUIT at participating theaters ($24)
1 – Movie Poster  ($10)