This is part of a sponsored collaboration with State Farm and Latina Mom Bloggers.  However, all opinions expressed are my own.
Will you be traveling any this holiday season? We will be! First off let me remind you to print out the latest & greatest insurance card! I'm terrible at having it in the car with me. True story! Speaking of insurance, State Farm is sharing an awesome list of items found in trunks as well as a giveaway for my readers!! How awesome is that?!  So start thinking of how's the junk in your trunk because it could win you $50 Visa gift card!
One of the things that my husband always does before we go on a long trip is have our vehicle detailed. Super cleaned and no junk in the car. Why? Well because when we go on trips we have a tendency to trash the car. Not on purpose of course, that's just the way it happens- we have two boys and one  is an unruly toddler.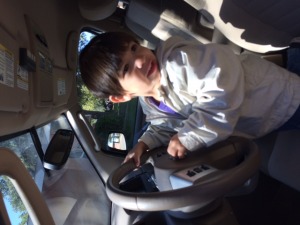 We travel with snacks galore and any other thing that will keep the boys content. I should add when we travel, we travel. I'm talking six to 10 hour drives.  We are preparing to go on a trip here soon and I've yet to get the car cleaned. Here's what I'm working with..
You think this is random, State Farm recently compiled a list of the 13 randomly weird things found in a car and listed it on Goodneighbors.com. You are going to trip out! All kidding aside State Farm also is sharing great tips for driving in the winter! Those are needed and good to know if you are driving a new area you've never been to this winter. We are headed to Arizona this week so I've definitely read and re-read the tips just to be safe!
Are you ready to learn how to win a $50 Visa gift card thanks to State Farm and your trunk?! Oh yes.. remember when I mentioned thinking about the weirdest thing in your trunk.. That's your entry!
You'll have to bare with me on this giveaway we are going to have to  manually do everything.
But first here's the RULES!
To be eligible to win prizes, winners must be a resident of the fifty (50) United States and District of Columbia (not Puerto Rico or Quebec) and be 18 years of age or older at time of entry. Giveaway prize of (1) $50 Visa gift card, will be shipped within 6-8 week and fulfilled by the sponsor.
Contest ENDS SUNDAY, December 7th at 11:59 pm ET!
*I will be contacting winner Monday morning!* 
Here's how you can enter:
On Facebook, Twitter and or Instagram –COMPLETE THE PHRASE:
The funniest thing I've ever had in my trunk is: _______________. @StateFarmLatino #InviernoSeguro #TrunkJunk
Make sure to come back and leave the link to your entry. That is how I will know you entered for my blog! If you don't leave a comment with an active link, your entry will be null and void!
2. Follow me on Twitter @Candypo
3. Follow our sponsor on Twitter: @StateFarmLatino
Very easy to enter, you just have to come back and comment with your link!
Good Luck / Buena Suerte!!
Candy