Red carpet experiences are everything you'd hope for and more. Excitement, fun and yes, lots of celebrities! Thanks to Disney I have had the opportunity to be on a few red carpets but I have to say, that each one is completely different. The experiences are always more than I could have ever imagined and more. Thanks again to Disney I was able to walk the red carpet for the Frozen 2 world premiere and see the film at the Dolby Theatre in Hollywood. Another dream come true as I walked "Into the Unknown" at the Frozen 2 red carpet and premiere. Like what I did there 😉
What a beautiful first look right? As we grabbed our credentials, this is what we would be walking into. The beautiful red, burgundy, orange, and purple hues were all over the carpet and we could only expect to see more in the film. The color schematic is perfect for this time of year too.
THE RED CARPET
The red carpet experience was unforgettable! Always so surreal when you are there getting moved along by all of the security and crowds of people. Here's my head to toe shot. My dress was- wait for it- a dress I purchased off of Facebook! Yes, one of those pesky Facebook ads and I loved the dress so I ordered it. Funny story actually- the dress has been sitting in my closet since last year. This trip was totally last minute so the Facebook buy was worth it.
I received so many compliments on the dress. It's not super flashy and it totally stood out on the carpet. It was very comfortable and the biggest plus- it had pockets people. Need I say more right? My jewelry was very basic. With the dress having a turtleneck, I didn't want to wear a necklace for the chance of taking away from the bow on my left side. I went with my beautiful Kendra Scott earrings, they are last season's so you'll have to check her site for the updated style. My shoes, of course, my leopard print Tieks by Gavrielli. Here's a link to a comparable pair on Amazon.
THE AFTER PARTY
Disney goes all the way for each after party. Like the red carpet, you just never know but can always be sure that your mind will be blown by all of the details.
As you can imagine my heart kind of jumped when I walked into this!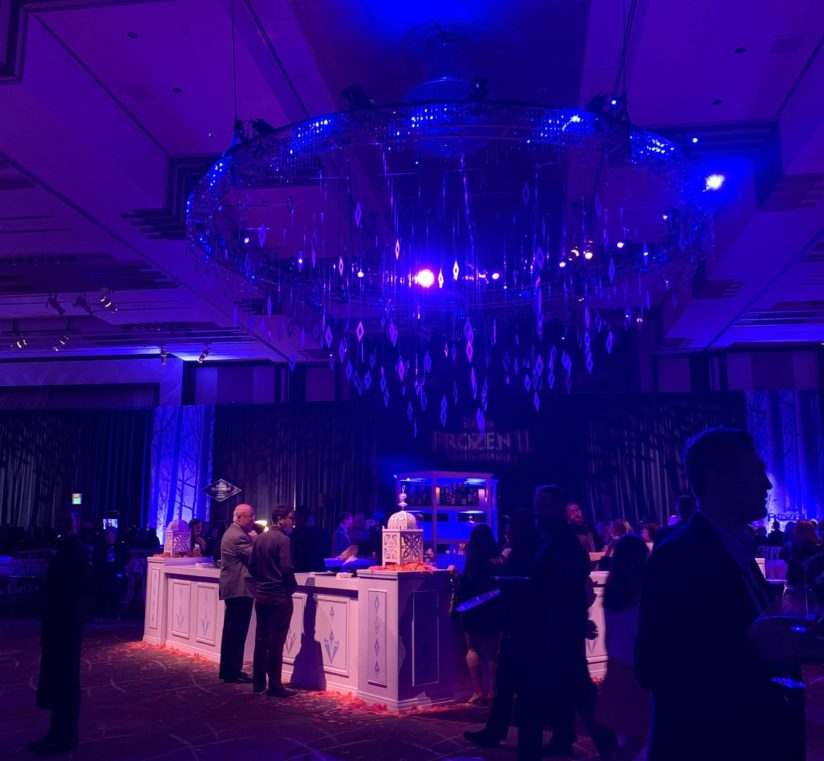 Beautiful right? The hues from the carpet were also beautifully spread into the after-party. Everything looked amazing. The food was delicious and there were so many options for dessert. Check out the spread and tell me in the comments what you'd choose.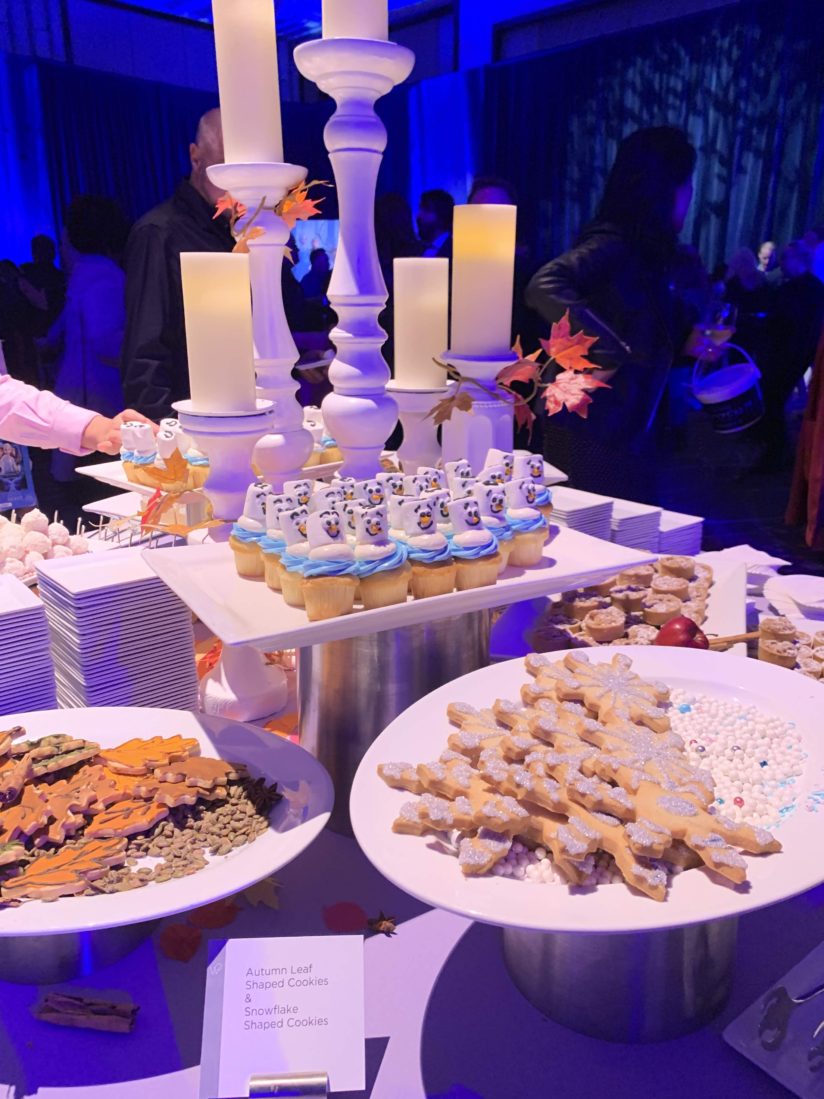 I tried the cookies and they were delicious as you can expect. Everyone enjoyed the Olaf cupcakes too! DIY idea right there, he's the cutest.
Every after-party always has so much to do too! Yes, it's not just rubbing elbows with celebrities and selfies. Build-a-Bear had a charades station. You could act it or guess to win stickers, a movie poster or a coveted character. I brought home the little bear on the end there.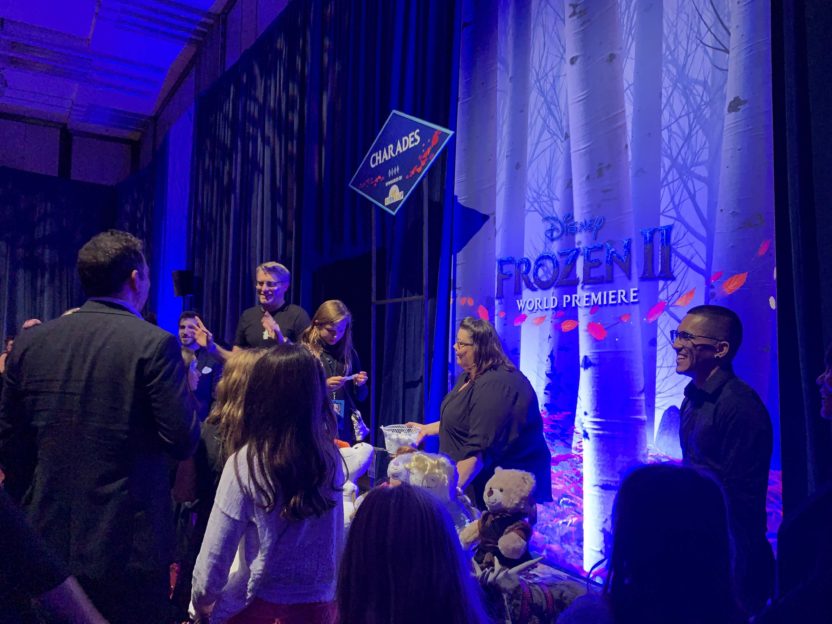 Check your local McDonald's because Frozen II will be taking over the Happy Meals soon. They had the cutest luge set up where you could race the Happy Meal toys.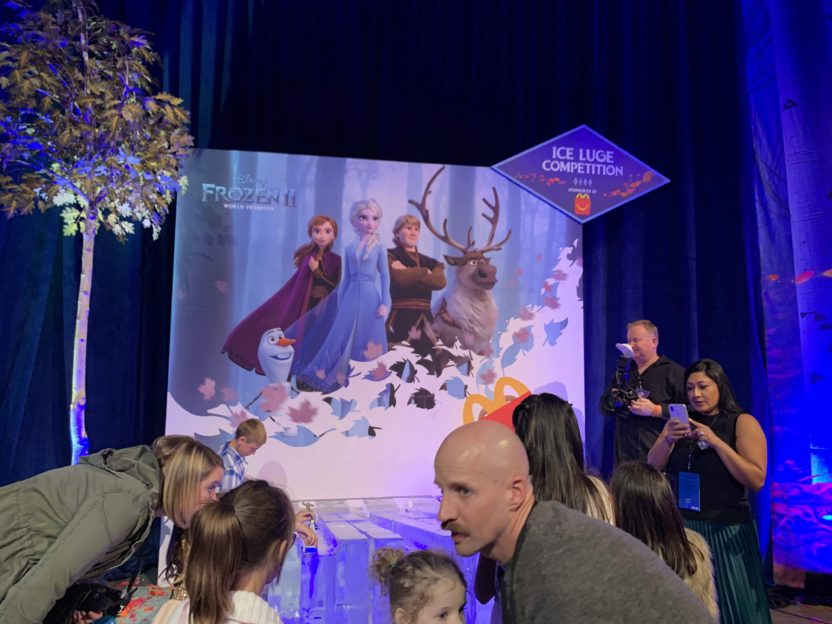 And one of my favorites was the huge sleigh Enterprise brought to the party. You might have seen my tweet!
A sleigh of a great time last night at the #Frozen2Premiere! Thank you @Enterprise for the ride!! 😁 #Frozen2 #TheGeeklyRetreat pic.twitter.com/g3IrqfM5r5

— Candy Olivares (@Candypo) November 8, 2019
FROZEN II Trailer
Have you seen the trailer? Watch it NOW!
ABOUT FROZEN II
Why was Elsa born with magical powers? The answer is calling her and threatening her kingdom. Together with Anna, Kristoff, Olaf and Sven, she'll set out on a dangerous but remarkable journey. In "Frozen," Elsa feared her powers were too much for the world. In "Frozen 2," she must hope they are enough.
Get your tickets for opening day, November 22nd!
Question
Are you ready to go Into the Unknown with our favorite Disney Princess sisters?! I'll be sharing the my full review and thoughts soon make sure to come back!
Cheers!
Candy