Television is always such an easy escape for me. I love watching a variety of shows; comedies, dramas, and reality to name a few. ABC has some pretty fantastic programming so when I watched Kevin (Probably) Saves the World, for the first time I was intrigued. This show is different and special in so many ways. Thanks to Disney I was invited on a press trip that included a visit to ABC to watch this show and speak with the show runners, however my opinions are my very own. Now the episode that we live tweeted to was very cute, endearing and why this makes for great television. What happened after was pretty damn fabulous!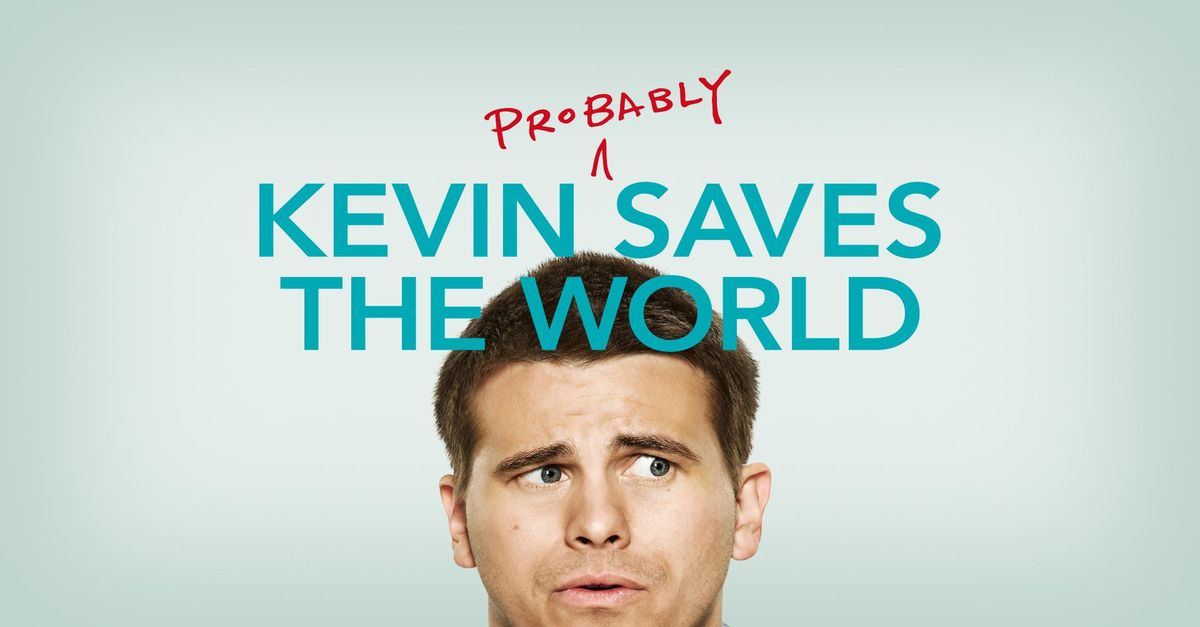 If you've never seen Kevin (Probably) Saves the World, let me give you some background information on. The show stars Jason Ritter as Kevin Finn and Kimberly Hébert Gregory as Yvette. "Kevin Finn is not a good person. He's not terrible, but he's selfish, and clueless, and values material wealth and status over all else. And he's beginning to realize that those things aren't making him happy – in fact, he's fairly miserable. Just when things seem to be at their worst, he finds himself tasked with an unbelievable mission… saving the world. 
On a dangerous path of despair, Kevin returns to his childhood home in Texas to crash with his widowed twin sister, Amy (JoAnna Garcia Swisher), and teenaged niece, Reese (Chloe East). It is a strained homecoming – he and his family have grown apart over the years – and Kevin has no real hope that anything will get better. But a series of fantastic events, including a meteorite landing near the house, lead Kevin to meet an unlikely celestial guide, Yvette (Kimberly Hébert Gregory). Yvette delivers incredible news to Kevin: in every generation, there are 36 righteous souls on Earth whose mere existence protects the word. Kevin, she tells him, is the last of the 36 righteous. Humanity has been thrown into crisis. Without the 36, the world will begin to lose the one thing that allows us to persevere through the ups and downs of life: hope
Now Kevin has a mission, whether he wants it or not: "power up" his soul through acts of kindness and selflessness, so that he can eventually find and anoint a new generation of righteous. Yvette will serve as his protector and teacher, a drill sergeant with divine authority, even if she's the least angel-like person he's ever met."
After viewing and live tweeting we had a chance to speak with the two fantastic ladies Michele Fazekas and Tara Butters, creators/showrunners of the new ABC show. Most recently, Fazekas and Butters served as executive producers/showrunners on both "Marvel's Agent Carter" and "Resurrection" on ABC. Prior to that, they created The CW cult hit "Reaper" and served as writers/producers on "Law & Order: SVU" for five seasons, during which time they received two Writers Guild nominations. These ladies are total badasses! It was such a pleasure to speak with them and learn more about their positions and what all they have worked on.
Photo Credit: MamaLatinaTips.com
Here's THREE Awesome things the Rock Star Ladies Shared with us:
They are power women and they are also MOMS!

See we can have it all!

 
During our interview they talked about trying to get the execs to understand the premise of the show and the finding of the 35 righteous people who will help Kevin save the world. One important factor in creating the show, according to Tara, was the ability for families to enjoy the show together.
"One more thing is that both of us are parents," she said, "and I have a twelve year old and a ten year old and Michele's are eight and six. I wanted something I can watch with my kids and that we could both sit down and enjoy it. Typically what happens is tomorrow morning my girls get up at six o'clock in the morning. We come downstairs and we watch it before school. They see rough cuts, because my oldest reads the scripts, but we'll watch it on Wednesday morning, because we have to time shift, 'cause they don't stay up till ten. It was important to us to have stuff that we could watch with our kids."
The Longevity of Kevin (Probably) Saves the World
The premis of the show is that Kevin is to find the 36 righteous people who will save the world, which could ultimately take several seasons. We asked Tara and Michele how long the story can last and if they had thought out the entire story.
"Like year by year," Tara said. "I also know who the last righteous person is," Michele said. "You do have to be somewhat fluid and flexible when you're doing a TV show, I think. I don't know if anybody here ever watched Battlestar Galactica, which always amazed me, because stuff from season seven is talking to stuff in season one. It was like is that how Ron Moore thinks, because that's insane."
"I also feel like when we pitch a show, we pitch the long, long arcs and then we pitch the shorter arcs. You also have to sort of be flexible enough…and go sometimes where the story takes you and where the characters take you and where the actors take you. 'Cause a lot of times the actors will bring something to the character that you didn't expect, and it's like I love that. Let's incorporate that into the character. We have a loose structure, and I know who the last righteous person is. We have sort of long arcs for the different characters. But you know, even then it's like, unless we get a better idea."
Hiliarious Writing Inspiration for Kevin Episodes
Michele and Tara both said that the inspiration for scenes or plot is a product of just sitting around the writers' table and throwing things back and forth. It's a big group of people just spitballing until something sticks.
"I'll tell you a story from another show just to give you an idea," said Michele. "We did a show called Reaper a few – like about ten years ago that was really a show about the devil. It was a comedy about the devil. It was on CW. Ray Wise was the devil; he was great. I'd come in once and I had just gone on vacation with my boyfriend, who is now my husband. And we'd gone to Hawaii. We get to Hawaii and he's brought three pairs of shorts for a week. I'm like, 'What's happening?'
"I come back to the writer's room and there's a bunch of guys, and I'm like, 'Yeah. So, Vince brought three pairs of shorts.' Every single dude is like, 'Well, yeah, that's probably one pair too many.'
"I'm like, 'What?' "Every single one was like, 'Three pairs of shorts is the perfect amount of shorts.' "So, we ended up writing that into a scene where the two guys are talking. It was like Ricky Gonzalez and Tyler Labine. Ricky is making up a lie to cover for something and he's like, 'Oh, I went shopping to buy some pants. Tyler Labine goes, 'What do you need another pair of pants for? Who are you, Jude Law?' "So, just little stupid stuff like that inspired scenes."
TONIGHT'S EPISODE "DAVE"
Tune in tonight at 10pm EST to watch the latest episode of Kevin (Probably) Saves the World. Here is what you can expect:
Yvette has her reservations when Dave, another celestial being, pops up looking to join her and Kevin on their latest mission: Reconciling Kristin and her mother under the most challenging of circumstances. Elsewhere, Nate tries to work up the nerve to ask Amy out, completely unaware of her budding chemistry with a potential beau.
Check out my Instagram feed to see one of the goodies we got from the show!
Make sure to follow Kevin (Probably) Saves The World on Social:
HASHTAG: #KEVINPROBABLY
SaveSave
SaveSave
SaveSave
SaveSave
SaveSave