D23Expo truly was an experience unlike any other. I've been on three press trips and each have been different in content (movies, television shows, coming to DVD), and in the areas we visit (Walt Disney Studios, Dancing with the Stars live taping, ABC studios). Now as I type that I can't even believe it. Well, thanks to Disney I was invited to attend the D23Expo in Anaheim, California (another 1st). We got a great Disney surprise when we were whisked away behind the main stage to see all of the little green room areas for all of the talent coming onto the stage. We got to meet and interview the ladies of The Galaxy- Karen Gillan and Pom Klementieff! Yes! Guardians of the Galaxy Vol 2. that is!
The iteneraries are always chock full of amazing things we'll get to see and do. If you've been reading along the D23 Expo was a very special event. You can ask my friend Carol of AllMommyWants and she'll agree. You truly feel VIP, baby! The experience of getting to meet two of the ladies that literally just walked off the stage during the Disney Live Action Panel was truly amazing. You could tell they were still taking it all in. As a matter of fact that was one of the first questions we asked. Here's what Karen had to say, "Oh, it was amazing….it felt electric to have like 7,000 people passionate about something that you're involved with in some way, and it's just like totally different sensations to anything I've ever experienced. It felt electric."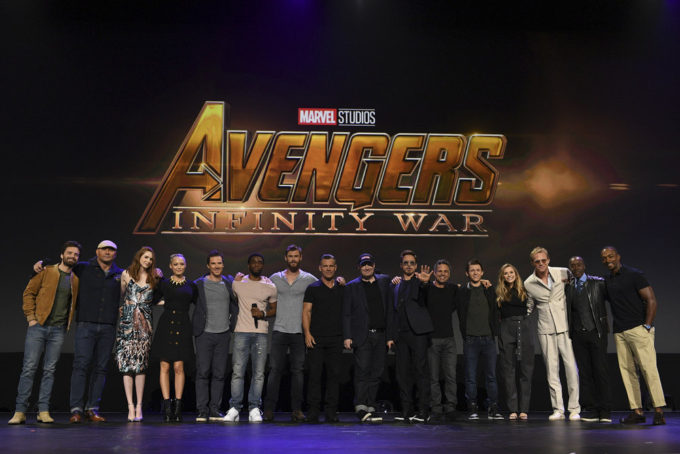 In case you missed the post, here's the picture! Can you imagine?! It was an incredible site for the crowd! Everyone was going nuts!
Hopefully you got to see GOTG Vol. 2 in theaters and if you didn't make sure to see it at home! You can grab your own Guardians of the Galaxy Vol 2. on DVD & Blu-ray August 22nd!
The ladies gave us insight on being in a part of the cast and joining for the what you know will be epic, Marvel Studios Avengers: Infinity War film. I honestly get goosebumps just thinking about it! And to think they are filming some of it here in Atlanta, Georgia!! GAH!! Somebody get me there!! Back to these bad ass chicas!
We were interested in learning about their characters. I always love hearing an actors thought process on the character they are playing. I can't imagine being anyone but me, so huge props to actors! When asked if they are anything like their characters here's how they answered: Karen shared she hoped she's nothing like her character Nebula, but that she identified with her insecurity. Adding, "My character is the sister that's the least favorite. She's not as good at fighting. She's less attractive. She's got no hair. She feels inferior and I think everybody can probably relate to that in some capacity." Pom also agreed that insecurities are in everyone and that's relatable. Also sharing, "the moments that move me the most are when she doesn't believe in herself and she just needs someone to believe in her." I have to say that I love the character of Mantis. I think she brings the calm to the film that is needed in the fantastic chaos. Big cheers for Pom Kelmentieff for bringing this character to life.
We asked about filming challenges. If they noticed a difference between films. Karen said, "The biggest challenge for me is probably the makeup process, just because it's really intense.  I mean, it takes about 4 hours in the morning to get ready. But it's so cool the way I turn out….it's so worth it, but it's a challenge to get up at that time and go through that on a daily basis."
Remember when I went to the Captain America: Civil War junket? Well I learned how cheeky this group really is and we asked the ladies if they could comment on some of the pranks or fun they've had filming Avengers: Infinity War. Unfortunately not yet, but there was some actual "cheekiness" during GOTG Vol 2: When Michael Rooker showed his bottom to her. Pom said, "Oh, yes.  It's true. I was with James Gunn and Dave Bautista, and we were rehearsing a pretty emotional scene. You remember in the movie when I touch him and I see what he went through in his life. And at some point, we saw Michael Rooker, and he was showing his butt by the window. I'm like okay?" Everyone got a good laugh out of that."
It was a super quick interview as the ladies were whisked away very quickly but our time with them was pretty fantastic. The ladies are doing us ladies right by playing strong characters in a normally male dominated genre. Make sure to come back and get my full review on Guardians of the Galaxy Vol. 2 next week!
Question:
What would you ask the ladies of the galaxy?
Cheers,
Candy
SaveSave
SaveSave
SaveSave