I LOVE subscription boxes! It's like getting a gift every month and having no clue what is coming! How awesome right?! I was very excited to receive the August Popsugar Must have box to share a review with my readers. The POPSUGAR Must Have Box (PMHB) is always a pleasure to receive because of the quality and stylish items it has each month. This month it was a super sweet treat to receive because it's their birthday box! That's right POPSUGAR Must Have Box turns five in August! Keep reading for the discount code below!
This August box marks Lisa Sugar's 5th year in curating her and her team of editors favorite items for you! This month's box features surprises from some of Lisa's favorite brand obsessions to celebrate POPSUGAR Must Have's birthday!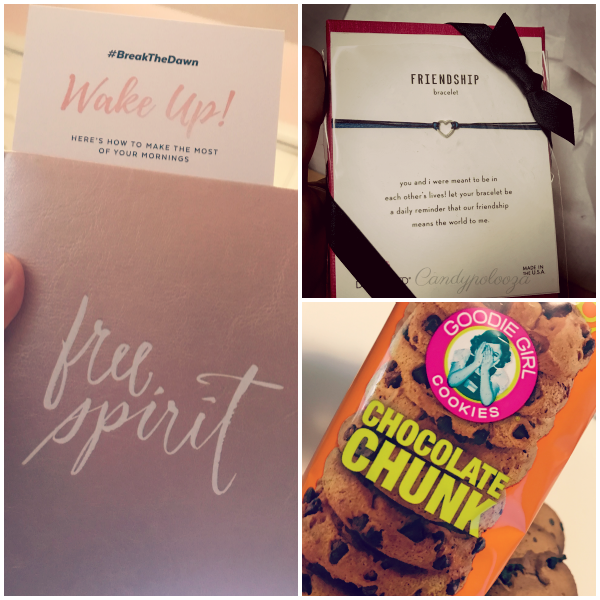 Here's a look at a few of the items included in the box this month. I'm telling you, all kinds of cuteness and a sweet snack too! The Goodie Girl Cookies were gluten free and crunchy just like I like my cookies! And I'll be shopping with my $25 gift card to Shoptiques.com! YES! The boxes sometimes come with discount codes and gift cards to shop! In this case, Shoptiques is a new to me site and I'm loving it so far! Can't decide what to spend my gc on! Another sweet surprise in my box were the gold glitter candeles by Meri Meri. I'll be posting those on Twitter later today! Make sure to look for that tweet! And the adorable Cheers laquered beauty tray by Pastel.
But first let's talk about the mini-facial I had! This was an awesome product to try out. It's a full size sample I might add!
Products received in the PSMHB are always full size. That's another reason why I love it so much!
Have you ever thought about trying out a subscription box? Well it's your chance to "carpe diem" my friends! I've got a discount code for you! Include the discount code PARTY (expires 8/31) for $10 off their YOUR Must Have Box!

YASSS! 
Question:
What keeps you for buying into subscription boxes? Or which ones do you subscribe to already?
Cheers!
Candy
SaveSave
SaveSave